August 1, 2008
Cary Audio Design CD 306 SACD Professional Version SACD/CD Player
This review is something of a double anniversary. Just over five years ago I wrote my first review for Ultra Audio, of the 306/200 CD player from Cary Audio Design. I liked it then, and now comes another Cary one-box combo of transport and DAC with a 306 designation -- this time a radically different one. In the intervening five years, Cary has expanded its product line to keep up with the leap forward in SACD/CD software, and racked up a fistful of "best product" awards. And Dennis Had, Cary's chief design guru, has made his own leap forward with a new generation of his 306 line of CD players. This model's full name is the CD 306 SACD Professional Version ($8000 USD).
What's new?
The 306 line is deservedly popular among audiophiles, so you'll want to know how the 306 Pro differs from its predecessors. After all, a designation such as "Professional Version" usually signals a "statement" product. How pro is the Pro? Quite a bit. The rather plain 306/200 I reviewed five years ago has morphed into a handsome model, and represents a major achievement on both the design and technical fronts. The 306 Pro is still a box festooned with pushbuttons and LEDs that let you know which of the dazzling array of functions you've chosen, and the window above the disc tray displays more information than do most players. But my review sample had a sleek silver finish more attractive than that of the typical black box, the Cary logo has been moved to the top cover of the player so it no longer stares you in the face, and that top surface has six diagonal slots covered in wire mesh to facilitate ventilation that are an attractive design element in their own right. The new aluminum disc drawer is more elegant than earlier Cary trays.
The real differences, though, are inside. The 306 Pro has a new servo board design. Digital filtering is done by a Burr-Brown DF-1706 chipset, and the latest HDCD decoding software is included. Larger, multiple power transformers and higher-current regulators make for improved power supplies. The internal copper chassis gives the 306 Pro transport improved shielding. For SACD playback, the internal word-clock frequency has been doubled. Digital-to-analog conversion is accomplished by eight Burr-Brown 1792u DAC chips running in parallel, and Cary claims extremely low jitter in a D/A section that can be used as a standalone DAC. I tried that option, using my reference Denon Exemplar DVD-3910 universal player as a transport, and it sounded significantly better than the older player's performance as a one-box unit. The 306 Pro weighs a hefty 37 pounds and measures a rack-friendly 18"W x 5"H x 15"D.
The pushbuttons on the Pro's front panel include the usual suspects, along with an array of other buttons and LEDs that give you instant feedback about what operations are taking place. The display shows which input jack is activated, whether or not you're upsampling a "Red Book" CD, and the upsampling option in use. All relevant options are also available via the solid remote. The rear panel's multiple input and output jacks offer a full range of options, including Digital Out and In, and balanced and single-ended analog connections. The 306 Pro supports the SACD, CD, CD-R, and CD-RW formats.
The 306 Pro's flexibility offers an array of upsampling choices that are a gift to tweakers. Insert a disc and the Pro's playback default will be either SACD (switchable to CD on dual-layer discs) or CD. You can upsample the latter's 44.1kHz sampling rate to 96, 192, 384, 512, or 768kHz while the disc is playing, to determine which sounds best to you. Of course, such a plethora of choices can also lead obsessives into exhaustive and exhausting listening sessions focused more on sampling rates than on music. If you tend toward the obsessive-compulsive, don't say I didn't warn you.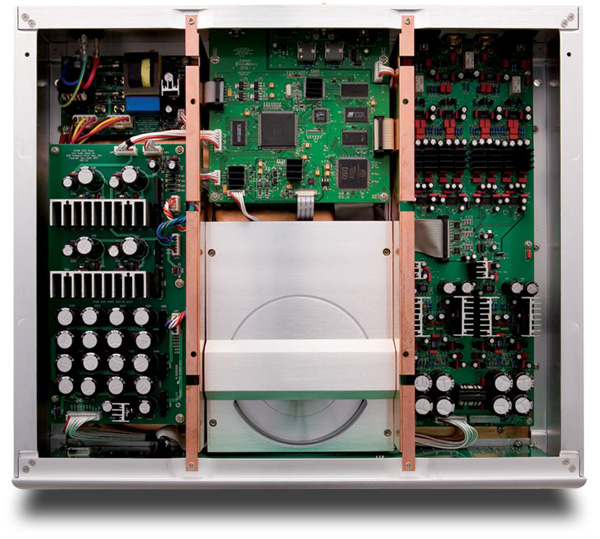 System
I listened to the 306 Pro in a system that included the Denon Exemplar DVD-3910 universal player, the Reimyo 777 line-stage preamplifier, modified Jadis JA-80 monoblock power amplifiers, Von Schweikert VR-4 Gen.III HSE loudspeakers, and a mix of wires that included Nordost Quattro Fils and G-3 Siltech interconnects and speaker cables. Accessories included the high-performance, high-value Vibrapod Isolators and Cones, Harmonix footers, L'Art du Son disc-cleaning fluids, and a Bedini Ultra Clarifier. My listening room is about 21' long by 18' wide by 8.5' high -- fairly generous by Manhattan apartment standards. The equipment is along the short wall.
Sound
I listened to two-channel SACDs and CDs via the 306 Pro's single-ended RCA outputs. I did considerable comparing of the SACD and CD layers of hybrid discs, and what now seem like endless comparisons of "Red Book" CD using the Cary's various sampling rates, from 44.1 up through 768kHz. I found I almost always preferred the SACD layers of hybrid discs, something I hadn't experienced before; other players I'd heard had never convinced me that there was enough difference between the two. The 306 Pro brought out the best in both. As for "Red Book" CDs, I found that sanity dictated settling on one sampling rate. Most of my listening was at 192kHz, as well as a fair amount at the "Red Book" standard of 44.1kHz. In general, this degree of upsampling added air and detail, and with some discs presence, to a degree significant enough to make it my default listening preference. Given the inherent sonic variations among different CDs, no single upsampling setting served all discs equally well, but time and common sense eventually steeled my resolve to escape the further seduction of endless comparisons (though that resolve occasionally faltered).
By chance, my first post-warmup listening session coincided with the arrival of some discs from a Norwegian label, 2L. I'm indebted to Stereophile columnist John Marks, who tipped me off to the audiophile label's interesting catalog. Rad Bennett's July 1 article in Ultra Audio's Music section has further details about the company and its founder, Morten Lindberg. I turned first to a disc of Marianne Thorsen with the Trondheim Solistene chamber orchestra, performing Mozart's last three violin concertos [2L50SABD]. The impact was immediate -- a big, upfront sound that reminded me of the old Mercury Living Presence LPs, with an involving immediacy and a realistic bite to the violins' timbre. Clarity was exceptional, the winds cutting through the orchestra with admirable tonal depth. In the third-movement cadenza of the Concerto No.4, the lower strings under the soloist were palpably present, something I hadn't noticed before. This 2L set includes two discs of the same performances: a CD and a stereo/multichannel SACD. I listened to the CD in several of the 306 Pro's upsampling modes and was struck by the realism of the sound. But in SACD stereo there was an impressive extra urgency, the proverbial "front row seat in a good concert hall." Lindberg says that his label's cutting-edge multichannel engineering yields the best sound of all, but, dinosaur that I am, I'm happy with two channels, and unwilling to commit more dollars and space to yet more gear.
Next up was a new reissue of Sir Colin Davis' 1974 recording of Berlioz's Symphonie fantastique [SACD, Pentatone 5186 184]. I was quite familiar with this recording's previous incarnations, which I found underwhelming. But the combination of Pentatone's SACD remastering and the Cary 306 Pro's ability to resolve complex textures made me feel I was hearing this performance for the first time. The mind-boggling dynamic range made the March to the Scaffold thrilling, and as scary as Berlioz intended it to be. Snarling brass figures came through with power, but the Pro also revealed bassoon figurations deep within the orchestral fabric that were yet immediately recognizable. The same held for ominous timpani beats and the slow fades that tailed big cymbal crashes. The Pro also demonstrated its ability to handle passages such as exchanges between the oboe and the English horn in the Scene in the Fields, projecting them with delicacy and separation of the instruments -- just as it handled the difficult opening of the Witches' Sabbath, with its slithering lower strings. Add to this the wide, deep soundstage, and the cushion of air surrounding the orchestra and individual instruments, and the feeling of realism was inescapable. This was the kind of listening experience audiophiles thirst for but rarely get from CDs, and one I hadn't fully appreciated until the 306 Pro entered my system.
I then turned to Opera Fantasies for Violin [CD, Naxos 8.570202], which features violinist Livia Sohn playing arrangements for violin and piano of operatic excerpts and compositions based on familiar operatic themes. Solo violin is always a test of a system's resolution, highlighting the crucial importance of treble accuracy and microdynamics, and again the 306 Pro showed its stuff: the violin and piano were clearly separated in space, the lightning-fast pyrotechnics of Jenö Hubay's Fantasie brillante on Bizet's "Carmen" precisely articulated, the violin harmonics in an arrangement of Weill's "Mack the Knife" crystal clear. At no time did the upper range of the instrument sound hard or edgy.
The 306 Pro also liked voices. Amor Profano, soprano Simone Kermes' sensational disc of arias from Vivaldi operas [CD, Archiv 4776618], with Andrea Marcon and the Venice Baroque Orchestra, captures her voice's bell-like clarity and warmth. Rapid coloratura passages came across with detailed articulation, and a long, slow-paced coloratura passage in another selection scored in large part because the Pro's microdynamic prowess enabled Kermes' subtle vocal gradations to register clearly.
The 306 Pro also liked voices in groups, as in Stile Antico's gorgeous recording of liturgical music of the English Renaissance, Music for Compline [CD, Harmonia Mundi 807419]. The lively church acoustic registered immediately, and the polyphonic lines sung by the chamber chorus were clearly delineated, which is essential in this music. Thomas Tallis's Miserere nostri is an excellent test of system resolution and dynamics -- barely audible at the very opening, more singers join to fill in the vocal lines and build to a big, full sound.
Curious about HDCD recordings, I turned to Tutti [CD, Reference RR-906 HDCD], a sampler of short pieces and excerpts from bigger works, performed by various conductors and orchestras. The 306 Pro gave life and energy to the music that was missing when I played this disc on a CD player that lacked the HDCD chip. Details such as bass-drum thwacks went from plop-plop to deep booms in Rimsky-Korsakov's Dance of the Tumblers, and in an excerpt from Bruckner's Symphony No.9, quietly plucked strings and a robust, driving full orchestra were handled equally well by the 306 Pro, the brawny climax never threatening to disintegrate, as it sometimes does with lesser gear.
For a while, the 306 Pro functioned as Marsalis Central, playing Love Songs, Ballads and Standards, a new release featuring Ellis Marsalis with young trumpeter Irvin Mayfield [CD, Basin Street 0405]; and Two Men with the Blues, starring Ellis's son Wynton with country legend Willie Nelson [CD, Blue Note 04454]. As expected, the Pro shone as brightly as it had with the varied classical repertoire I'd fed it. Especially notable was the way it conveyed Mayfield's tonal tenderness in the ballad "Like a Star," the subtlety of Ellis Marsalis's keyboard touch on Stevie Wonder's "Blame It on the Sun," and Jaz Sawyer's articulate drumming, especially his swishing wire brushes, in "Mo' Betta Blues."
Wynton Marsalis's live recording with Willie Nelson confirms his superstar status. The 360 Pro just loved Marsalis's trumpet, transmitting its visceral bite and tonal roundness when he played open horn, and was marvelously subtle in distinguishing which of several mutes he was using. And it captured Nelson's grainy voice and laconic delivery with precision, while reproducing his guitar with all its colors.
The 306 Pro also delighted in an old favorite (if a 1993 recording can be called "old"): Jimmy Rogers' Bluebird [CD, Analogue Productions APO 2001]. In his rendition of Howlin' Wolf's "Howlin' for My Darlin'," I loved the way Rogers' naturally gritty voice emerged from within the band instead of from the usual spotlit perspective of the front of the stage. The Pro's clarity excelled at projecting the lines of backup instruments, such as guitar and harmonica, and it rocked with the driving beat of drums and bass, inducing infectious toe-tapping -- yet another aspect of the 306 Pro's presence and rhythmic accuracy.
Conclusion
In the CD 306 SACD Professional Version, Dennis Had set out to make a statement. He succeeded. Aside from Reimyo's single-box CDP-777, which is twice the Cary's price and no longer in production, it's given me the best CD sound I've experienced in my system. It overcame my skepticism about the efficacy of SACD stereo, and it excelled in all the usual parameters by which we rank high-end gear. It got more of the sound right than do more expensive single-box players (and there are plenty of those). Not that the Cary's $8000 price can't induce vertigo, but with the 360 Pro you get what you pay for; from some of the competition, you get less than you have a right to expect for such sums. Ultimately, what I require from any CD player (or speaker, amp, preamp, etc.) is that it involve me in the music. I want to feel the music. It should move me, and the equipment is only a means to that end. With the 360 Pro, I was involved. I felt the music and was moved. The Cary 360 Pro won my heart as well as my mind.
. . . Dan Davis
dand@ultraaudio.com
Cary Audio Design CD 306 SACD Professional Version SACD/CD Player
Price: $8000 USD.
Warranty: One year parts and labor.
Cary Audio Design
1020 Goodworth Drive
Apex, NC 27539
Phone: (919) 355-0010
Fax: (919) 355-0013
E-mail: info@caryaudio.com
Website: www.caryaudio.com

All contents copyright Schneider Publishing Inc., all rights reserved.
Any reproduction, without permission, is prohibited.
Ultra Audio is part of the SoundStage! Network.
A world of websites and publications for audio, video, music, and movie enthusiasts.