October 15, 2006
Esoteric DV-60 Universal Audio/Video Player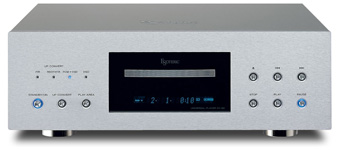 For all of TEAC's stature as a major player in high-end audio, I'd never before had one of their Esoteric components in my system. Not that TEAC stands alone in that respect, but there's a first time for everything, and my introduction to the Esoteric line, the DV-60 universal player, was an intensely interesting and pleasurable experience.
The DV-60's status as a class act revealed itself with its packaging, which is designed to defy the most ingenious delivery-service attempt at wreckage. Emerging from its double-packed cocoon, the product itself impressed me with its build quality and solidity. But patience is an invaluable asset, as I discovered when I inserted the DV-60 into my system. The elevated treble, harsh violins, and near-total absence of bass indicated a unit badly in need of break-in time -- lots of it. Running it 24/7 for two weeks was probably excessive, but afterward, when I began listening to music through it, the DV-60 had turned into a totally different and far more companionable animal.
The solid-state DV-60 replaces Esoteric's well-received DV-50. Like its predecessor, the DV-60 can play a variety of video and audio formats. The DV-60 is aimed at home-theater enthusiasts; its interest for audiophiles will lie in how well it plays back two-channel SACDs and "Red Book" CDs.
Description
A single box weighing over 30 pounds, the DV-60 is sturdy enough to inspire confidence without inducing a hernia. The box looks, well, boxy, but in a sleekly elegant way, with a silver finish and a neat array of function buttons and LEDs on both sides of a central black area devoted to the disc tray and display. The size of the hefty remote control has been dictated by all those video functions that went unused during my time with the player. Controls include a Standby button that reduces the warmup time before play and a range of other functions, including one amusingly called Play Area, which put me in mind of a kids' nursery school but which actually refers to format setup.
The Up Convert button allows scrolling through conversion choices, but the labels of the array of LEDs in the row above it, which refer to Esoteric's proprietary upsampling options, might puzzle those not au courant with digital engineering parlance. They're marked FIR, FIR+RDOT, PCM, and DSD. FIR (for Finite Impulse Response) is standard "Red Book" CD playback, and FIR+RDOT (Refined Digital Output Technology) upsamples to 24-bit/32x. The manual claims it results in a "slow rolloff characteristic" and "smooth immersive sound," and the DV-60 did indeed sound better when upsampling than some other players I've heard. It also allows conversion of PCM signals to DSD. And switching among options is easy, enabling direct comparison of a hybrid disc's CD and SACD layers.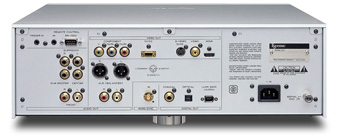 The DV-60's neatly laid-out rear includes all the usual suspects for video and multichannel connections, as well as the requisite video and multichannel balanced and unbalanced analog audio outputs. Esoteric's proprietary transport mechanism is said to have anti-resonance and vibration-resistance properties, a claim I'm prepared to accept -- I was impressed by its smooth operation and solidity. The laser pickup, sourced from Sony, is also claimed to be superior in tracking, thus reducing the need for error-correction processes. Revisions of the D/A converter and some video features constitute further upgrades from the DV-50.
The DV-60 and its sibling
But if you're not into home theater and want just a serious one-box CD player that also plays the new disc formats, you'll want to know about the DV-60's sibling. When shipping the DV-60 to me for review, Esoteric forgot to mention that waiting in the wings for fall 2006 release was another player, the SA-60, which essentially is a DV-60 stripped of its video, RS232 jack, and rear-panel 12V remote trigger. All multichannel capabilities on the SA-60 remain for multichannel DVD-A and SACD. While I assessed the DV-60's audio performance, the SA-60 was stealthily moving off the drawing board and into production.
Esoteric says the SA-60, which I haven't yet heard in my system, sounds exactly like the DV-60. If you trust manufacturers' claims or don't mind rolling the dice when it comes to buying decisions, you can extrapolate the SA-60's sound from my assessment of the DV-60's performance. If auditioning the unit confirms my findings of the DV-60, then the price factor comes into play big-time: the DV-60 retails for $5600, the SA-60 for $4500.
Sound of the DV-60
I inserted the Esoteric DV-60 into my reference system, which included an Exemplar/Denon DVD-3910 universal player, a Metronome Signature CD transport and DAC, a Wyetech Opal line-stage preamplifier, a Reimyo CAT-777 preamplifier, Jadis JA-80 monoblock power amplifiers, Von Schweikert VR-4 Gen III HSE loudspeakers, and Siltech Classic Series Mk.II interconnects and speaker cables. Accessories included the high-performance, high-value Vibrapod Isolators and Cones, Harmonix footers, L'art du son disc-cleaning fluids, and a Bedini Ultra Clarifier. In short, the Esoteric was the only solid-state component in an otherwise all-tube system. It might sound different in an all-solid-state system, and as you read further, my listening biases should of course be taken into account.
Those biases meant that, once the review sample was broken in, I paid special attention to the way it reproduced the instruments that, for me, make or break a component: violin, piano, and female voice. My allergic reaction to a shrill or hard mid-treble makes such recordings my first port of call -- if a component is objectionable in that part of the sonic spectrum, I jump ship immediately.
Following those two weeks of break-in, the first CD I played on the DV-60 was Leila Josefowicz's version of Shostakovich's Violin Concerto No.1, with Sakari Oramo conducting the City of Birmingham Symphony Orchestra [CD, Warner Classics 62997]. The work will forever be associated with the great David Oistrakh, but this young violinist more than holds her own. Even when she roughens her timbre in the second movement, no undue harshness or glare reared its head. The DV-60 accurately reproduced the multitude of colors Josefowicz draws from her instrument in the long opening soliloquy, and although I was focusing on the soloist, I couldn't help but notice the detail and wealth of dark colors in the winds and the solidity of the double basses.
An even more telling test is the baroque violin, by nature an astringent-sounding instrument. Sometimes, in the hands of lesser artists (including some stars of early music), it can sound akin to back-alley cats in full cry. Not as played by John Holloway in his newly released set of the complete Bach Sonatas and Partitas for Solo Violin [CD, ECM 1909/10], and not as played through the DV-60. What I heard was clearly a period instrument -- no mistaking it for a modern violin -- but while it's in the nature of the beast to eschew the velvety warmth of the instruments of later eras, Holloway's violin (made by Ferdinando Gagliano in 1760) sounded rich and rounded, never shrill or hard. Nor did the DV-60 achieve this effect by adding a patina of molasses to the sound. Rather, it brought out Holloway's kaleidoscopic colorings, the resonance of the venue, and the minute details captured by ECM's engineering, especially the clarity of his double-stopping, which never lapsed into muddiness or generic vagueness.
By coincidence, three very different recordings of solo-piano music by Mozart arrived for review virtually simultaneously, and I was eager to hear the differences among the three instruments. One was an 1805 fortepiano played by Richard Egarr on a disc of Mozart Fantasias and Rondos [CD, Harmonia Mundi 907387]. Another was Robert Levin's disc of early Mozart Sonatas [CD, Deutsche Harmonia Mundi 84236], played on a modern copy of a Stein fortepiano praised by Mozart. Finally, Leon Fleisher's new disc, The Journey [CD, Vanguard 1796], featuring a variety of works, includes another Mozart Sonata written shortly after those on Levin's CD and played on a modern Steinway.
Obviously, Fleisher's Steinway will sound radically different from the period instruments, so it's no great accomplishment that it sounded so through the DV-60. But what was impressive was the Esoteric's ability to capture Fleisher's pearly tone, which had the roundness and warmth of the real thing. The pianist's detailed articulation in the Mozart sonata, the clarity of his precise trills and solid bass notes in the works by J.S. Bach, the subtle timbral changes that give Stravinsky's Serenade in A Major the dryness of a fine wine, and the smooth, seamless legato he employs in Beethoven's "Für Elise" -- all testified to the Esoteric's superior reproduction of the sound of the piano.
I could easily distinguish between the period instruments played by Egarr and Levin. The closeup engineering in the Egarr allows you to hear the piano's action, but also to wallow in its rich midrange, so strong a contrast to its thin treble and light but resonant bass. Levin's fortepiano shares the thin treble of period fortepianos, but it's also rounder and more sparkling than Egarr's, albeit with a bass even lighter than Egarr's and a midrange more resonant and harpsichord-like.
For female vocals, I turned first to mezzo-soprano Vivica Genaux's new disc of arias by Handel and Hasse, with Bernard Labadie conducting Les Violons du Roy [CD, Virgin 54573], because her voice was fresh in my ears -- only the night before, I'd seen her onstage in New York City Opera's smashing production of Handel's Semele. The DV-60 handled Genaux's flights into the vocal stratosphere with aplomb, accurately presenting her abundant decorative ornamentation and rich lower range. This was the voice I'd heard at the opera the previous night -- a great compliment to the DV-60.
The DV-60 wasn't without fault, however. The acid test was the end of Act I of Puccini's Tosca, in a performance recorded with the Royal Opera House Covent Garden Orchestra, conducted by Anthony Pappano [EMI 55173]. This scene begins with Scarpia musing on his planned assault on Tosca's virtue, and continues with Scarpia singing as the orchestra blasts forth and a full chorus sings the Te Deum. Even granting that I'd need more powerful amplifiers than my Jadis JA-80s to drive all this, the Esoteric, like most of the gear I've put to this test, broke up toward the end. The breakup didn't occur when I played this passage on the Exemplar/Denon DVD-3910, but neither was the passage rendered as smoothly as it should be, and Scarpia's aria was plagued by sibilants not present with the DV-60.
I might have called it a standoff between the players were it not for the Exemplar's superior soundstaging. Compared to the deep, wide -- almost wall-to-wall -- sound picture thrown by the Exemplar, the DV-60's stage was narrower, which robbed the scene of its breathtaking you-are-there feeling of being engulfed in the sound.
This aspect of the DV-60 continued to trouble in other large-scale recordings, even though soundstaging is not a major priority for me. In RCA's newly remastered SACD version of Charles Munch and the Boston Symphony's classic 1954 recording of Berlioz's Symphonie fantastique [RCA 67899], for example, the Exemplar's stage was much wider than the Esoteric's, and thus more realistic in depicting Symphony Hall's wide but shallow stage.
And in Richard Strauss's An Alpine Symphony, Antoni Wit conducting the Staatskapelle Weimar [Naxos 8.557811], not only was the Exemplar's soundstage more impressive, it also exhibited more warmth and bass in the strings and more body in the winds. This was especially apparent in the "Calm Before the Storm" section, where the image density of the clarinet and oboe lent their playing the roundness that typifies central European wind styles. In the "Waterfall" scene, the Esoteric almost buried the shimmering high percussion parts Strauss wrote as an analog of sunlight glinting off flowing water. They're intended to be heard coming from within the orchestra, as they are in the Exemplar's portrayal of this section. There they were only slightly more prominent, but that "slightly" is the difference between successful reproduction and failure.
The DV-60 came into its own with small jazz groups and vocals. Marta Gómez's delightful Entre Cada Palabra (Between Each Word) [CD, Chesky JD301] was a fine example of this. Her pure but smallish voice, together with the music and arrangements, created an atmosphere of relaxed intimacy. Gómez employs a wide variety of traditional Latin-American rhythms in her music, highlighting what she shares with all great singers: a keen sense of timing that lets her play with the beat, now lagging a hair behind, now just a hair ahead. The DV-60's impeccable portrayal of those rhythmic nuances spoke well for its "sense of rhythm," if an electronic device can be said to have such a thing.
The Gómez disc is a "Red Book" CD, made before Chesky Records' recent adoption of the SACD format. Always renowned for its realistic sound, Chesky has since moved to an even higher level with its SACD series, engineered with new, specially built analog-to-digital converters, microphone preamps, and a custom microphone cable. The first of the series I heard was the David Hazeltine Trio's Manhattan [SACD, Chesky JD310]. This was the most realistic jazz recording I'd ever heard in my system. Playing this disc, the DV-60 threw a big soundstage, the players ranged in front of the seating area and Billy Drummond's drum kit contained between the speakers and not unnaturally wide (as on some recordings, where the drummer needs a 10' wingspan to reach the cymbals). I could practically count the hairs on his brushes when he played slower pieces, and when he switched from light brushwork to sticks, I could tell where he struck drumheads and precisely which part of the cymbal felt wood on steel. George Mraz's bass was firm and resonant throughout, with all the tightness bass freaks love. And Hazeltine's piano, like the real thing, was as full-bodied and wide as it should be -- again, no 12'-wide pianos that extend from wall to wall, like those heard too often on recordings. An exciting listening experience!
Bottom line
The DV-60 was an outstanding performer in my system. It impressed with its honest, neutral timbres and presentation throughout the tonal spectrum. Detail retrieval was very good, if not up to the best players I've heard, and a fairly narrow soundstage did hamper the realism of some large-scale orchestral and operatic recordings. My system's tubed electronics proved an excellent match for the solid-state DV-60, but the tubed player to which I directly compared it did evince more of the image palpability I value -- which raises questions about how the DV-60 might perform in a system bereft of the warm glow of glass. While it may lose some of its neutrality in such a system, it might gain in clarity, detail, and ability to handle large-scale ensembles.
The $4000-6000 price range is crowded with worthy CD players, each of which exhibits its own set of strengths and weaknesses. If you want a universal player that can serve double duty for video and music in a home-theater system, TEAC's Esoteric DV-60 should be on your short list of models to audition. If your primary interest is a player that will do justice to CDs and SACDs, it's definitely worth investigating whether the lower-priced Esoteric SA-60's audio performance is indeed identical to the DV-60's.
…Dan Davis
dand@ultraaudio.com
Esoteric DV-60 Universal Audio/Video Player
Price: $5600 USD.
Warranty: Two years parts and labor (three years with product registration).
TEAC America, Inc.
Esoteric Division
7733 Telegraph Rd.
Montebello, CA 90640
Phone: (323) 726-0303
Fax: (323) 727-7650
Website: www.teac.com/esoteric
---
Esoteric responds:
We greatly appreciate the DV-60 product review and evaluation by Ultra Audio. We feel the product review is fair, balanced and accurate in relation to the performance and build characteristics of the DV-60.
However, it is important for readers to understand that this review compares one stock unit to another unit that has been heavily modified in the audiophile aftermarket. As a result of the modification of the Denon player into an Exemplar/Denon player, the reader is presented with a fully digital unit as compared to one that requires analog tube replacement. Furthermore, the aftermarket modifications to the Denon unit result in an output stage that voids the original manufacturer's warranty. Therefore, we believe that this comparison is not exactly one of "apples to apples."
This brings to mind the days of modifying a stock Chevy Camaro in the automotive aftermarket, solely to alter performance. If we compared the modified Camaro to a stock Camaro, then we would experience obvious differences in performance.
With this understanding we thank the editors for the opportunity to comment and we are very grateful to be associated with Ultra Audio.
Mark Gurvey
Vice president
Esoteric Division
TEAC America, Inc.

All contents copyright Schneider Publishing Inc., all rights reserved.
Any reproduction, without permission, is prohibited.
Ultra Audio is part of the SoundStage! Network.
A world of websites and publications for audio, video, music, and movie enthusiasts.