September 1, 2004
Gryphon Audio Designs Mikado CD Player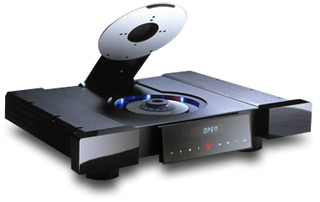 There are some products that slip in under the radar, units that seem diffident about announcing their presence. But there are others that arrive in a blaze of trumpets, practically screaming, "I am a first-class luxury product." The Gryphon Mikado CD player is one of those. And it's not without justification, since the Gryphon Mikado's sound, looks, and presentation are as top-of-the-line as its price tag.
A gryphon is a mythical beast, half lion, half eagle, that combines power and grace. Nice name for an audio manufacturer whose products, if this one is anything to go by, exemplify those attributes. Flemming E. Rasmussen founded Gryphon Audio Designs in Denmark in 1985. The company produces a full range of high-end products, from equipment racks and accessories to an array of electronics to a full-range speaker, all embodying the streamlined modernity one associates with contemporary Danish design.
The Gryphon CDP-1 was the first CD player to incorporate upsampling technology. The CDP-1 was succeeded by the Adagio, and now by the third generation of upsampled Gryphon players, the Mikado ($11,000 USD).
Gryphon doesn't claim that upsampling can restore the "missing bits" inherent in 16-bit/44.1kHz, "Red Book" CDs. Instead, they say that upsampling seems to wrest more information from the disc because the proper execution of sample-rate conversion enables a player's digital and analog circuits to more accurately reproduce the encoded signal. Gryphon claims that its electronics allow the Mikado to do that, a boast apparently borne out by the ease, resolution, and extension of the player's sound.
Inside and out
The Mikado is dual-mono: each channel has two AKM dual-differential, 24-bit/96kHz D/A converters and its own regulated power supply. Attention is given to controlling vibration and electrical interference, and a minimum of internal wiring ensures the shortest possible signal path.
The transport mechanism, a modified Philips CD-Pro 2, is accessible via a sealed, top-loading mechanism built on a die-cast metal frame. The cover is motorized; fully opened, it needs about 8" of headroom. When open, the cover looks like an elegant gentleman removing his top hat; closed, its arm turns into a silver disc shaped to precisely enclose the round bay into which the CDs are placed.
The Mikado is a stunningly beautiful instrument. The black-and-silver color scheme is carried through to the front, the grayish-black contrasting subtly with the piano-black side wings and the front display panel. The minimalist design banishes all but the most essential controls: Standby, Play, Stop, Pause, Previous and Next Track, and Open/Close (the On/Off rocker switch is hidden under the display panel). The controls, activated by a light touch, are duplicated on the remote, which also has numerical track selectors and the usual added features. The remote is beveled at the bottom, which makes it comfortable to use -- the bottom, business edge won't dig into your palm (at least for us privileged righties).
All it takes to appreciate a good, functional design is to spend time with a bad, dysfunctional design. I recently auditioned a fine-sounding CD player that came with a chintzy remote that had no numerical keypad, and whose all-important Play, Stop, and Pause buttons were scattered randomly among an array of closely bunched controls. It irritated me every time I used it.
While the Mikado is an elegant beauty, it does sometimes let its hair down. For example, when you open the cover, the round disc bay is illuminated by a circular row of blue lights reminiscent of a Las Vegas stage. Such theatricality made me wonder whether the next step will be color-coded responses to discs: red lights for raunchy blues, subdued ones for chamber music, and so on. The touch of glitz seemed to make the Mikado more approachable, like a cool, sophisticated beauty with a strand of hair a tiny bit out of place.
But I was annoyed at some aspects of the Mikado's presentation, overkill and hype prominent among them. The remote, for example, comes nestled in a soft leather pouch; the manual, a hard-covered loose-leaf notebook on glossy paper with irrelevant color pictures including one of a boat on a lake. It's short on information, heavy on self-congratulations. We're not even given basic specs such as measured frequency response, signal/noise ratio, weights and measurements, and the like.
Most audiophiles won't mind at all, and I quickly overcame my negative reaction once the Mikado was up and running, its manual relegated to a closet, the leather pouch handy for spare change. I also forgave the Mikado its self-importance -- it looked and sounded so good.
I'll even forgive a glitch I may have caused myself. Toward the end of my time with the Mikado, it froze. Front-panel and remote controls just stopped working. E-mails to Denmark brought the suggestion that static might be the culprit. After I'd unplugged the unit and given it a few days' rest, it powered up again as if nothing had happened, and stayed that way for about a week. Then it resumed its sleep, by which time it was ready to be packed up and shipped back to Gryphon. I may have inadvertently induced the problem while switching cables. To be fair, Gryphon states that the problem has "never been reported from any Mikado owner...."
The sound
I installed the Gryphon Mikado in my reference system, passing its signal through Siltech Classic Series SQ-110 interconnects to the Wyetech Opal preamplifier and Jadis JA-80 monoblocks modified with Siltech internal wiring, then via Siltech Classic Series LS-188 speaker cables to the Von Schweikert VR-4 Gen III HSE speakers. While the Mikado was in residence, I did some comparison listening to the Metronome T-20 Signature transport and C-20 Signature DAC, the Ensemble Dirondo, and the Lector CDP-7 CD players. Accessories included Vibrapod isolators and Harmonix footers.
I usually begin a review's note-taking, heavy-listening phase after having spent considerable time getting used to the overall sound of a component. What I call "normal" listening is the kind where you focus on the music, leaving the minutiae of audio microlistening for later. Those early, noncritical listening sessions can tell you as much about a piece of equipment as the later, more focused ones. In this case, they told me that the Gryphon Mikado could convey the emotional impact of the music without drawing my attention to an overly analytic presentation, or to presweetened colorations whose charms swiftly pale. I thus began the last phase of the review already conditioned to appreciate the Mikado's musicality.
As usual in this phase, my first step was to turn to the JVC XRCD series of CD remasterings of some classics of yesteryear, beginning with Pierre Monteux and the Boston Symphony's shaded-dog RCA recording of Tchaikovsky's Symphony 4 [JVC XR24015]. It confirmed my initial impressions of the Mikado with a wide, wall-to-wall soundstage blessed with depth; the brazen horns, surrounded by air toward the rear of the hall, were especially noteworthy. The symphony's wonderfully rhetorical opening came off with thrilling exactitude, the trumpets biting, the lower brass, muscular. Here, though, I wanted just a bit more of the authoritative weight that the Reimyo CDP-777 ($14,000) brings to big orchestral music, along with the image density the Reimyo gives the solos that weave in and out of this symphony's orchestral fabric. The big string melody that follows the introduction, though, was as warm, full, and natural as I could have wished, and the double basses had a welcome woody resonance, their downward runs emerging clearly where some players swallow such a crucial detail.
From that well-recorded classic, I turned to a lesser shaded-dog reissue: Jascha Heifetz's recording of the Sibelius Violin Concerto [JVC XR0223]. I'd brought this disc with me to Home Entertainment 2004 East in New York City and played it in several rooms -- to the dismay of my hosts, who heard what everyone else heard: Heifetz's steely violin, too closely miked and exaggerated by overly cold, analytical equipment. The disc is revealing, though; if a system makes Heifetz sound akin to chalk on a blackboard, it's not accurate, just ruthlessly tipped-up. Conversely, if this flawed recording sounds just fine, the system is showing off Technicolor distortions that make every disc it plays sound similar. The Mikado trod a finely drawn line between the two, along which I heard the flaws but didn't want to run screaming from the room. At the same time, it revealed the wonders of Sibelius's orchestration, the important wind section in the third movement coming through lucid and clear.
Also hard to record are operatic sopranos, particularly large-voiced examples of the breed. But when mezzo Marilyn Horne launches into "Cruda sorte," from Rossini's L'italiana in algeri [Decca 475 395], the Gryphon told me immediately that this was a voice bristling with energy and subtlety, and gave a convincing stage picture with plenty of air around voice and instruments. Likewise, in the soprano arias from Scarlatti's Griselda [Harmonia Mundi HMU 901805.07], it made apparent the smaller voices and the more intimate scale of the work while never sacrificing warmth to clarity, keeping both aspects of the recording in balance.
Transients were rendered with leading-edge clarity and extended decay, evidenced by the struck bells in So Percussion's rendition of David Lang's the so-called laws of nature [Cantaloupe CA21022], which amply upholds the label's avant-garde rep. The play of varying pitches as the bells are struck testified to the Mikado's accuracy in the mid-and-upper treble regions, and its ability to track their decaying sound was essential to the full appreciation of Lang's music.
From such rarified minimalism I moved to a down-and-dirty disc of maximal blues, Etta James's Blues to the Bone [RCA 60644]. Her authoritative rendition of songs like "Li'l Red Rooster," "That's Alright," and "Dust My Broom" were enhanced by the Mikado's bass heft. And its ability to realistically reproduce James's rich voice was matched by the clarity it gave the guitar lines and the piercing presence of the harmonica.
Summing up
My time with the Mikado was no hardship assignment -- the player brought out most of what a wide variety of discs had to offer, and amply justified Gryphon Audio Designs' self-congratulatory stance. The Mikado left me convinced that it was a musical CD player -- i.e., an instrument that allows the music to shine through without imposing unwanted colorations or undue highlighting of particular parts of the tonal spectrum. But then, at $11,000, that's what it should be.
In all particulars, however, the Mikado fell short of the Reimyo CDP-777, whose analog-like personality makes it the best I've yet heard. Good as the Mikado was, it lacked some of the Reimyo's fullness -- that rounded tonal image of a real instrument playing in a real space. But in this regard it was well ahead of the much leaner Ensemble Dirondo, a player it also trumped with its stronger bass and smoother treble.
All in all, the Gryphon Mikado ranks high among today's elite CD players, combining accuracy and musicality with handsome, functional design elegance. Like the Gilbert and Sullivan operetta for which it's named, the Mikado is a source of musical delights.
…Dan Davis
dand@ultraaudio.com
Gryphon Audio Designs Mikado CD Player
Price: $11,000 USD.
Warranty: Three years parts and labor, two years laser and transport.
Gryphon Audio Designs
Industrivej 9
8680 Ry
Denmark
Phone: (45) 86891200
Fax: (45) 86891277
E-mail: sales@gryphon-audio.dk
Website: www.gryphon-audio.dk

All contents copyright Schneider Publishing Inc., all rights reserved.
Any reproduction, without permission, is prohibited.
Ultra Audio is part of the SoundStage! Network.
A world of websites and publications for audio, video, music, and movie enthusiasts.