July 1, 2009
Lafleuraudio X1 Loudspeakers
The art of the minimonitor loudspeaker is a Zen pursuit that has much in common with the making of a fine Japanese sword: What looks simple on the surface can be accomplished via a number of different methods that end up at the same goal. With the sword, the goals are strength, edge retention, maximum hardness without brittleness, and overall elegance and beauty. The goals to be met by a minimonitor are: a dead cabinet, an emulation of a point source in space, high-quality drive-units, and intelligent crossover design.
It seems there are as many different minimonitor designs out there as there are leaves on a tree. One leaf on that tree has been added by Lafleuraudio, a relatively new company based in Cháteauguay, Québec, Canada, and headed up by founder-designer Emanuel Lafleur. The company has approached its new speaker, the X1, with the intent of assaulting the absolute state of the art of minimonitor design. It is a fascinating product that incorporates a number of interesting and innovative ideas.
Design
The X1 ($14,000 USD per pair) is small and dense. Slightly larger than the average minimonitor at 14"H x 11"W x 17"D, and weighing just about 42 pounds, it feels like a solid chunk of wood. A fair bit of engineering has gone into its heavy, dead cabinet. First, the cabinet comprises many horizontal layers of high-grade, Russian-cherry plywood. The center of each slice is cut out by a CNC machine, the slices then stacked atop each other to the desired height. Part of the CNC process involves cutting small holes in each slice around the perimeter of the cabinet. When the slices are stacked, a threaded, stainless-steel rod is then inserted through each vertical series of holes. These rods are then torqued down tight to clamp all the slices solidly together.
All internal edges are radiused -- there are no sharp surfaces. The front panel, a single slab of steel, is affixed to the cabinet not by screws or bolts, but by two more steel rods that extend horizontally through the speaker to join in the middle in a Y configuration, and secured with a bolt at the back of the speaker. This cabinet design has been exceptionally well thought out -- I would assume that this cabinet construction is responsible for a substantial portion of the speakers' $14,000 price. Lafleuraudio claims that each pair of X1s takes a full month to build and finish. Once you've seen one with its top panel removed, it's easy to believe.
The X1's front baffle is covered with padded leather. The horizontal striations of the plywood laminae stand out beautifully in the lighter finishes, and contrast nicely with the leather front. If I were ordering this speaker, I'd choose a lighter color; with the darker finishes, it's hard to see the different layers. After all, it's this construction that sets the X1 apart -- why not show it off?
At the rear is one pair of really nice binding posts. At first I thought the X1 was a sealed design, but while talking to Emanuel Lafleur, I discovered a port hidden underneath the rear end of the speaker, right where its you-know-what would reside. Lafleur informed me that he aimed the port to fire downward, as it would then be more likely to be a consistent 24" from the nearest surface (the floor) -- a distance calculated into the design of the speaker and its dedicated, massive, beautifully designed stands, which are included in the purchase price. (My review samples came with a set of very heavy, four-post metal stands.)
Top-notch, seriously high-end drive-units are used in the X1: a Scan-Speak Revelator 5" woofer and a Scan-Speak 1.5" tweeter. For the price, they should be. The X1's crossover is wired point to point in what Lafleur claims is a unique, proprietary design. The crossover components are potted in bitumen in order to control resonances. The company specifies that the X1's sensitivity is 87dB/2.83V/m and that it presents the amplifier with an impedance of 8 ohms. The frequency response is claimed to be 45Hz-20kHz.
System
International mail, direct via the Canadian Royal Post, recently delivered into my welcoming arms a rebuilt Roksan Shiraz phono cartridge. Man, had I missed this baby. Still holding down preamp duties despite being somewhat long in the tooth, my Sonic Frontiers SFL-2 worked in tandem with the overachieving Aqvox Phono 2 CI phono stage. The Pro-Ject RPM 10 turntable still squats, troll-like, atop my equipment rack.
Amplification was handled solely by my Audio Research VT100 tube amp, connected to the SFL-2 via Analysis Plus Solo Crystal Oval balanced interconnects. The same cables joined the Aqvox phono stage to the SFL-2. Power cords were all Shunyata Research Taipans, and a Shunyata Hydra Model-6 filtered the power. Speaker cables were Acoustic Zen Satori.
Listening
My own likes and dislikes aren't supposed to be factors in any review I write. If I like or dislike a speaker, that tells you, the reader, nothing of value. What I'm supposed to do is tell you how the thing sounds. That way, you can make an informed decision about whether or not it might appeal to you. Obviously, if I'm enamored of a component, that feeling will shine through what I write. Conversely, if I don't like what I'm hearing, that, too, will probably be noticeable, though I hope not so much. This way, I can be fair to you and to the component.
But even if I now must turn in my Reviewer's Guild wallet card and wall plaque, I have to tell you: I really liked the Lafleuraudio X1. I like a lot of speakers, and am generally easy to please, but if I didn't know better, I'd think that Lafleuraudio had ransacked my brain while I was sleeping, extracted my speaker wish list, then built the X1 to those specifications.
First, the X1 had impressive bass, given the fact that, other than its tweeter, it has only a single 5" woofer. My room isn't small, and opens up to another large floor. Generally, it's a fairly difficult room to load, but even though placed well out into the room, the X1s produced satisfying bass waaaay beyond my expectations. Cat Power's Jukebox (LP, Matador OLE 793-1) is a thick, juicy album rich in overproduced, studio-enhanced bass -- a larger-than-life kickdrum, and a halo of reverb around every instrument detach the music from any semblance of reality. Still, it's really enjoyable music, a sincere guilty pleasure. The X1's single low-end driver pumped out significantly more bass than I'd expected, staying tight and well defined throughout its entire range. Lafleuraudio specifies a low-end extension of 45Hz (without any reference to rolloff), and this seems reasonable to me, given what I heard. I imagine that most listeners with reasonably sized rooms won't feel the need for a subwoofer.
Furthermore, the X1's low end sounded incredibly articulate, with superb pitch definition, absolutely no overhang, and a nice, rich tone. That richness got me all excited -- I'm always willing to trade off a tiny leetle bit of steel-trap tightness in the low end for some of the warmth that, in my opinion, makes recorded music sound just that much more real and human.
Jukebox was the first album I played after roughly setting up the X1s, and it proved instructive in a number of ways. The fake yet incredibly billowy soundstage had me pulling the speakers farther and farther apart, each adjustment increasing the overall size and scale of the soundstage without cutting a hole in the center. I ended up with the speakers farther apart than usual, yet didn't feel the need to back them up to the front wall to take advantage of boundary reinforcement. In my books, this points to repeatable ease of setup; in other words, there's a good chance you'll get similar performance in your room. Once sited correctly -- 34" from their rear panels to the front wall and 10' apart -- the X1s threw an exceptionally well-formed, almost concrete soundstage.
To help pay for the rebuilding of my Roksan Shiraz, I recently went through my collection of sealed Mobile Fidelity Sound Lab LPs and endured the bittersweet experience of selling a bunch of them (for pretty good coin). Although I have a mint open copy, for years now I've been hoarding, with Gollum-like greed, a sealed LP of Muddy Waters' Folk Singer (Chess/MFSL 1-201). The night before I mailed the duplicate to its new owner, I sat and listened to the entire album, holding the sealed copy tight to my chest for the last time. It was an emotional moment for me, and the X1s brought me closer to the music and the musicians' intent. Although the backing instruments -- all acoustic -- are panned fairly hard left and right, Folk Singer was recorded with astounding resolution. Through some speakers the instruments can cluster quite tightly around the cabinets, but not through the X1s. On "My Home Is in the Delta," Waters' guitar remained at hard right, but free of the right speaker, hovering just slightly above and behind the cabinet. Waters' voice floated clearly in the center, and surrounding it was a delicious, eerily audible halo of the ambience of the studio in which it was recorded.
I'm not a fan of pop music -- it's rare for me to fall for a plain old pop or rock record. So I can tell you that it's safe to delve into Beth Orton's Central Reservation (LP, Arista/Classic RTH 2011) -- four vinyl sides of intelligent, lyrical music that combines delicate innocence with a core of tough wisdom. How about lines such as "What are regrets? / They're just lessons we haven't learned yet" or "I can still smell you on my fingers and taste you on my breath"? I like that. Via the X1s, the music on this studio album spread from wall to wall, running way back past the speakers' rear panels. I'd expected crisp, pinpoint imaging from the X1s, no doubt due to their small frontal area and the two tightly clustered drive-units -- on first glimpse, the X1s are easily pigeonholed as minimonitors, which are generally accepted as soundstaging champs. But while they did image superbly, the X1s took the concept one step further, throwing up realistic, fully formed images, with none of the thinness I sometimes hear from smaller speakers. The title track of Orton's album is quite dense, with an orchestral arrangement, but the X1s kept all instruments distinct and beautifully delineated, while rendering their sizes realistically and maintaining a holistic, adult-sized presentation. Very nice indeed.
The X1s' imaging and soundstaging prowess were likely due, at least in part, to their sounding clear and uncongested through the midrange -- no surprise, given the pedigree of the Scan-Speak drive-units. Lafleuraudio went to heroic lengths to ensure that the X1's cabinet is dead, optimally shaped, and entirely free of resonances that might otherwise interfere with the soundwaves actually emanating from its drivers. If the X1's midrange performance is any indication, they've succeeded admirably.
Eleni Mandell's voice on her Country for True Lovers (Heart of a Champion HoC-011) exemplified the X1's nifty way with voices. In the minimally recorded "Another Lonely Heart," Mandell's voice is front and center, and the X1s perfectly portrayed the rich creaminess of her clear tone, floating right there between them what sounded like an actual human head -- a singing one.
Higher in the audioband, the X1s seem to recess the upper midrange right through the presence, or sibilance, region. That I'm not averse to such a sound won't surprise regular readers of my reviews (hello? anyone out there?). I much prefer a slightly reticent upper midrange and lower treble to one that's elevated, or even flat. I like to listen at slightly louder volumes than might be considered perfectly realistic, and I've found over the years that speakers that measure flat tend to bother my ears at elevated levels, especially at the crossover frequencies used in typical two-way speakers.
The X1's Scan-Speak tweeter is an outstanding model that I've heard used in several other speakers. It has a silky richness, almost as if it's adding its own slightly euphonic overlay to the signal. I don't think that's actually what this tweeter is doing, but I do feel that the resultant sound is different from that of any other high-frequency driver I've yet heard, and I love it. The X1's highest highs did seem to be down somewhat in level, but a quick goosing of the volume control quickly elevated the highs to close to their correct proportions. Sticking with Eleni Mandell, I then found myself transfixed by the ride cymbal on "It's Raining." The X1 perfectly nailed this delicately played instrument with a silky shimmer utterly lacking in harshness, edge, or grit.
It must be plain by now that I was totally on board with the Lafleuraudio's presentation of high frequencies. However, I'm fully aware that there will be a significant number of listeners who will find this type of sound somewhat polite, perhaps even dull. Those of the Flat Is Right school would most likely not be happy with the X1. If that describes you, be warned and stay home; but if it doesn't, you should know that the X1s conferred on me the ability to listen at loud levels for long periods of time without experiencing the slightest listening fatigue or ear strain. In my books, that's worth a lot of coin.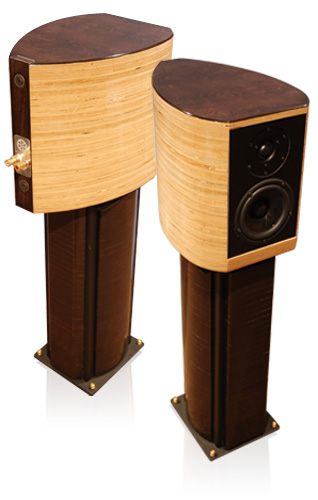 But is it worth $14,000/pair?
You decide
The Lafleuraudio X1 is a great loudspeaker that can deliver large amounts of musical satisfaction. However, it's still a two-way monitor that retails for $14,000/pair. That this speaker has value is not in question; the cabinets alone are works of industrial art, and Lafleuraudio has sunk a ton of resources into designing and manufacturing what may be a perfect home base for its drivers.
There are other, cheaper ways of constructing a dense, dead speaker cabinet. I'd be remiss in my duty to you, the reader, were I not to inform you that you can get sound quality this good -- albeit slightly different in many ways -- for significantly less money. You could even get a damn fine floorstanding speaker with serious low bass for significantly less money.
But if you've read this far, you're probably still interested in the X1, and are perhaps thinking of buying a pair. If you do, you'll be paying a large sum for an intensely satisfying musical transducer -- a uniquely designed loudspeaker from a company that has put significant resources into creating truly heroic cabinet construction. There's no doubt about it: You'll be getting a fantastic speaker.
. . . Jason Thorpe
jason@ultraaudio.com
Lafleuraudio X1 Loudspeakers
Price: $14,000 USD per pair.
Warranty: Five years parts and labor.
Lafleuraudio
125 Boul. Industriel
Cháteauguay, Québec J6J 4Z2
Canada
Phone: (450) 616-0525
Fax: (905) 415-0456
E-mail: info@lafleuraudio.ca
Website: www.lafleuraudio.ca