December 15, 2002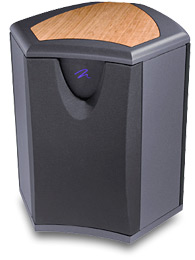 MartinLogan Descent Subwoofer
A Descent into Heaven
MartinLogan's new three-driver subwoofer marks the birth of yet another winner from this Kansas-based electrostatic speaker builder.
If the Prodigy is MartinLogan's best-realized electrostatic hybrid speaker -- and it is, unreservedly, whether you take my word for it or that of other reviewers whose names represent a modern Who's Who in audio -- then the Descent subwoofer is its ideal mate. Yoke the two together, and you come up with a pure example of the sum being greater than the individual parts.
The MartinLogan Descent subwoofer meets a number of the criteria one could dream up to allow for relative ease of integration between speakers and the room. Though no easy task, this, here's how one could break down such criteria:
It should have minimal cabinet resonance to prevent slurring of notes.
The subwoofer must be capable of plumbing notes deeply and accurately (enough) and without bloat below that of the open string of the upright bass, or about 41Hz.
There must be assorted tuning options, which would include some form of stepped phase control rather than mere invert potential, low-pass custom filter options and, of course, level options for customizing.
Servo-control should be included to reduce distortions, both harmonic and intermodulated types, when drivers are forced to make high excursions.
It should have a powerful and stable enough amplifier to fill the volume of my listening space while keeping noise and distortion at the lowest levels possible, irrespective of whether I want to feed the system juice (of course, not beyond reasonable levels).
Assorted input options should be available: balanced, unbalanced, and, to be truly a "woofer of all trades," LFE.
Looks should be appealing (though not ultimately a deal-breaking point).
Like the Prodigy and the more recent Odyssey hybrid speakers, that is, speakers that integrate traditional cone-and-panel technologies, the Descent itself is a descendent of ML's statement product, called -- no surprise here -- the Statement E2. That product's subwoofer towers (that's right, towers!) contain what ML terms BalancedForce technology.
Essentially, the goal of this technology is multifold. For openers, bass drivers throw energy both toward the front wall, especially the corners, and forward into the room directly. Whenever front-wall-reflected energy meets with the forward-moving bass energy, one wave is slightly behind the other and one can experience either booming or leanness, especially around the 50Hz and 100Hz regions. Of course, this is a simplification. Let's not forget the roiling that takes place when bass waves meet corners (two surfaces), and ceilings and corners (three surfaces).
In the Prodigy and Odyssey, ML positions the bass drivers in opposition to each other in a configuration trademarked as ForceForward bass alignment. In the Descent, three 10" aluminum drivers are each spaced 120 degrees apart in essentially a triangular configuration called BalancedForce.
In its hybrid electrostatics, ForceForward helps control bass-room interactions more readily by making the rear wave nearly null (in part, this control function helps minimize the rear wave by allowing for relatively uncomplicated speaker siting). With the Descent subwoofer, the BalancedForce technology lowers cabinet resonance so effectively that despite the intense pressures generated by drivers traveling even below 25Hz it eliminates the blurring, smearing, and bloating of bass lines found often among traditionally designed subwoofers. Of course, in the interest of honest disclosure, we must assume assiduous care has been taken to find the right location in relation to corners for this six-sided, 95-pounder constructed of 1"-thick, Canadian-sourced MDF. As well, though I have not heard them, one must assume that subwoofers like the higher-priced RELs and also the obscenely expensive Wilson can control smear, bloat, and so on, probably even better, but then your pockets will have to be equally deep, say on par with those of the Saudi royal family.
Then there's the Descent's servo monitoring and control that, according to ML's literature, "corrects for any acoustic deviation from the pure analog signal, resulting in a three to ten--fold distortion reduction (depending on sound-pressure levels) over traditional dynamic-driver technologies." ML's servo implementation is said to reduce harmonic and intermodulation distortion from the subwoofer's low-mass aluminum drivers, with their large voice coils and magnets. These drivers are capable of quite long throws ("extended throw" is how ML states it) yet exceedingly fast excursions. And that seemed to be the case subjectively. The Descent handled with aplomb the lightning-fast work by electric bass phenom Marcus Miller on his M2 [Telarc CD-8354] -- a tour de force compact disc. Thanks to the Descent's ready quickness and absence of overhang, Miller's speed up and down the neck of his bass becomes nothing short of astounding, making it clear to me why young bass players -- regardless of genre -- consider him the apotheosis of low-down brilliance.
The stunning-looking Descent (a relatively modest 21.75"H x 20"W x 18.5"D) has its traditional share of tuning options: low-pass filter choices (both 40Hz and 70Hz crossover points to accommodate bookshelf and floorstanding speakers, respectively; and if you're a 5.1 or more type, an LFE input allows you to select the crossover through your processor); phase control that allows for a range of options, from 0, 90, 180, and 270 degrees; and level control; plus, an energy-saving switch for auto/on/standby, and still another switch that allows you to control the intensity of the MartinLogan logo blue-light display (you can shut if off, but why bother, since its fluid lines are appealing yet completely out of the audio circuit). Finally, in an effort to help manage standing waves, the Descent provides a rotary switch at 25Hz, adjustable +/-12dB (your room, taste, and placement of the subwoofer determine the final setting).
The Descent is powered by a 400W, switching amplifier MartinLogan says is capable of low-distortion 800W peaks with a THD of .07% at all levels.
Set up
Like twiddling with the Atlantic Technology amplifier that graces my home-theater setup, finding a proper location for the Descent proved to be merely an exercise in patience, though by no means a frustrating one. The gross siting took but a day or so, though the final fine-tuning lasted several more. During this last phase, moving the Descent even one inch left, right, rearward, or forward would produce subjectively audible results.
When I thought that the subwoofer had been finally dialed in, I inserted MartinLogan's proprietary spikes. Trademarked ETC, for Energy Transfer Coupler, these spikes, fitting a common 3/8" thread insert, are the finest I've used. Thanks to the unique jam nuts, they easily and solidly allow you to anchor the Descent through carpet and padding and into the flooring. (Incidentally, the Descent balances itself on three spikes.)
Until the Descent had been added to my setup, I'd always felt that the Prodigy speakers had enough foundation at 28Hz (+/-3dB) to suit my taste. In fact, I'd always theorized that adding more oomph to the bottom might over-excite the room into a mélange of overhang and boom. The curious thing about high-end audio, however, is that you never know as much as you think you do -- even those who believe themselves to be golden-eared Dumbos (I'm not talking about myself, here!).
After some experimentation, I had settled on Nordost Valhalla interconnects and speaker cabling throughout my system, with Nordost Bass-Line interconnects for the sub. I used both the RM9 Collector's Edition and Audio Aero amplifiers, along with Herron's VTSP-1A line section and the Audio Aero Capitole 24/192 compact disc player. In addition to the Prodigy speakers, I briefly listened through my trusty Spendor SP7/1s.
Sound
Opting to run the system through low-level inputs, first up was the staple bass solo, "Love You Madly," from Ray Brown Trio Live at Starbucks [Telarc CD-83503]. Balanced and high-level inputs are also options; and if you want to slave another Descent, you'll find throughput connections as well, The key is to hear pitch definition, especially of the lower notes, moderate speed yet highly nimble finger work, and the return snap of string against the neck, and that's what the Descent delivered. In spades. When Brown plucked the 41Hz note and left it unfretted, the Descent maintained the deep note's pitch and the resonance of the instrument's wooden cavity, and it did so seamlessly, without the slightest bit of overhang. It was as I had recalled -- memory taken into account, here -- his having played it live at the Catalina Bar and Grill in Hollywood just six weeks before his passing. Through the Descent, Brown seemed a bit more holographic than usual and the notes were fuller, rounder.
Of course, hearing a single instrument play in this context is not asking much of a subwoofer, so on to "Caravan," a truer provider of insight. Here, Brown plucks and bows amidst an ever-accelerating mixture of piano by Geoff Keezer, a stunningly fast pianist, and drums, with intricate cymbal filigree, by Karriem Riggins. Simply, the music with Descent in place was as riveting as all get out. It was a fleshed-out trio, with a sonorous anchor that never lagged behind the pace of the flow.
Even without the Descent, this piece has always held its magic for me and the complexity of interplay continues to hold my attention and my spirit. I never sensed anything lacking, save what else would be revealed through a system costing significantly more.
What is interesting, and this is the lesson I learned, was how the music seemed to bloom, more than ever, once the foundation had been given an additional octave on which to rest. More accurately, the midrange simply flourished; something seemed to have been added ever so slightly just below the music's subcutaneous structure. There was something even more siren-like about the seduction, all because of the addition to the foundation.
I threw Leinsdorf with the Boston Symphony Orchestra's Concerto for Orchestra by Bartok [BMG 09026-63309-2] into the breach. Here one finds an unusual seating arrangement: to the right of the conductor, 12 violas, 12 cellos, and nine double basses, layered on risers no less. This veritable wall of low-frequency instruments opens the concerto, underpinning the proceedings. Against this sheer weight -- surprisingly transparent in its own way with the Descent supplying the necessary heft -- the rest of the orchestra sections get to reveal their strengths and distinctive characters. Without such a solid foundation, the passion and the soaring of sections can become ever so slightly less fleshed out. Also, the various bass, viola, and cello sections each lose just a bit, though essential, of their characteristic qualities.
For the naysayers who doubt that a seamless match between main speakers and a subwoofer is possible, you haven't heard the Descent, which is not just another piece of gear but rather an instrument that, when properly tuned, reveals the full glory and power of music. Sure, it seems designed primarily for the MartinLogan line, but what seems isn't always necessarily what is. Installing my Spendors for a time offered another opportunity to see how seamless the match could be made, and so it was -- with a little tweak here and an adjustment there.
Noted for their midrange, the Spendors suddenly seemed to open up a bit further, sounding more modern, as if the added weight at the bottom somehow freed them from their British politeness, and clearly expanding the bandwidth can produce surprising results. The 7/1s aren't as transparent as the Prodigy speakers. But with the Descent in place, they nevertheless subjectively appeared to blossom, allowing for a more precise rendition of instruments, instrumental cues, ambiance, and voices.
Conclusion
Until you've heard how essential the lower octaves can be for revealing the entire range of frequencies, especially their harmonic layers, it's hard to understand what's not being revealed in one's music. Beyond that, the addition of these octaves appears to expand the soundstage, allowing more air to exist between instruments, even between notes. With the Descent in place, an undeniable presence, subtle at times and not so subtle at others, was added to the music. Yes, I can live with the Prodigy electrostatics alone -- they do go down to 28Hz, after all -- but the question remains, do I want to? Parting with the Descent subwoofer will indeed be difficult, now that its inclusion has let me taste the subtlety of flavors and textures in music's cornucopia. With the Descent in place I feel, in fact, that I can stop chasing the absolute for the time being, and rediscover my music.That's how much this subwoofer adds to the sonic landscape.
While I'm making up my mind about such matters, here's something for you to ponder: Be careful about auditioning MartinLogan's Descent subwoofer. If you manage to integrate it into your system -- and that's a distinct possibility considering this 'woofer's utility -- music may become so much more involving, so enrapturing, so engaging, that you will find a way to pay the $2795 price of admission.
...Jerry Kindela
jerryk@ultraaudio.com
MartinLogan Descent Subwoofer
Price: $2795 USD.
Warranty: Three-year limited warranty (if registration card and copy of receipt are mailed in).
MartinLogan
2101 Delaware Street
Lawrence KS 66046
Phone: (785) 749-0133
Fax: (785) 749-5320
Website: www.martinlogan.com

All contents copyright Schneider Publishing Inc., all rights reserved.
Any reproduction, without permission, is prohibited.
Ultra Audio is part of the SoundStage! Network.
A world of websites and publications for audio, video, music, and movie enthusiasts.