June 1, 2004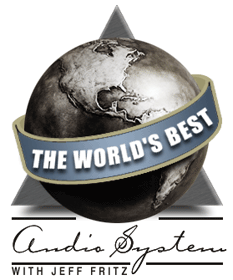 TWBAS 6/2004
Speakers: Wilson Audio Specialties X-2 Alexandria, WATCH Dog Series II
Amplifiers: Halcro dm68, Lamm Industries M1.2 Reference, Coda S100 Special Edition
Preamplifiers: Halcro dm8, Orpheus Laboratories Two
Sources: EMM Labs DAC 6e, Philips SACD1000 (modified by Ed Meitner; used as a transport only), Esoteric DV-50
Cables and power conditioning: Shunyata Research Hydra Model-8 and Model-2, Aries interconnects, Andromeda speaker cables, Anaconda Vx and Diamondback power cords
Gryphon Audio Designs Antileon Signature Stereo Amplifier and Sonata Allegro Preamplifier
The closer an audio component comes to my ideal of being the best, the harder it is for me to write about it -- this despite my overflowing admiration for such rare creatures. As a component comes closer to my ideal, it exposes itself to a diminishing angle of attack for me as a writer. Whether a brute-force mammoth, a high-tech wunderkind, or a study in craftsmanship, most products show their best side much as a model prefers certain aspects of her face or body to be photographed. There are traits other than the obvious ones neatly hidden.
The Gryphon Audio Designs components under examination here have, as if perpetually turned on a dais, denied such a static view. Granted, your first impression of the $24,000 USD Antileon Signature Stereo amplifier will be that it is a monster of a component. It is simply huge -- almost 200 pounds in weight and 22.8"W x 10.4"H x 24"D. It's dimensionally larger than it appears in pictures due to its symmetry. (Unlike, for example, Threshold's SA-12e of yore, the sheer depth of whose chassis in comparison to its height and width made it unwieldy to place and look at.) The $12,500 Sonata Allegro preamplifier is large, too, but not unwieldy as it is separated into two 19"W x 5.2"H x 15"D components. Each preamp chassis, though, is actually a two-box design; the power supply and control unit each contain two physically separate boxes connected by gold-colored cylinder-shaped sleeves.
But once you get past the immensity of it all, your impression might change. Mine did, as I concentrated on the actual aesthetic details of the physical architecture. There's the black acrylic used on the front panels of each component, so dark as to seemingly lighten the black anodized-aluminum chassis to the eye. Then you have the multi-layer top plate of the Antileon Signature Stereo, which seems to give depth and added visual dimension as you're looking straight down upon it from above. The Sonata Allegro, with its aforementioned four individual boxes, is equally interesting -- from above you can see the shelf on which it sits by looking right down upon its divided center: Again, to the eye it alters the perception of the component; you'll see depth and dimension without apparent bulk. It's also impossible to neglect how all of the materials fit together in such a flowing fashion. That aspect alone will cause appreciation of the exactitude of the physical design.
Once you start using these components you'll form another set of impressions. Brute-force build is not accompanied by brutish ergonomics. The muscle is guided by intellect. For instance, you can select the level of class-A power produced by the Antileon Signature Stereo from the amplifier's front panel -- just press either the Bias L (50W class A/150W class A/B) or Bias H (150W class A) button. For critical listening you might go with the full-bore, scaldingly hot class A of Bias H. Conversely, you have the option of lowering the available class-A output, thereby running the amp slightly cooler for less-critical use. Further, if used with the Sonata Allegro preamplifier and connected with Gryphon's proprietary Green Bias Link, you have access to what Gryphon calls "Green Class A." This feature adjusts the amplifier bias in relation to the preamplifier's volume control. You simply have the amount of class-A power on tap that you might need. Massive power reserves are ready and waiting -- up to 5000Wpc of peak power into a half-ohm load should you need it.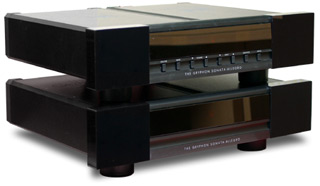 Have you seen the high-tech computer systems used to help diagnose automobile malfunctions? Gryphon Audio Designs' version is built in to the Antileon Signature Stereo. If you'd like for the amplifier to run a series of diagnostics to ensure proper operation, simply press the Check button on the front panel; once the test cycle is complete, OK indicators on the faceplate will illuminate for each channel. If the Antileon Signature ever requires service and is sent back to the factory in Denmark, you'll have your own record of what was done inside the amplifier. An internal service log is contained within the upgradeable microprocessor's software, so you, or the subsequent owner (if you ever part with the amp!), will know if that particular unit was repaired or upgraded. Pretty advanced stuff going on in Scandinavia, I'd say.
But there is still that outward appearance of simplicity that you'll appreciate. For example, there are a variety of custom adjustments available to the user of the Sonata Allegro preamplifier, but the front panel isn't cluttered with them. Instead, they're hidden from sight behind the dark acrylic faceplate. You'll only know they're there by calling them up -- either by the remote or from the front panel -- at which time a menu will appear in red lettering behind the jet-black face; adjustments include level matching for each input, a default start-up level, and a maximum level so that a miscue doesn't blow up your speakers. I was impressed. Just as the physical design reveals layers of well-thought-out detail, so does the user interface. There just always seems to be more to discover about these components.
Before I describe the sound, here are the rest of the nuts'n'bolts. Both the Antileon Signature Stereo and Sonata Allegro share a number of design characteristics, such as fully discrete, pure-class-A, dual-mono, fully balanced circuitry. The dual-mono aspect of the design of each component is taken to the practical extreme -- there are two detachable power cords and two power switches for both the preamp and amp. The Antileon Signature Stereo is said to use "zero global feedback," while the Sonata Allegro eschews "negative feedback." Both components have massive capacitor banks for their respective functions. The amplifier sports twin-tiered banks totaling 440,000 microfarads, while the preamp counters with 33,000 of its own. Internal wiring is kept to an absolute minimum in both units, and where it is needed Gryphon's own Guideline Reference gold-embedded silver wire is used.
The Antileon Signature Stereo's mammoth weight is partly due to the custom-designed 1500W transformers that are potted in epoxy and mounted inside their own shielded compartment. The Sonata Allegro utilizes custom-made C-core transformers -- one for each channel -- each mounted in a separate chassis. The 150Wpc Antileon Signature has balanced inputs only, but Gryphon does supply a set of high-quality RCA-to-XLR adapters. Two sets of rugged gold-plated binding posts of Gryphon's own design are provided for biwiring. The Sonata Allegro has four balanced XLR and two single-ended RCA inputs and two balanced and one single-ended output. The multiple outputs make powering subwoofers and/or multiple amplifiers a snap. The Sonata Allegro, according to the design brief included with the unit, even has its very own power-line conditioning and voltage regulation.
Finally, a word about the build quality: outstanding. I have long admired companies that go above and beyond to deliver a product that is constructed with greater care than most. It's one aspect of my Wilson Audio loudspeakers that is obvious before you even hear them. The Gryphon separates are similarly impressive. Every chassis component is fitted to the next with precision, while each piece is machined with excruciatingly tight tolerances. Sheer perfection. Onlookers in your listening room might question why you paid so much for a Gryphon component, but they won't question that what they're looking at is top-shelf stuff. During the audition period even casual observers in my home commented on the incredible aesthetic design of the Gryphon gear.
But all of these details would be for naught if it weren't for the equally impressive sound. Once the Gryphon Audio Designs tandem was powering and controlling my system, the sonic attributes of the components revealed themselves in much the same way as the physical and ergonomic design elements -- in stages. The first impression was predictable. I expect big solid-state electronics to have lots of drive, deep bass, and an immensely dynamic presentation. The Gryphons displayed all of these characteristics with a confident, straightforward character, easily meeting my initial high expectations.
One of my recent musical references, Mickey Hart and the Kodo drummers performing "Daraijin" from Mondo Head [SACD, Sony/Red Ink 56111], provides ample opportunity for electronics to fall apart or shine, especially when driving large speakers capable of deep, impactful bass and crisp transient snap. The Wilson Alexandria X-2s were kept under tight-fisted control on this track, starting and stopping with agility. The deep bass whacks were centered and visceral, and as physically experienced as I've heard over TWBAS. The musical presentation sounded confident and fully rendered as the bass rolled through my room in waves -- it was clear that lots of refined power was on tap. This also resulted in a completely stable and refined soundstage.
However, running through some favorite discs, I discovered there was much more to the Gryphon presentation than what is typically expected with expensive solid-state electronics. There was a tonally rich presence; a full palette of colors was available to make the music sound real, in this case just the opposite of washed out and thin.
Listen to Siberian-born Konstantin Scherbakov performing Rachmoninov's Piano Concertos No.2 and No.3 [DVD-Audio, Naxos 5.110013] with the Russian State Symphony Orchestra and you might wonder just what type of amplifying component you're hearing; the positive characteristics that are typically attributed to tube electronics simply ooze from these bipolar beasts. Piano had appropriate weight and body, the studio acoustic was delivered with dimensional accuracy, and scale was not a problem. It was almost as if I were biamping my speakers with a solid-state behemoth on the bass end and a tonally pleasing tube amp up top. Such was the best-of-both-worlds sound I was experiencing.
Perhaps the most impressive aspect of the Gryphon Audio Designs combo was the palpable yet huge soundstage that developed in my room. The Wilson X-2 Alexandrias are, in my experience, without peer in their ability to cast a soundstage that's as believable as I can imagine. The Gryphon separates were able to exploit this capability fully, even beyond what I'd heard with previous amplifiers. Images were locked in place from wall to wall, though not possessed with razor-sharp edges; instead they were more lifelike than hi-fi, being full of body and dimensionally accurate at the same time. A fine example of this characteristic could be heard when playing back Holst's The Planets as performed by the Royal Scottish National Orchestra (SACD [Naxos 6.110004]). The realness factor was incredibly high on "Mars, the Bringer of War," and as it must have sounded when originally recorded in the City Halls of Glasgow, Scotland.
Finally I must say that, although it's hard to objectively quantify, the elusive emotional connection with some of my favorite tunes grew by important margins. Eva Cassidy's soulful performance of Sting's "Field's of Gold" (Live at Blues Alley [Blix Street 10046]) is heart-wrenching over any system, but it reached new depths of emotion as played through the Gryphon electronics. It was the clincher, the point at which I knew I was hearing audio electronics that bettered anything I had previously heard.
Always do right. This will gratify some people and astonish the rest.
In many ways the Antileon Signature Stereo/Sonata Allegro duo combines the most-sought-after qualities of the best electronics I've heard: the extension and control of the Halcro dm68 along with the purity of tone and natural presentation of the Lamm M1.2 Reference amps. It's not that they walk a fine line between those two extremes of design, but rather tread both sides of the line seemingly at the same time. Perhaps the Gryphon separates are not quite as tomb-like quiet as the Halcros, and I could argue that the Lamms' musical cohesiveness is second to none in my experience, but the Gryphon combo put together a set of strengths that I once thought were diametrically opposed. It is the completeness of their performance that leads to the magic of their sound.
Which leaves the inevitable question -- what is best? At this exalted level, there are no losers. For The World's Best Audio System I'm only seeking out gear that holds the highest promise, so therefore I could argue that a number of electronics that I've heard could be called best. In the right system and to a particular listener, any of them could come out on top. But to leave it at that would be taking the easy way out.
So perhaps the better question is this: If I had to quit auditioning amplifiers and preamplifiers today and keep one stereo setup for the duration of my days, which eletronics would I choose out of all those I've heard? The Gryphon Audio Antileon Signature Stereo amp and Sonata Allegro preamp, without a second thought. They're the desert-island pairing I'd most like to be stranded with. And if that happens, don't come find me anytime soon.
...Jeff Fritz
jeff@ultraaudio.com
Manufacturer contact information:
Gryphon Audio Designs
Industrivej 9
8680 Ry
Denmark
Phone: (45) 86891200
Fax: (45) 86891277
E-mail: sales@gryphon-audio.dk
Website: www.gryphon-audio.dk

All contents copyright Schneider Publishing Inc., all rights reserved.
Any reproduction, without permission, is prohibited.
Ultra Audio is part of the SoundStage! Network.
A world of websites and publications for audio, video, music, and movie enthusiasts.