May 15, 2004
Favourite Overtures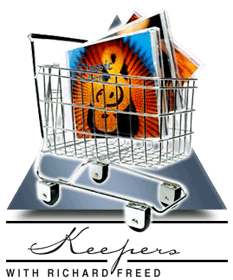 In a conversation with a West Coast colleague a few weeks ago, I mentioned having attended a concert in which I heard an exceptional performance of Rimsky-Korsakov's Russian Easter Overture. At that point there was a curious silence, broken by my friend's remark, "I have a confession to make." The confession, delivered in the most apologetic tone, was, "I love that piece. I just can't get enough of it." That hardly called for embarrassment or apologies, I told him, and especially not to me, since I listen to that piece just about every day.

If not the whole 15-minute overture, I hardly let a day go by without treating myself to the extended coda -- the final two and a half minutes of the 15-minute work. The stunning performance by the Cleveland Orchestra under Lorin Maazel, vintage 1980, is one of those extra-special combinations of musicianship and engineering skill that represent total realization: a recording whose sound quality is not merely "realistic" or "transparent," but as ideally suited to the performance as the performance is to the music itself. On this level of listening pleasure, no piece of music can be written off as trivial or dispensable. I check this track daily, for the sensual pleasure of what I hear, and to reassure myself on the performance of my system.

Maazel's Russian Easter is the seventh and most remarkable of the eight tracks on an inexpensive CD in the "Eloquence" series produced by Universal in Australia. The series draws its material from the back catalogs of Decca, Deutsche Grammophon, and Philips, and includes more than a few great items -- though perhaps none more all-round persuasive than this one from Decca. It's headed Favourite Overtures [460 506-2], and it's made up of titles that are likely to be duplicated in various collections of music by a single composer. In this case, however, the question of duplication ought not to deter anyone. Performances on this level, particularly when preserved in sound quality to match, are always a joy in their own right.

Of the seven other overtures here, four are introductions to operas or ballet: Verdi's Forza del destino, Beethoven's Creatures of Prometheus, Glinka's Russlan and Ludmilla, Rossini's Gazza ladra. The rest, like the Russian Easter itself, are self-standing concert pieces: Berlioz's Roman Carnival, Brahms's Academic Festival, Gershwin's Cuban Overture. The Gershwin is perhaps as outstanding as the Rimsky -- but there is not a single track here that is less than superb.
Why Decca has not made this disc available outside Australia is another of those unanswered (and possibly unanswerable) questions that relate in varying degrees of directness to what is happening to the recording industry these days, but it is neither complicated nor expensive to order a copy from Australia. My own source is a very efficient exporter called Buywell. When I got my copy of this CD, about two years ago, the exchange rate was so favorable that the total cost, including fast airmail shipment, was under $10; now it's closer to $15, but still a great buy.
The Perfect Fool Redivivus
"Keepers" began only two months ago with its focus on another Decca recording: Sir Adrian Boult's performance, with the London Philharmonic, of the Ballet Music from Holst's opera The Perfect Fool. That column listed two CD reissues, neither of them available in the US at that time, with an exhortation to go out and hunt for the one or order the other from the UK. Now no such effort is necessary, as Decca has come out with a new transfer of Boult's Perfect Fool, in a two-disc set of Holst recordings in its British Music Collection series [470 191-2], and the sound quality is almost identical with that of the earlier CD reissues.
This new compilation again includes the two original LP disc-mates conducted by Boult -- the tone poem Egdon Heath and the choral Hymn of Jesus -- as well as later recordings of the St. Paul's Suite and A Fugal Concerto by Christopher Hogwood and the St. Paul Chamber Orchestra, and A Moorside Suite with Elgar Howarth and the Grimethorpe Colliery Band, but Solti's LPO recording of The Planets is not present. Instead, there is a bigger helping of vocal works than before, in authoritative performances conducted by the composer's daughter Imogen Holst: the Choral Hymns from the Rig Veda, Seven Partsongs, The Evening Watch, and the chamber opera Savitri. Lamentably, texts are not provided, but some helpful background is given in the pithy annotation, and in any event what matters most is the reappearance of the Boult material.
As this set was being shipped by the time the March "Keepers" was online, this department can't claim credit for the third CD reissue of Boult's Perfect Fool, but it is heartening to have it back. Don't miss it this time!
...Richard Freed
richardf@ultraaudio.com

All contents copyright Schneider Publishing Inc., all rights reserved.
Any reproduction, without permission, is prohibited.
Ultra Audio is part of the SoundStage! Network.
A world of websites and publications for audio, video, music, and movie enthusiasts.