August 1, 2006
Le Maître's Proprietary Daphnis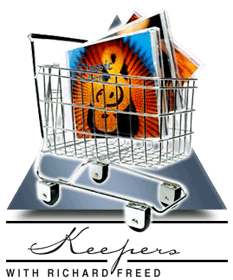 Pierre Monteux (1875-1964), one of the most remarkable conductors of his time (or any other, for that matter), was also a serious and effective pedagogue; he established a school for conductors at Hancock, Maine, which, as he planned, continues long after his death. He began the important part of his career as a conductor for the ballet company of the famous impresario Serge Diaghilev, whose influence was considerable in sustaining and expanding upon the phenomenal Franco-Russian cross-pollination touched off by Berlioz's visit to Russia in 1867. Serge Koussevitzky, a Russian-born conductor based in Paris until he succeeded Monteux with the Boston Symphony Orchestra in 1924, brought that cross-pollination to its symbolic crest by providing Ravel with the commission to orchestrate Mussorgsky's piano suite Pictures at an Exhibition in 1922. Monteux began his connection with Diaghilev before Koussevitzky arrived in Paris: in 1911 he presided over the premiere of Stravinsky's Petrushka; two years later he conducted the tumultuous one of the same composer's Rite of Spring and that of Debussy's Jeux; in 1912 he introduced Ravel's Daphnis and Chloe. It is our good fortune that he lived long enough to record all these works -- among many others -- under optimal conditions in stereo. He recorded some of his favorite pieces -- symphonies of Brahms and Berlioz as well as The Rite of Spring -- as many as four and even five times. Ravel's masterwork he recorded only once in its entirety (following an earlier 78rpm account of the first of the two concert suites Ravel extracted from that score), but that one version, taped in April1959, remains even now about as definitive as a recorded performance can be; it is understandable that Decca has kept it in its active catalogue without interruption since its initial release on LP and has just brought out a new compact disc edition.
Monteux was born exactly four weeks after Maurice Ravel. He knew Ravel, adored his music, and understood it down to the ground. By the time he recorded Daphnis and Chloe he had formed a close connection with the London Symphony Orchestra, which was at its peak then, with the horn player Barry Tuckwell, the clarinetist Gervase de Peyer and the violinist Neville Marriner among its section leaders, and was perhaps the busiest of all orchestras in the recording studio. (Marriner, the LSO's principal second at the time, became one of Monteux's conducting pupils in his school at Hancock.) The LSO, in fact, made Monteux its chief conductor in 1961, when he was 86, and gave him a 25-year contract. His death three years later kept him from fulfilling the full term of that contract, but he did make quite a few memorable recordings with the orchestra, for both Decca and Philips, and none of these is more valuable, both musically and historically, than his Daphnis, produced by the legendary John Culshaw, with the orchestra joined by the Chorus of the Royal Opera House, Covent Garden.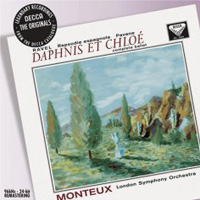 Its latest incarnation [Decca 475 7525] is part of a series for which Decca has borrowed a name from its sister company Deutsche Grammophon: "The Originals" (with the disc itself also following DG's "Originals" in giving the appearance of a small LP, with the old-style label surrounded by simulated grooves). While I've seen no form of explication from Universal, the material to which Decca is affixing this rubric appears to be a continuation of the somewhat earlier reissue series the company called Decca Legends. Once again we have 96/24 remastering from the original master tapes, representing an improvement on the last previous CD edition only slightly less stunning than the overall improvement over the LPs. Like its most recent predecessor edition [448 603-2, in Decca's "Classic Sound" series], this CD comprises all the Ravel Monteux recorded for Decca: the 51 minutes of Daphnis (conveniently laid out on 12 tracks) are followed by the Rapsodie espagnole and the Pavane pour une Infante défunte, taped at the end of 1961 by another legendary producer, Erik Smith (the son of the conductor Hans Schmidt-Isserstedt). These same recordings of the two shorter pieces have appeared also on a Philips CD of still more Monteux/LSO Ravel, recorded for the Dutch company only a few months before the conductor's death in 1964: La Valse, Boléro and the extended ballet version of Mother Goose. No serious collector has ever complained about this duplication, and the new presentation in "The Originals" is a shade more quiveringly realistic than the "Classic Sound" edition, which is to say, this CD presents all the Decca material -- the peerless Daphnis in particular -- at its best ever.
Koussevitzky, by the way, who succeeded Monteux in Boston and made history there during his 25-year tenure, never invited his illustrious predecessor back as a guest. That snub was addressed grandly by Koussevitzky's successor, Charles Münch, who invited Monteux every season, took him on the orchestra's European tour, and approved RCA Victor's wishes to record le Maître (as Monteux was known to his associates) with the BSO. Among the Monteux/Boston recordings: the last three Tchaikovsky symphonies, Monteux's stunning final Petrushka (all these in stereo) and, in mono, the most vivid of his four studio recordings of The Rite of Spring.
...Richard Freed
richardf@ultraaudio.com

All contents copyright Schneider Publishing Inc., all rights reserved.
Any reproduction, without permission, is prohibited.
Ultra Audio is part of the SoundStage! Network.
A world of websites and publications for audio, video, music, and movie enthusiasts.