November 1, 2008
The Art of Vernon (Tod) Handley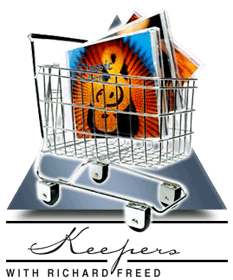 Of the numerous conductors whose work we have come to know chiefly or entirely through recordings, none has been, for me, a more consistent and unfailing source of great pleasure than Vernon Handley. He died last September 10, two months shy of his 78th birthday, and all the obituary pieces in the British press were in unreservedly enthusiastic agreement on the excellence of his musicianship and the attractiveness of his personality.
The latter, of course, is not our concern -- or certainly ought not to be -- in listening to recordings. His death calls for attention here, not because we knew the man but simply because the heading of this series might well apply to his entire discography. I honestly cannot think of a single Handley recording that failed to satisfy on the very deepest level, or which I would regard as being non-essential to my own collection.
For the most part, we identify Handley with British music. He was the successor to Sir Adrian Boult as the most authoritative and persuasive champion of that repertory, and he was in fact Boult's protégé. When he was about 20 years old and decided he'd like to be a conductor, he simply went after Boult, succeeded in meeting him, and was not only invited to sit in on Boult's rehearsals but became his assistant. He modeled his own conducting approach directly upon Boult's: communicative rather than demonstrative, always clear to the musicians, offering no visual spectaculars to the audience. Handley's performances were for his own pleasure, and his musicians', and for what the listeners took in through their ears, not their eyes.
Handley's repertory was admittedly less broad than Boult's. He found no appeal in Mahler and little in Beethoven, Haydn or Mozart. His response to later Romantics, such as Grieg and Dvorák, was as heartfelt and dead-on as his devotion to his compatriots. He bristled, in fact, at the idea of being categorized as a "British-music conductor": he regarded himself as a conductor, period, but he did feel he had an obligation to "the native music" and he clearly loved fulfilling that obligation -- attending to the known and unknown music of British composers from the middle of the 19th century to his own time -- even though it may not have been the best thing for building his career.
He conjectured that it would have been to his advantage, and possibly to the advantage of the British music he championed, if he had established himself in the broader repertoire before taking up the British material -- but it simply didn't happen that way. He made his name as Boult's successor in that special field, and it was definitely not merely a sense of responsibility that led him in that direction: he clearly relished that involvement, and his role in bringing the lesser known works to a broader public. Among his recordings, on labels such as EMI, Hyperion, Chandos, Conifer and Lyrita, are all the symphonies of Charles Villiers Stanford, Granville Bantock, Arnold Bax, Ralph Vaughan Williams, and Malcolm Arnold as well as many other titles by those composers and such others as Frederick Delius, Arthur Bliss, E.J. Moeran, Edward Elgar, Elizabeth Maconchy, Edmund Rubbra, John Jourbert, Gustav Holst, William Walton and Rutland Boughton.
On this subject, Handley once remarked, "When I'm abroad, I'm asked to do Prokofiev, Shostakovich, Brahms, Beethoven, Berlioz, all sorts of things. And I always say to the British public and those who have pigeonholed me, don't worry, whenever I play any of these composers, after the first few bars I can make them all sound like Vaughan Williams."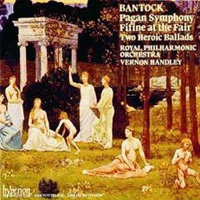 While, as already conceded, a musician's personality is hardly the major concern of anyone enjoying or evaluating his recordings, it happens that the personality implicit in Handley's recordings is actually very close to the man's actual persona -- not his biography, which would have to include mention of his persistent health problems and his three failed marriages, but the nature of the man himself, which so informed his musicianship. As the foregoing quotation may suggest, his modesty was not a pretense: he didn't care for his given names -- Vernon George -- so people who knew him or worked with him called him "Tod," the nickname given him in his infancy by his father, because he "toddled." All the obituarists whose pieces I've read describe themselves as friends of his. It's simply true that he enjoyed friendships, he enjoyed life beyond music (photography and bird-watching were among his pursuits), and he had the broad sense of humor that illumines his lusty realization of the scherzo section of Granville Bantock's Pagan Symphony and his similarly exultant exhibition of all-out orchestral virtuosity in Malcolm Arnold's Tam o' Shanter. Here is the most robust, straightforward music-making, utterly disarming in its healthy directness, stunning in its seemingly effortless precision. The sense of delight and confidence is palpable. The respected music critic and author John Amis (a sort of legend in his own right by now) gave us this vignette in the obituary he wrote for The Guardian:
"I have seen orchestras applaud him as he came on for the first rehearsal of a concert. I have also seen orchestras give him two lots of applause at the end, a rare accolade. Tod was utterly reliable. He could steer the orchestra safely through the trickiest time changes and difficult entries, always, at the same time, probing the music to its depths. However, at the beginning of his career it was sometimes different. At one of his first concerts with the Royal Philharmonic Orchestra, its first bassoon, Gwydion Brooke, equally known for his wonderful playing and his baiting of conductors, started to give Tod a bad time. After a few sorties, Tod stopped the orchestra and said: 'Mr. Brooke, please don't bother to intimidate me. I'm scared stiff already.' Game and set to Handley!"
(John Amis's piece in full will give you a better idea of the kind of man and musician Handley was, and why he was held in such high regard by his colleagues, both personally and professionally; it is available on line at guardian.co.uk/music/2008/sep/12/classicalmusicandopera/print.)
In the course of his career, which began in the 1950s, Handley conducted all the big London orchestras and held positions there, in Liverpool, in Belfast (Ulster), Malmö (Sweden) and Adelaide (Australia). He appeared all over Europe, in South Africa and the Far East, but, as far as I've been able to tell, he never conducted in the U.S. That's a pity; our musical life would have been richer if he had been part of it, but in any event his numerous recordings continue to deliver on a quite exceptional level. He enjoyed recording, and virtually all of his recordings are excellent sonically. Stereo had become the norm when by the time he began; he had very good luck with his production teams, and they in turn appreciated his efficient use of studio time and his never failing good humor, even when he was suffering from poor health or on crutches following a highway accident.
Moreover, like Boult, Stokowski, Ansermet, Kubelík and today's José Serebrier -- to name a few other conductors who admitted they enjoyed and valued recording -- Handley understood that this medium not only gave permanency to his own work but enabled him to get all those lesser-known works heard. Joy and fulfillment seemed to energize him; there is no hyperbole in declaring that every one of his recorded performances has an exceptionally "live" quality, even though nearly all are studio productions. Here is a brief list of some of the outstanding ones, recordings that represent Handley's enthusiasm, authority and communicative power most vividly. (Some of the catalog numbers given here may not be the latest editions of the respective recordings.)
Among Handley's splendid recordings of Malcolm Arnold's concert works, made for Conifer with the composer present and circulated by BMG in the early 1990s, the best for starters would be the one that opens with Symphony No.6 and winds up with the aforementioned Tam o' Shanter (with Derek James making the incredible most of the outrageous trombone solo) (Conifer/BMG 74321-16847-2).
Handley's indicated his deep commitment to the music of Arnold Bax decades ago, in naming one of his daughters Fand, after the composer's tone poem The Garden of Fand, but more pertinently throughout his life in performances many regard as definitive. Among his very last recordings is a survey of Bax's major concert works with the BBC Philharmonic for Chandos. A space-saving box of five CDs comprises the seven symphonies, the marvelous Tintagel, the Rogue's Comedy Overture, and an hour-long interview in which Handley discusses the music with Andrew McGregor (CHAN 10122 5). Two subsequent single CDs cover the tone poems and the Sinfonietta (CHAN 10362 and 10446).
If Edward Elgar figures less conspicuously in Handley's discography, it is not because of a lack of enthusiasm on his part. His recording of the Violin Concerto with Nigel Kennedy and the London Philharmonic remains for many the last word on this expansive work, despite the violinist's subsequent remake with Simon Rattle (EMI CDC 7 47210 2).
Few of us could claim any familiarity with the works of Granville Bantock until Handley began recording them for Hyperion. The first disc in that splendid series remains a favored "demo" item, for the spacious Fifine at the Fair, and the bracing Two Heroic Ballads as well as the already cited Pagan Symphony, and it's a sure bet this will persuade anyone with working ears to proceed to the rest of the series.
Gustav Holst's two best-known works -- The Planets and the St Paul's Suite (for strings) -- are given exemplary performances by Handley and the Royal Philharmonic, spaciously recorded on the orchestra's own label (RPO 2807).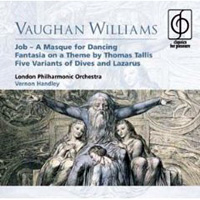 Handley's own annotation, with illuminating references to his acquaintance with the composer, is a bonus with his 1970s recordings of Edmund Rubbra's Second Symphony and Festival Overture, with the New Philharmonia, on a disc that includes Boult's London Philharmonic performance of the Seventh (Lyrita SRCD.235).
From Handley's coverage of music of Ralph Vaughan Williams, four EMI Eminence CDs call for special attention. Two are with the LPO: Job: a Masque for Dancing, EMI CDM 7 62016 2; The Lark Ascending (David Nolan, violin), Five Variants of "Dives and Lazarus" and the "Aristophanic Suite from The Wasps, EMI CDM 7 62018 2. And two with the Royal Liverpool Philharmonic: Symphony No.5 and Flos Campi (with Christopher Balmer, viola, and the Liverpool Philharmonic Choir), EMI CDM 7 62029 2; an assortment of brief works mostly for strings -- Partita, Oboe Concerto, Tallis Fantasia, English Folk Songs Suite, Fantasia on "Greensleeves" EMI CDM 7 64114 2.
Finally, by way of demonstrating Handley's similarly persuasive way with music from outside Britain, John Fernström's Twelfth Symphony and Dvorák's Biblical Songs, with the Malmö SO (Birgit Finnilä, alto, in the Dvorák), BIG BEN (611) 861-006, and a warm-hearted Grieg collection with the Ulster Orchestra (Peer Gynt Suite No.1; Two Elegiac Melodies, Sigurd Jorsalfar Suite, Symphonic Dances), CHAN 8524, that is by no means overshadowed by the same label's subsequent offering of the two least-known of these titles with Rozhdestvensky and the Royal Stockholm PO.
. . . Richard Freed
richardf@ultraaudio.com

All contents copyright Schneider Publishing Inc., all rights reserved.
Any reproduction, without permission, is prohibited.
Ultra Audio is part of the SoundStage! Network.
A world of websites and publications for audio, video, music, and movie enthusiasts.