October 1, 2009
The Solid and Timeless Charm of Chabrier, Plus More Bicentenary Haydn Reissues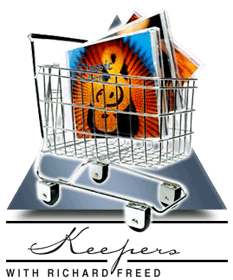 Constant Lambert's book Music Ho! (A Study of Music in Decline) remains in some respects as provocative now as when it was first published, in 1934, when its author was turning 29. The book focuses conspicuously on the works of Jean Sibelius, who was at that time just laying down his pen, and also on an earlier composer too frequently dismissed as a lightweight, Alexis Emmanuel Chabrier, who still needs -- and richly deserves -- some really strong advocacy.
"Above all," Lambert wrote, "Chabrier holds one's affection as the most genuinely French of all composers, the only writer to give us in music the genial rich humanity, the inspired commonplace, the sunlit solidity of the French genius that finds its greatest expression in the paintings of Manet and Renoir [both friends of Chabrier]. There was, too, a touch of Toulouse-Lautrec about him if we can imagine Toulouse-Lautrec without any of his sinister qualities.
"Although he unfortunately spent half his time trying to become a French Wagner, his best work is a musical summing-up of the anti-Wagnerian aesthetic which was not to find concrete verbal expression until much later -- in Cocteau's Coq et Arlequin. He was the first important composer since Mozart to show that seriousness is not the same as solemnity, that profundity is not dependent upon length, that wit is not always the same as buffoonery, and that frivolity and beauty are not necessarily enemies."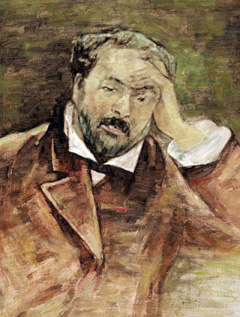 Chabrier (1841-1894) was possibly the most remarkable French composer of his time in terms of sheer originality and of both the breadth and the durability of his influence upon his latter-day compatriots. Like his Russian contemporary Tchaikovsky, he was trained in law and did not take up a serious career in music until he had held a minor post in a government ministry. Unlike Tchaikovsky, who left his job in his early 20s to enter the St. Petersburg Conservatory and upon graduation joined the faculty of the Moscow Conservatory (which now bears his name), Chabrier didn't give up his day job until he was nearly 40 years old.
In 1879, by which time he had established friendships with eminent writers, painters and musicians and had become a significant figure in the Société Nationale de Musique, Chabrier requested a leave from the Ministry of the Interior to accompany his friend Henri Duparc (the composer of few but exquisite works, to whom César Franck dedicated his famous Symphony in D minor) to Munich for a performance of Tristan und Isolde. In the following year he left the Ministry to devote himself entirely to music. His creative activity was cut off in 1892, when he suffered a general paralysis; by the end of the following year his condition was such that he sat through the Paris premiere of his opera Gwendoline without recognizing the music as his, and nine months later he was dead. The works he composed within barely a dozen years, though, constitute a pivotal factor in the renewal and continuity of French music.
That may seem an exaggerated claim on behalf of a composer known to many people by a single work -- the brief orchestral rhapsody España -- and whom far too many others tend to put down as a mere concocter of light pieces. But the aforementioned Gwendoline, a tragic work reflecting Chabrier's early fascination with Wagner, is not his only opera; his comic masterwork Le Roi malgré lui ("The King in Spite of Himself") is an absolute knockout. And when we do have opportunities to hear his other works for orchestra, or for piano, the neglect they have suffered over the years has to raise obvious questions.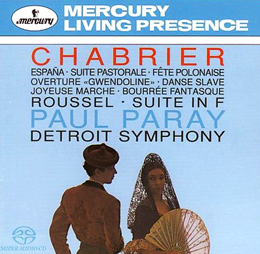 Chabrier's influence is easily enough felt in various early works of Debussy, whose Petite Suite for piano duet finds its antecedents in Chabrier's orchestral Suite pastorale and the ten Pièces pittoresques from among which its four sections were chosen. César Franck described those piano pieces as "a bridge between our own times and those of Couperin and Rameau." Ravel acknowledged that his famous Pavane pour une Infante défunte was written "under the spell of Chabrier," and he produced a charming Gounod paraphrase, À la manière de Chabrier.
Erik Satie more or less inherited Chabrier's style and expanded on it; it was he who suggested that his own disciple Darius Milhaud compose recitatives for Chabrier's one-act opera Une Education manqué because, as Milhaud recorded in his autobiography, his own music bore "the stamp of Chabrier's style." Francis Poulenc spoke of Chabrier as his "spiritual grandfather." The list of such acknowledgements from latter-day French musicians is virtually endless.
Apart from those acknowledgements, and the case made by Lambert, there is the matter of charm -- a quality that cannot be manufactured or faked or taught. For Chabrier it was instinctive and self-renewing, and for the listener it can be reliably therapeutic. It would be lovely if our big orchestras were to perform his music, beyond the occasional nod to España in a "family concert" or "pops." The conductor Raymond Leppard became a hero of mine when he included the Suite pastorale in his début concerts with the Chicago Symphony Orchestra, and the great conductors of earlier eras were not reluctant to perform Chabrier: The legendary Felix Mottl, who worked with Wagner and Bruckner, made brilliant orchestral arrangements of Chabrier's Bourrée fantasque and his four-hand Trois Valses romantiques; more recently, the formidable Ernest Ansermet showed his affection for Chabrier not only in his performances and recordings, but also by naming his summer home "La Chabrière."
Ansermet and his French contemporary Paul Paray were among the too few conductors who not only included Chabrier in their concerts but managed to record more of his music than the obligatory España. Paray's collection, with the Detroit Symphony Orchestra, is still available, I believe, because it was one of Wilma Cozart Fine's wonderful Mercury reissues that were remastered for three-channel SACD (475 6183). Copies of the earlier Redbook edition (434 303-2) are probably available, too. The contents are: España; Suite pastorale; the two dance numbers from Le Roi malgré lui (Danse slave and Fête polonaise); the Overture to Gwendoline; Joyeuse Marche, and Bourrée fantasque -- with Roussel's Suite in F as filler.
Ansermet's elegant Chabrier assortment, recorded in 1964, comprised España, Suite pastorale, Joyeuse Marche, and the two dances from Le Roi malgré lui. It was reissued on CD in 1992, as part of a 12-disc Ansermet series in Decca's Jubilee series (on the London label in the U.S. at the time: 433 720-2, together with Lalo's Norwegian Rhapsody, Scherzo for Orchestra, and Overture to Le Roi d'Ys), and three years later, in somewhat smoother sound if less lively in its detail, in the "Classic Sound" series (452 890-2, with César Franck's tone poems Le Chasseur maudit and Les Éolides). Neither of these two Decca CDs is in the current catalogue, and even Universal's Eloquence label, in Australia, in its otherwise remarkable Ansermet series, has not revived these peerless performances, though Ansermet's 1953 monophonic versions of the two most familiar Chabrier pieces are on an Eloquence disc otherwise devoted to music of Saint-Saëns.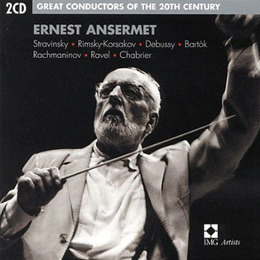 To my mind, Ansermet is simply the most eloquent, insinuating and all-round persuasive conductor of this music, outshining Paray and all the others who have recorded it. His account of the Fète polonaise is simply stupendous: his tempo is broader than most, his accents and ritards lending an infectious sense of spontaneity and utter intoxication without sacrificing a whit of his customary elegance. Ditto for the Joyeuse Marche, and in fact for the entire program, in which the only drawback is the inaudibility of the triangle in the opening of the Suite pastorale. (Someone must have hit the thing, as there is a conspicuous silence -- no music at all -- at that point.)
But Paray on Mercury is indispensable for including the Bourrée fantasque, and the peerless performance of the Roussel Suite -- and that elusive triangle can be heard. As for duplicating, well, personally I am no more reluctant to the idea of more than a single performance of a Chabrier program than to having more than a single account of a Beethoven or Haydn symphony. But let me add here that if you can't find either of the Ansermet Deccas, you might look for his two-disc set in EMI's Great Conductors of the 20th Century series (7243 5 75094 2), which has that incredible recording of the Fête polonaise as the final track, the true capstone, even among works of Stravinsky, Rimsky-Korsakov, Debussy, Bartók and Ravel -- and enhanced with a fuller and richer sound treatment than Decca managed for either of its own CD reissues. The entire Great Conductors series has been discontinued, too, but copies are bound to be around.
Another cut-out worth hunting for is the complete performance of Le Roi malgré lui, with the Choeurs de Radio France and the Nouvel Orchestre Philharmonique de Radio France, conducted by Charles Dutoit. This was the only recording of the opera in its entirety, I believe, a two-disc set on the Erato label, issued in 1985 (2292-45792-2) and out of print now for several years. It was by no means a mere stopgap, but exhibited the vitality and refinement we associate with this great conductor's name. The cast, headed by the soprano Barbara Hendricks, the tenor Peter Jeffes and the baritone Gino Quilico, is first-rate, and of course the Fête polonaise makes a somewhat different kind of impression with the chorus participating. The exemplary booklet included really valuable background as well as the full text in French, English, and German. This is the sort of thing that ought never to go out of circulation -- a prime example of the concept "collector's item." Amazon.com offers a few copies, at prices as high as $148.66; it's time some enterprising company got hold of this recording and made it available again at an affordable price -- and time, too, for this work to enter the general operatic repertory.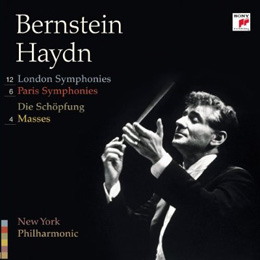 This raises another obvious question: Why hasn't Decca recorded Dutoit in a program of orchestral Chabrier? Meanwhile, there is a slighter but still very attractive Chabrier opera among EMI's recent reissues: L'Étoile, in the Opera de Lyon production under John Eliot Gardiner, in a very attractive two-disc set (0946 3 58688 2) with lots of sparkle. No text is provided, but there is a track-by-track description of the action and the music, and the price is roughly 10% of what Amazon.com is asking for its hard-to-find Roi malgré lui.
Meanwhile, too, the Haydn bicentenary rolls on, and Sony has gathered all of its Haydn recordings under Leonard Bernstein in a single space-saving 12-disc box (88697 48045 2), which arrived just too late for inclusion in our recent consideration of the same label's recent restoration of George Szell's set of the first six of the London symphonies. Included are all six Paris symphonies, all 12 London symphonies, the Symphony No. 88 in G major, the oratorio The Creation, and four of Haydn's very greatest settings of the Roman Catholic Mass, all of which have specific names: the "Mass in Time of War," the "Lord Nelson Mass," the "Harmoniemesse," and the "Theresienmesse." The orchestra is the New York Philharmonic in all these works except two of the Masses. The Westminster Choir sang with the Philharmonic in three of the five choral works. The "Theresienmesse" was recorded with the London Symphony Orchestra and Chorus, the "Mass in Time of War" with a specially assembled orchestra and the Norman Scribner Chorus in Washington, D.C. Among the fine soloists in the various works are such excellent singers as Judith Raskin, Judith Blegen, Lucia Popp, Gwendolyn Killebrew, Frederica von Stade, Rosalind Elias, Alexander Young, Robert Tear, Kenneth Riegel, Michael Devlin, Alan Titus, John Reardon, Simon Estes, and Paul Hudson.
Of special interest here are the Paris symphonies and the four Masses, which represent both Bernstein and Haydn at their formidable best. What is more than a little disappointing is that Sony has failed to provide even the most basic documentation. The thin booklet offers not a word of background on the music, and the texts for the choral works are not included. Perhaps the text of the Mass is not considered all that essential, but surely we need the words for The Creation; Sony doesn't even specify whether that work is sung in German or in English: the track listing and labeling use German titles, and that is indeed the language that is sung. The lack of information is especially regrettable in regard to the "Mass in Time of War," because the performance that preceded this recording was itself a fascinating moment in recent American history. Moreover, the cardboard gatefolds in which the discs are encased present an annoying difficulty in getting them out without harming them or the containers; individual sleeves, or even soft envelopes, would have been ever so much more practical in this respect. I treasure this performance of the "Harmoniemesse," and this recording of the "Mass in Time of War," as already acknowledged, is a document in its own right, but opportunities -- or, one might say, basic obligations -- were missed in this presentation.
. . . Richard Freed
richardf@ultraaudio.com