September 15, 2002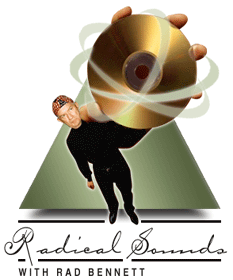 Radical Sounds: An Ongoing Addiction
At 12-step meetings it is customary for a person to introduce himself, then "qualify" so others will know that he is in the right place and is experienced in discussing the addiction at hand. This approach made sense to me in starting a new column, so here goes.
Hi everybody, my name is Rad, and I am an audiophile and software junkie! My parents fostered my interest in audio and recording at an early age when my father recorded his truly awful, yet cherished, kid singing on a wire recorder. I quickly learned to operate the machine. He then showed me the joys of burning 78-rpm records. That's what our revolutions were back then, 78 rpm. Those were the first manufactured records I knew; the first multi-disc set we ever owned was Mendelssohn's A Midsummer Night's Dream played by the Philadelphia Orchestra. That came from the newly opened Kemp's Record Store, in Chapel Hill, North Carolina, an emporium that figures big-time in my story and became my opium den of music.
As I entered high school, the speed at which our turntables revolved changed to 33 1/3 and 45, as records became "unbreakable." At that time I was playing piano and clarinet and discovered Brahms. This proved almost as big a deal for me as finding out about sex. I started spending time, nearly all my time, at Kemp's store, and while other kids were using their allowances for candy bars, I was buying recordings of Johannes B's piano concertos. Stereo came along and as items were re-recorded for the new format, the thought suddenly struck home: Why have just one recording of Brahms Second Piano Concerto, when you can have two?
I crossed the line. One recording of anything was not enough. The next platter containing so-and-so's new reading of Beethoven's Fifth Symphony might finally be the one. My appetite became insatiable and I wanted more and more. I did without a lot of lunches, and I think by the time I finished high school I had over 500 stereo LPs, quite a hefty number for a lower-middle-class kid. In college, that collection grew to thousands as I tried out every new recording of both familiar and unfamiliar pieces of music. To heck with paying the telephone bill or going on vacations; my priorities were different, as I bought increasingly greater numbers of LPs. Jazz entered the picture, as did Broadway and film music. If classical was the main course, I was not about to ignore dessert, soup, or appetizer. I even finally came to love rock, a brand of music I had sworn never to touch!
Already knowing that recordings varied, I discovered that not all records themselves were created equal. There were different stampers involved in making large runs of vinyl, and one could identify them by stamper numbers. I started returning to recordings I had bought to try a new pressing with a different stamper number, to hear if it might be better. I found out about pressing plants and found that they, too, varied a lot. Later, after I moved to Washington, DC, just about the time the Vox Box came into prominence, I discovered import pressings and had to re-buy a lot of my collection. Now, I was not only looking for the newest, best performance, but the best pressing of it!
At this time I also discovered quad sound and purchased several of the "bucket brigade" devices that used rear speakers to create ambient sounds. Multichannel sound is really nothing new to me. Though I discovered some wonderful recordings and had some hair-raising experiences with audio, I was dissatisfied. No matter how good the sound, vinyl discs had noise that drove me crazy. Investing in an endless number of record vacuums and black-box "tick and pop" removers helped, but it did not solve the problem. I switched to reel-to-reel tape, which satisfied me, but didn't offer the number of different recordings my insatiable appetite required.
Digital sound and the CD came along just in time, and I was easily deceived and lured down the path of digital angst. I confess it; this is an honest statement. Ignoring and justifying severely bit-challenged masters, I reveled in pop-and-tick-free sound -- for a while. Then I realized that I had headaches after listening to many CDs. Diagnosis: digital angst. There were not enough bits, resolution was too low, and the music was missing air. You're in the right place, though, cause we aren't afraid to talk about those things at Ultra Audio. When SACD and DVD-A were announced, I was, again, the first kid on the block to have these technological advances. This, my addicted brain told me, could be the perfect solution. Enough bits, high-enough sampling, but no ticks or pops, not to mention hiss or groove noise.
That leads me to today, where my adventure in audio addiction continues, and I get to share it with you in this space. Two channel, multichannel, DVD-A, and SACD, it will all be here -- as long as it qualifies as "advanced resolution." This is not a multichannel column like so many other bandwagons; it is about advanced resolution in all channel configurations, the quest for the highest fi that can exist, whether it is mono or 6.1 -- coupled, of course, with the greatest artistry and talent.
Each month I'll discuss a topic that has come into or out of my listening life and then introduce you to some recordings that have made all the bother and expense worthwhile. These might exist in different channel configurations, genres, and delivery methods, but all will be discs that send shivers up my spine. Next-to-perfect and ultimately satisfying, these are recordings that have earned a permanent place in my collection, and ones that will never see an eBay auction. I am not out to review a disc just because it is there, or just because it is an SACD or DVD-A. You can get that elsewhere. I am not trying to cover everything, though in creating a selection process I have to listen to everything I can run by my ears. If you don't see a title here that you think ought to be present it is either because it did not make my cut or because no one sent it to me to audition.
When I discover one of these recordings, I have to admit the truth: I don't want to recover from this addiction. To turn to the words of an old Duke Ellington song, "I got it bad and that's oh so very good!" Thanks for listening, and stay tuned.
Now, these three made it all worthwhile this month (and by circumstance, rather than plan, all are multichannel):
The Sound of Glory: Battle Hymn of the Republic and other Great Hymns of Faith and Inspiration
The Mormon Tabernacle Choir with orchestra at Temple Square; Craig Jessop, conductor.
Telarc 60579, Hybrid Multichannel SACD. Contains advanced-resolution 5.1 and 2.0 mixes, and CD 2.0 layer.
The preface to this column chronicles my audiophile life. Concurrently and not coincidentally, I was pursuing a career as a conductor of community orchestras in Washington. It was always a joy to perform in a church because the reverberant acoustic would make the medium-sized group I led sound like the full-strength Vienna Philharmonic. The large sound, however, was usually achieved at the expense of detail and intimacy. The famed Mormon Tabernacle is apparently so well designed that it is the best of audio worlds. While the Olympics were going on last winter, I saw a television special about the Tabernacle. In it, a piece of paper was dropped at the front, near the pulpit, and its fall was clearly heard at the back of the hall! Telarc's multichannel recording fully captures this phenomenon. One is swept away by the grandeur of the opening hymn, scored for full chorus, large orchestra, and organ, which immediately creates a staggering sense of space, every sound realistically defined. Yet, when one section of the chorus sings pianissimo, intimacy is achieved without any sense of "zooming in." The acoustic effect showcases the current state of the chorus, which under the new directorship of Craig Jessop, seems to be entering another Golden Age. Enunciation is remarkable, allowing one to understand almost all the words without the help of a printed text. Softer passages are hushed without any loss of tone. One need no longer simply admire this chorus for its sheer size. It has become one of the best-sounding choral organizations in America. The unabashedly romantic arrangements are noble in character and harmonically inventive and interesting. This disc does for the American hymn what those from King's College have done for English music of the same genre. Both the two-channel CD and SACD mixes are adequate, but to fully appreciate the wonder of this disc, a 5.1 setup must be employed. This disc was conceived with this audio arrangement in mind and anything else is really a diluted meltdown.
Zephyr: Voices Unbound
AIX 80012, DVD-Audio. Contains MLP 5.1 "stage" mix, 5.1 Dolby Digital "audience" mix, DTS 5.1 "stage" mix, and PCM 24/96 2.0 mix.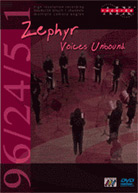 At the other end of the spectrum from the Telarc Mormon Tabernacle disc lies this charmer from AIX Records. Zephyr is a highly accomplished a cappella group of 12 singers, which performs literature ranging from Morley to Mercury (Freddie, that is). Impeccable diction and pitch, coupled with undeniable energy, make this group a joy to hear, whether performing a Renaissance madrigal, one of the recent fancies composed to Shakespeare texts by Paul Sjouland or Ward Swingle, or a novelty tune like "Seaside Rendezvous," by the aforementioned Mercurial one. For his main mix, the tracks that get MLP advanced-resolution treatment, producer Mark Waldrep has decided on a stage arrangement that puts one in the center of a circle formed by the singers. Tenors are in the front left quadrant, sopranos in the right front area, altos near the right rear, and basses hold forth in the left rear area. If you have matching speakers and your system is correctly balanced, the performers will create an unbroken circle around you. Is this valid? I think so, not being one to myopically hold to one or another arrangement without the possibility of variation. What works is most important, and given the ensemble, this floor plan seems appropriate. If you disagree, Waldrep has provided other options on both the audio and video sides of this disc. Video side? Yes, because this DVD is a hybrid disc, as are most AIX releases. The video side presents full-motion film of the performances as well as biographies of each individual singer, a discussion of DVD-Audio, and much more. Not only is this true 24/96 disc one of the most incredibly realistic-sounding recordings of human singing voices ever achieved, it is good value for dollar, too!
Alison Krauss + Union Station: New Favorite
Rounder 0495, Hybrid Multichannel SACD. Contains advanced-resolution 5.1 and 2.0 mixes, and CD 2.0 layer.

No doubt about it, this is one of the greatest albums in a decade. Everything about it is simply right. Alison Krauss sings ballads, laments, bluegrass, and blues with equal artistry, juicing the full meaning of every single word. Her backup band is far more than subservient accompaniment. Each of the four men is a first-rate artist in his own right, as is proven when they get solos along the way. Catch Dan Tyminski's baleful rendering of "Momma Cried," if you don't believe me. Every player in this band is fully up to any solo task yet able to contribute to the whole ensemble. On an Alison Krauss album, production values are just as high as artistic ones. Even the CD and two-channel SACD layers of this disc sound as good as anything out there. The multichannel 5.1 SACD tracks are even better, with more open, true, honest, and uncluttered sound. Instruments such as dobro, banjo, and guitar have seldom been recorded with such accuracy as found here. The players are spread evenly across the front, with the center channel working in conjunction with the left and right channels to produce a rock-solid, yet transparent, front soundstage. Every instrument has its place, but never sounds compartmentalized or isolated. The surrounds are used sparingly, to provide ambiance and to heighten the sense of space, as well as helping to define the front stage depth. Occasionally there is some subtle, effective use of the surrounds to highlight a text or make a dramatic point. In the title song, about a lost love, a mournful note might float through the listening area and be transferred to the back (sometimes passed to another instrument) like the ghostly sound of a former love giving place to the "new favorite." This disc takes its place with Nitty Gritty Surround and James Taylor's Hourglass as one of the best advanced-resolution multichannel pop-music discs around.
...Rad Bennett
radb@ultraaudio.com

All contents copyright Schneider Publishing Inc., all rights reserved.
Any reproduction, without permission, is prohibited.
Ultra Audio is part of the SoundStage! Network.
A world of websites and publications for audio, video, music, and movie enthusiasts.