October 15, 2002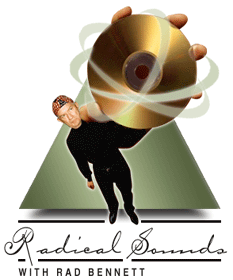 Radical Sounds: Listening Point of View
The recent birth of the SACD and DVD-A formats has given hope that my audiophile dreams might be realized, and that I might be able to listen to analog-quality sound, minus the pops and ticks associated with vinyl. I would have hoped that producers would be lined up to release advanced-resolution discs of some of my favorites: Ansermet's Nutcracker, Boult's Vaughan Williams Symphonies on EMI, Carlos Kleiber's Beethoven 5th, Joan Baez's Diamonds and Rust, Simon and Garfunkel's Bridge Over Troubled Water, the original cast recording of West Side Story, and many, many more. But in this real world, which is not run to satisfy my whims, that has not happened. Since both advanced-resolution systems can carry more than two channels, most of the marketing thrust for advanced resolution has been angled toward multichannel recordings. You might think, given my list, that I would resent these, but I do not. I find it absurd that some critics and magazines report only on multichannel, while purists are suspicious of any number above two. Any channel configuration has its justified place in the world of advanced resolution. That is the point.
To purists: Those extra channels are not bad in and of themselves. They provide new opportunities for both artists and producers. Two teens were recently convicted in Florida for beating their father to death with baseball bats. Should we draw the conclusion that baseball bats are bad and ban them all? Of course not. Like the bats, those extra channels can be used for good or bad purposes.
To producers and multichannel-bandwagon critics: Just because the channels are available does not mean they have to be used unless they are appropriate or called for. You do not have to use a 5.1 mix just because all the channels are there. Remember, Baroque was turned into Rococo by applying too much of a good thing.
We'll get into the thick of the debate over two versus more channels in the future. But just to show you how different approaches can yield totally opposite yet successful results, let's level the playing field by considering two of the most successful 5.1 efforts. These recordings achieve excellent results, using different methods. First, consider James Taylor's Hourglass [Columbia 487748 5, SACD]. Frank Filipetti, who co-produced the original album with Taylor, created the 5.1 mix for the SACD release. For the most part, he put Taylor's voice squarely in the center channel, which left him free to use the front left and right channels for instruments. The low bass is directed to the LFE channel, and the rears are used for ambiance and subtle comments, such as backing vocals. One feels like an audience member in the same overall space as the performers. About that center channel, DVD-A and SACD provide another option: It can be used or not used, and used in different ways. Filipetti believes in it; other producers and mixers seem almost afraid of it, or prefer to use it to create a front stage ambiance, or perhaps to bring a performer a little bit to the fore.
Back to our comparison. Take John McEuen and Jimmy Ibbotson's Nitty Gritty Surround [AIX 80008, DVD-Audio]. Here the singers, players, and pickers are in a circle around the listener. It is easy to get along with this concept because the video side of this two-sided hybrid disc shows the performers seated in just that arrangement. The sound is rich and warm yet very detailed. The surround effects seem entirely natural and are not startling. One feels like an audience member granted a seat on stage with the performers. (It was not chosen as the MLP mix, but producer Mark Waldrep does provide an alternate audience perspective mix in Dolby Digital, as well as a PCM stereo mix.)
As an objective critic, I won't tell you that one of these discs is better than the other. They are different, and they both work. That's my job, to tell you how things are laid out, and if it works and suits the music. Each of the two recordings mentioned achieves its goal and both benefit from advanced resolution. Either recording would have been impossible ten years ago. Listeners who can shuck prejudices are in for a treat in this age where artists and producers have so many new tools (and channels) to work with. Each recording team can make its own rules. There are even new possibilities for two-channel recordings. More about that next month.
Now, till then, these three made it all worthwhile this month:
Graham Nash: Songs for Survivors
DTS 69286-01092-9-2, DVD-Audio. Contains MLP 5.1, DTS 5.1, PCM 2.0, and MPEG audio on PC and Macintosh.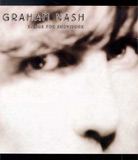 This splendid recording offers a Graham Nash whose lyrics project the wisdom of age, but whose voice is scarcely different than it was 25 years ago. Still nasal yet intimate and effective, his vocals sound like those of a much younger man. The current message is largely about recovery and its benefits, with a caution to using one's youth more wisely. Several songs are positive, hopeful love songs. Images are broad and strong. Going back out after having discovered recovery is likened to walking back into a "Blizzard of Lies." Overall, it seems a set straight from the heart, full of insight, experience, hope, and strength. The musical style picks up right where Songs for Beginners left off. David Crosby is even on hand, in the rear channels, for some of those close harmonies that put Crosby, Stills, and Nash on the musical map.
Nash has stated that he really digs surround for recording and this set surely proves that. There is something going on in all channels at all times. Nash's voice, as well as his trademark harmonica, is anchored in the center channel, sweetened by a spill into left and right front. Background vocals are in the rears as are some guitars and percussion. Incredibly, the bass is everywhere (you really need full-range speakers all around to play this disc properly) yet stays very well focused. The overall sound is fat and pleasing, yet incredibly clean and impeccably balanced. One is really drawn into the creative process. The important things are up front, but the comments, instrumentals, and vocals come from the back half of the listening circle, which really serves to bring the listener into the band, not allowing him merely to sit back and observe. Even though it might not be my favorite point of view, I have to admit that this all-enveloping approach has seldom been done as well as it is here. I don't think I have ever heard so much detail in a setting as rich and warm. The sound of 5.1 is definitely used here to clarify the mix, not to confuse it. The overall field allows some neat surprises. "Pavanne" opens with up-front acoustic guitar, and I think it is the best recording of that instrument I have ever heard. It sounded like it was right there in the room. There are few extras on the disc, just a choice between lyrics and a slide show for each song. But with sound this clean, you do not need the lyrics at all. Every single word can be understood. Even if you are hooked up to a home-theater system, you'll probably want to turn the screen off and the lights down, and just wallow in the magnificent sound.
Jacintha: Autumn Leaves (The Songs of Johnny Mercer)
Groove Note GRV1006-3, Hybrid Stereo SACD. Contains advanced-resolution 2.0 mix and CD 2.0 layer.

Jacintha possesses one the most beautiful voices in jazz. Her honeyed tones do not have the edge of other singers, and she wisely does not try to emulate those artists. Her style is more intimate, what some might, for lack of a better description, call the smoky, barroom sound. She draws the listener into her world, rather than hunting him down and dragging him back. It's as if she invites her listeners to come a little closer, and snuggle up with their sweethearts or drinks, while she tells them a few things about love and life. Her versions here of famous songs for which Johnny Mercer provided lyrics are as good as any out there. The titles include "Moon River," "Skylark," "One for My Baby," "Midnight Sun," and "I Remember You." She is backed by an intimate piano, drums, and bass trio with solo comments by saxophone, trumpet, and guitar. The arrangement of "Autumn Leaves," which at first features the original French lyrics, then later on Mercer's (with muted trumpet in the background), has rapidly become my favorite of that song. The only unsuccessful cut is "Something's Gotta Give," in which all the performers, while trying to be up-tempo and upbeat, sound somewhat forced and frantic.
Since her vocal expressions are so subtle, Jacintha's voice benefits dramatically from the application of analog recording techniques and the notes tell us that these sessions were recorded live direct-to-two-track tape. One would assume that an audiophile vinyl disc of these tracks would sound amazing too, but yours truly won't settle for the inevitable vinyl noise, both built-in and external. I have not compared the vinyl to the SACD, then, but can tell you that the SACD is a miracle at reproducing the smallest subtleties. I've listened to it a dozen times, and still hear new things every playing, some little intake of breath, the initial attack on a string bass note, the gentle buzzing of a saxophone reed. At the end of "Days of Wine and Roses," Jacintha pauses before the final word. On the CD layer, the sound just stops, then starts again. With SACD, the air is alive with breathless anticipation. The CD layer, which is excellent, is like a snapshot of a favorite location. The SACD is like actually being there. There is no need for more channels. This recording is perfect as it is.
Eliot Fisk Plays Bach and Scarlatti
Bach: Partita No. 3 in E, Lute Suite in G; D. Scarlatti: Five Sonatas. Eliot Fisk, guitar.
Red Rose Music-Volume 6, Single-Layer Stereo SACD. Contains advanced-resolution 2.0 mix.

Solo guitar discs would drive me crazy on vinyl. I'd be settled in, lights down low, starting to commune with the performance, and then zap! Crackle, click, pop, the vinyl Rice Krispies Elves would attack full force, shattering any peaceful union between the performer and me, replacing it with a darker, meaner attitude. In short, I could get really pissed off. Yet on CD solo guitar recitals, with no clicks or pops, there has been a notable lack of bits, so that restful mood has become blasted by headaches and a hard-to-pinpoint restlessness. This SACD has solved the problem! Can it be that it was recorded in 1977? Apparently so, but, I dare say, not really "heard" till now. The sound is close up without being aggressive. It sounds like a live, acoustic guitar and there seems to be nothing between performer and listener. No crackles, no pops, and no headaches, just the faintest bit of hiss and some traffic noise that seeped through the walls of the Chapel of the Union Theological Seminary, where these performances were originally recorded on 30ips tape. The SACD fully reveals the four Ps of these readings: precision, passion, poetry, and poise. Mark Levinson, founder and president of Red Rose, has gone on record as a tremendous believer in SACD. On hearing this disc, one would be hard pressed to argue.
...Rad Bennett
radb@ultraaudio.com

All contents copyright Schneider Publishing Inc., all rights reserved.
Any reproduction, without permission, is prohibited.
Ultra Audio is part of the SoundStage! Network.
A world of websites and publications for audio, video, music, and movie enthusiasts.