August 1, 2005
Where to Get It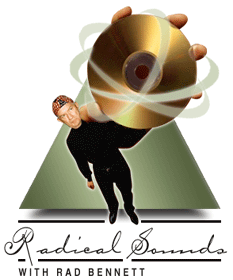 The advertising and distribution of both high-resolution formats have been mismanaged. Sony provided SACD kiosks to Circuit City and other stores. These were effective for demonstration, but the staffs knew nothing about them and they sat largely ignored, decaying skyscrapers on the audio skyline. The DVD-Audio camp seemed all promises, murmuring about displays and a website, but all came to naught.
Because stores and chains didn't promote SACD and DVD-A, few customers asked for the discs, so retailers stopped carrying even the meager supply they had at first stocked. Though DualDiscs now seem easy to obtain, in most stores it's almost impossible to find DVD-As and SACDs. How, then, is one to obtain the discs mentioned in this column?
Mail order. You can go to Amazon.com or DVD Empire. Both have many titles to choose from, and discounted prices. Amazon.com has the attractive extra of offering free shipping for orders over $25. Two high-resolution discs will fill that requirement! DVD Empire will send three or more titles without charging for shipping, but read the fine print to make sure a title is eligible for free transport. High-resolution discs are easier to find at DVD Empire. Just hit the Music tab, then click on each format and get lists of them. With Amazon.com, you have to hunt by artist, but you also get lists of new and used copies at lower prices, which you can then order from Amazon.com affiliates. These do charge postage, but it's minimal.
The most comprehensive location for high-resolution discs is Acoustic Sounds. There's no free shipping, but the site has everything issued in either format, plus a lot of high-quality CDs, DualDiscs, and LPs. I found titles there that I found at no other location. Acoustic Sounds also deals in high-end audio components and accessories. I found their shipping (by FedEx Ground) to be fast and reliable, though somewhat pricey.
If readers know of other places where one can purchase high-resolution discs, please let us know. Finding a particular DVD-A or SACD can be like hunting for that proverbial needle in the haystack; buyers need all the help they can get.
Here are three titles worth searching out this month:

3 Guitars
Larry Coryell, John Abercrombie, acoustic guitars; Badi Assad, classical guitar, vocals, mouth and body percussion, kalima, copper flute.
Chesky SACFD289, Hybrid Multichannel SACD.
With all respect to Larry Coryell and John Abercrombie, both superb acoustic guitarists, it's Badi Assad who makes this disc zing. If you haven't heard her play, you're in for an experience. Assad's fingers accept every challenge thrown at them. She could merely play in the standard fashion and still be regarded as one of the best, but she's developed a technique whereby she supplements her virtuoso finger technique with a myriad of sounds created with her body and mouth, her guitar, or whatever else is needed to present a fantastic array of percussive sounds. She uses her voice to sing or to create sound effects. At times on this hip, Latin-influenced disc when all three artists are playing, you might swear you're hearing an eight- or nine-piece ensemble.
This is the sort of recording for which you want the lowest noise floor and the highest resolution possible, so that every incredible nuance can be accurately heard. Producers David Chesky and Larry Coryell and engineer Barry Wolfson have provided just that. The three guitars are positioned in front; the rear channels provide just the right amount of ambience to make them sound three-dimensional. This is [gasp] a perfect recording in terms of sound and artistry, so I guess that makes it a perfect recording, period. Get it into your system as soon as possible.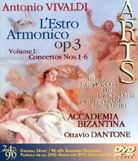 Vivaldi: L'Estro Armonico
Stefano Montanari, Fiorenza De Donatis, Paolo Zinzani, Laura Mirri, violins; Accademia Bizantina; Ottavio Dantone, harpsichord, conductor.
Arts 45002/3, DVD-Audio. Two discs. Contains 5.1 and 2.0 high-resolution tracks, Dolby Digital 5.1 and 2.0 tracks.
This set of 12 concertos was close to Vivaldi's heart -- he went to great lengths to promote the music, seeing that it was properly printed and advertised. The collection is marvelously diverse, with ensembles of soloists ranging from one to four violins. There is no lack of good recordings of these popular pieces, but this one can stand with the best. The soloists are all outstanding, playing equally well in solo and ensemble passages. Accademia Bizantina, a small chamber orchestra, accompanies with energy and finesse -- seldom has a period-instrument ensemble sounded so rich and full-bodied. The sound is close-up, with quite a bit of reverberation in the rear channels. The bass lines are particularly robust yet highly detailed. There is remarkable presence, yet the sounds of the instruments are entirely natural and smooth. Harpsichord, organ, lute, and guitar are all used as continuo instruments, each perfectly balanced with the overall orchestra. I would like to hear these artists essay more Vivaldi for DVD-A release. I wonder, however, why this set takes up two discs. One of the good things about the format is the ability to present more music per disc. EMI released a Bach collection and a complete Messiah, each on a single disc, and both longer than this two-disc set.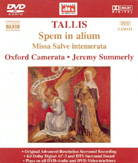 Tallis: Spem in alium; Salve intemerata (motet); Missa Salve intemerata; With all our heart; Discomfort them, O Lord; I call and cry to thee, O Lord
Oxford Camerata; Jeremy Summerly, director.
Naxos 5.110111, DVD-Audio. Contains 4.0 high-resolution tracks, DTS tracks.
In 1567, Italian composer Alessandro Striggio visited London, where he presented a motet in 40 parts. Not to be outdone, Thomas Tallis, by then a court composer for the Tudor royal family, accepted the challenge by composing Spem in alium, perhaps his finest work. Written for eight choirs of five voices each, to be arranged in a circle around the listener, it is a natural for multichannel recording. To ensure that the result would not be too artificial, the producers have opted for a 4.0-channel arrangement with three choirs, or 15 voices, in each channel. The result is a definitive and spiritually mesmerizing performance and recording. The music begins up front, gradually surrounding the listener with a golden, glowing sound that results in total involvement. The rest of the program is recorded up front but with generous reverb in the rear channels. This makes the impeccable voices seem to float, suspended in space. This effect often happens in large performing spaces such as cathedrals, and this recording is realistic in re-creating this somewhat disembodied sound. This lovely disc (also available on hybrid multichannel SACD) is just right for soothing the soul after a hot and horrible summer commute.
...Rad Bennett
radb@ultraaudio.com

All contents copyright Schneider Publishing Inc., all rights reserved.
Any reproduction, without permission, is prohibited.
Ultra Audio is part of the SoundStage! Network.
A world of websites and publications for audio, video, music, and movie enthusiasts.