September 1, 2006
Sample These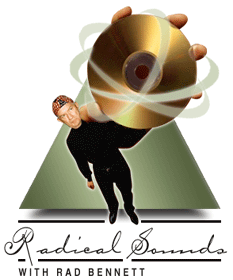 I keep hearing -- and often -- that SACD and DVD-Audio are dead. Then, the next day, the postman delivers a whole new group of discs in those formats. There are even samplers and test discs. I recently received one of the latter, a DVD-Audio disc from Tacet: More Power and Ideas . . . for your Surround Sound System! Andreas Spreer, Tacet's producer, believes strongly in surround sound, and his recordings feature musicians placed all around a 360-degree soundstage. A sample here of a Beethoven string quartet places the first violin at left front, the second violin at left right, the viola left rear, and the cello right rear. I don't like that sort of trickery, but lots of people do, and for them Spreer provides recordings that are remarkable for their clarity. The demo disc includes other goodies: a football game with an enthusiastic crowd, an explosion or two, and a helicopter that Spreer swears will sound as if it's flying above the listener -- and it does. Following the sampler section is a test section, but one different from most. Instead of using test tones, Spreer uses an excerpt from the second movement of Beethoven's Eighth Symphony to test each channel and the balances among them. His notes on the examples are funny and to the point. This disc will entertain you even as it helps you adjust your multichannel system, and it's so upbeat that it says anything but that multichannel is dead.
For further proof that SACD and DVD-Audio are still among us, try these recent releases:
Donald Fagen: Morph the Cat
Reprise 49976, DVD-Audio. Contains MLP, Dolby Digital 5.1, DTS 5.1 mixes, high-resolution two-channel mix.

On Morph the Cat, Donald Fagen, in complete control, gives us a bemused, alarmist vision of our contemporary world. The music is exacting and understated but not without moments of wit and humor. It also sounds deliciously old-fashioned at times -- until one listens to the words. It's as if Fagen is saying that things never change, they just become updated. Thus a sweet, saucy meeting between a man and woman is set as a post-9/11 security check at an airport, where the guy meets "Security Joan." The style is comfortable -- the same laid-back jazz we've heard from Fagen before, whether on his own or as part of Steely Dan. The mix and the high-resolution sound are perfection. Bass lines have incredible focus, as do upper-transient sounds. Seldom have I heard such a clean, transparent mix from such a large number of musicians -- even from Fagen himself. This disc could be used as demo material in any upscale audio salon. And if you're not yet set up for hi-rez sound, or want a way to play this music in your car, this two-disc set includes a very good sounding CD.
Bach: Cantatas 55, 56, 98, 180
Sophie Karthäuser, soprano; Petra Noskaiová, alto; Christoph Genz, tenor; Dominik Wörner, bass-baritone; La Petite Bande; Sigiswald Kuijken, director.
Accent 25303, Hybrid Multichannel SACD.

Over the past few decades, many Bach scholars have decided that most of his cantatas were not composed for soloists, chorus, and orchestra, as previously thought, but for solo voices and a small group of instruments. On this recording, the four soloists listed above sing the choral parts as well. The instrumental forces, too, are modest: four wind players, six strings, and a keyboardist alternating on harpsichord and organ. To pull off this chamber-music vision you need impeccable soloists and players, and that is the case here. However, in a field where everyone is excellent, I single out the tenor, baritone, and first oboe as outstanding. In fact, the performance of the famous "Kreuzstab" Cantata, No.56, for bass, is one of the best on disc. Because having to record fewer musicians makes it easier to keep all the textures clear, you want a recording that supports that approach, and the Accent engineers have done so. The sound is close-up and clean as the proverbial whistle, with good balances. The surrounds are used lightly, to give the impression of a smaller performance space. This might be engineering trickery, as the recordings were made at a Belgian Church, but whatever, it works. This is the first volume of a series in which an appropriate cantata for each Sunday of the year will be selected from Bach's vast output of over 200. Vol.2 [Accent 25302] is already available; Vol.3 will be out by year's end.
Rautavaara: Symphony 1; Adagio Celeste; Book of Visions
National Orchestra of Belgium; Mikko Franck, conductor.
Ondine ODE 1064-5, Hybrid Multichannel SACD.

Finnish composer Einojuhani Rautavaara, born in 1928, is not a household name in the US. But he began writing his first symphony while studying composition here with Aaron Copland, Vincent Persichetti, and Roger Sessions, and it's no wonder that it sounds a bit like the romantic compositions of Samuel Barber or one of his teachers. The big work here is the Book of Visions, a sprawling, brooding composition in four parts: A Tale of Night, A Tale of Fire, A Tale of Love, and A Tale of Fate. Each graphically describes its topic in music that is appealing yet edgy. Conductor Mikko Franck, a former wunderkind, is now 27 years old and the music director of the National Orchestra of Belgium. He was a student of Finnish composer-teacher-conductor Jorma Panula, who also guided the careers of Esa-Pekka Salonen, Jukka-Pekka Saraste, Simon Rattle, and Osmo Vänskä, the present music director of the Minnesota Symphony. Under Franck's baton, the NOB sounds like a world-class ensemble of precision and marvelous tone. The sound is ideal, with good soundstage depth and width. The two-channel tracks are first-rate; the multichannel tracks add more presence. As the brass instruments and timpani get louder, they call into play the rear ambient sounds, just as they would in a good concert hall.
Ravel: Piano Concerto in G
Prokofiev: Piano Concerto 4 in G
Schlimé: 3 Improvisations
Francesco Tristano Schlimé, piano. Russian National Orchestra; Mikhail Pletnev, conductor.
PentaTone 5186 080, Hybrid Multichannel SACD.

The Ravel and Prokofiev concertos, though quite different in construction and tone, were both premiered in 1932, each with its composer participating. Ravel conducted his work with Marguerite Long as the soloist; Prokofiev was the soloist in his concerto, with Wilhelm Furtwängler on the podium. Both are different from the concertos that came before them in being composed more for pleasure than for profundity. The Ravel shimmers, its outer movements filled with jazz references, the middle one seductive and simple. The Prokofiev alternates lyrical passages with those driven by motoric rhythms. Young Belgian pianist Francesco Tristano Schlimé understands all the different facets of this music, and plays with a facile technique and a cool, clear lyricism that are just what these works seem to need. Conductor Mikhail Pletnev, himself a virtuoso pianist, accompanies with uncanny perception and precision, and the Russian National Orchestra responds with excellent playing. At Pletnev's request, Schlimé recorded three improvisations for solo piano inspired by these concertos, though he points out in his notes that an improvisation perhaps should not be recorded because it is intended as a onetime event. The sound is typical for PentaTone: bright and clear, with exemplary balances and superb dynamic range. The two-channel tracks are crisp; the multichannel ones have greater warmth and presence.
The Brand New Opry: Another Time
Jonathan McEuen, Phil Salazar, Mark Searcy, Tom Corbett, Randy Tico, Orest Balaban, Jaime Hanna, John McEuen, Nathan McEuen.
AIX 80043, DVD-Audio. Contains MLP 5.1 and DTS 5.1 stage mixes, Dolby Digital 5.1 audience mix, 24-bit/96kHz PCM two-channel mix.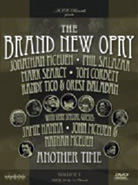 Another A+ production from Mark Waldrep and his AIX label. Jonathan McEuen, banjoist John McEuen's son, makes a much better impression on this disc than he did on an earlier AIX release, and here he is literally surrounded by what seem miles of talent. Whether it's the upbeat versions of "The Grand Old Opry Song," "Head for the Border," and "Red, Red Hair," or the poignant "Lowlands," the musicians sound entirely at home and totally involved. The sessions seem to have been recorded on one of those magic days when everything hits just right. That goes for the recording, too, which is clean as can be, yet warm and appealing as well. Fiddle, guitars, mandolin, and banjo really show off the high-resolution 5.1- and 2.0-channel mixes. The bass is perfect, correctly balanced, with fine definition. As is the norm with AIX releases, the disc's DVD-Video side presents the whole program in high-definition video, biographies, discographies, extra music clips from other performances, and much more. AIX remains the Criterion Collection of music labels -- which meant that it was great to see that Another Time is labeled in fine print as "Volume 1"!
Mendelssohn: Piano Trios 1 & 2
Julia Fischer, violin; Daniel Müller-Schott, cello; Jonathan Gilad, piano.
Pentatone 5186 086, Hybrid Multichannel SACD.

It's not often that a chamber-music recording grabs me as this one has. The young Julia Fischer is a hot new violinist of whom much is expected, and so far she has delivered. Now she seems to have attracted two other artists of about her age and abilities. The three bring impeccable technique and youthful passion to Mendelssohn's rhapsodic music, and because each is a virtuoso, together they can take chances that leave one breathless. The performances on this hybrid SACD sizzle, and the finale had my blood pounding -- it is one of the most exciting bits of music making I have heard all year. The recording is close-up, bold, and very realistic. The two-channel versions are excellent, but the multichannel mix has more presence and fuller tone. The balances are beyond reproach. I don't give ratings in this column, but if I did, this disc would be at the very top of the scale.
...Rad Bennett
radb@ultraaudio.com

All contents copyright Schneider Publishing Inc., all rights reserved.
Any reproduction, without permission, is prohibited.
Ultra Audio is part of the SoundStage! Network.
A world of websites and publications for audio, video, music, and movie enthusiasts.