January 1, 2005
Wilson Audio Alexandria X-2 Loudspeakers: Ultra Audio's Product of the Year for 2004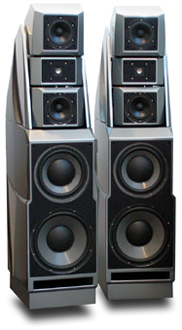 Wilson Audio Specialties Alexandria X-2 loudspeakers
I have three distinct recollections of the Wilson Audio Specialties Alexandria X-2 loudspeaker:
The first was during my trip to David Wilson's home in Provo, Utah. I've written a feature for SoundStage! detailing the X-2 in a head-to-head comparison with Wilson's X-1 Grand SLAMM Series 3. That A/B comparison clearly revealed the Alexandria's sonic superiority to the company's previous flagship.
My second recollection is of the installation of my own pair of Alexandria X-2s. The initial installment of "The World's Best Audio System," my column here on Ultra Audio, elaborated on the setup of a Grigio Titanio pair of X-2s in my home some months after my visit to Provo. The subsequent listening sessions were revelatory. With a system of the finest pedigree, I was able to explore musical realism beyond anything I'd ever heard from an audio system. In a phone conversation that very day, I commented to David Wilson that the sound I was enjoying in my home was even better than what I'd heard in his home.
Last and most instructive, this past May I heard the X-2 in a six-speaker rotation at the High End Society's High End 2004 show in Munich, Germany. Several of the most highly regarded speaker systems in the world, from various manufacturers around the world, were wheeled into a large room and played consecutively in what must be considered an exhaustive exercise for a trade show. To this listener, the Alexandria X-2 was clearly the most enjoyable speaker of the bunch.
But each of the above experiences, magical as it was, pales in comparison to actually owning and living with the Alexandria X-2s for the past year.
I've heard glowing reports from readers, friends, and audiophiles around the world who own X-2s. Most of them already owned other Wilson speakers when they bought the Alexandrias. In fact, I understand that several folks, like me, had owned X-1s. Before that, many of them had owned Wilson WATT/Puppys. I've even heard that a few WAMM owners sold their aging, now-discontinued Wilson flagships in order to "downsize" -- price-wise and footprint-wise -- to X-2s. Wilson owners are a fiercely loyal bunch.
So now you know that I and many other Wilson speaker owners have purchased pairs of Alexandria X-2s. You know that the system costs $125,000/pair ($135,000/pair after January 10, 2005) and is David Wilson's flagship speaker system. You've also heard descriptions of its performance from reviewers and owners that make it seem close to perfect. Perhaps these reasons alone are enough to explain why this product, above all others discussed in these pages in the last 12 months, is the Ultra Audio Product of the Year for 2004. It's a strong case.
But for me, there's an even better reason. The X-2 represents a clearly compelling case for calling it the best available loudspeaker. When all relevant factors are considered -- performance, build and finish, company support, depth of design -- the choice is crystal clear: If you're a devoted music lover and audiophile and your budget permits access to such luxuries, the Alexandria X-2 is the best speaker system you can buy.
...Jeff Fritz
jeff@ultraaudio.com

All contents copyright Schneider Publishing Inc., all rights reserved.
Any reproduction, without permission, is prohibited.
Ultra Audio is part of the SoundStage! Network.
A world of websites and publications for audio, video, music, and movie enthusiasts.