April 1, 2006
What is an Ultra Audio Product?
There is audio, and there is ultra audio. What separates the two? Audio equipment, really good audio equipment, includes such items as the NAD C352, an affordable 80Wpc integrated amplifier that finds itself at the center of some very nice stereo systems. It's reliable, sounds good, has basic functions, and is made by a very good company that you can rely on for support should something ever go wrong. I've recommended the C352 to readers who write to me looking for advice, as well as to friends looking for a solid amp.
You won't see it reviewed on Ultra Audio, however.
An Ultra Audio product is one that attempts to live up to our tagline: "Sound to the Extreme." That means that the product was conceived as part of the designer's pursuit of the ultimate audio fidelity. Many times, though not always, such products are expensive. Most times they reflect a singular vision -- whether of a company or of an individual. Such a vision can often steer Ultra Audio products in directions seldom taken by more common products. They may look different, sound different -- heck, they may be unconventional in most every respect -- but at the end of the day, Ultra Audio products are those that attempt to take sound reproduction to a new level. Sometimes they succeed, sometimes they fail -- albeit gloriously. But either way, they are interesting in their uniqueness.

WLM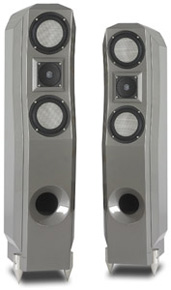 Audio Acoustics
And have we got some gems lined up for your reading pleasure.
This month, I write about Silverline Audio Technology's Grandeur Mk.II. This $15,000 USD per pair loudspeaker is quite radical compared with the other speakers made by Alan Yun, Silverline's owner-designer. It is modular in its construction, and uses some exotic Danish drive-units. I liked it a lot, and though it's not without its own personality, it is a pure attempt at a state-of-the-art floorstanding loudspeaker.
Ultra Audio contributor Jason Thorpe has in his home a loudspeaker system from Austrian company WLM. These speakers, imported by Canada's Globe Audio Marketing, differentiate themselves from the herd with their unusually high rated sensitivity, their active crossovers and sub-bass systems, and, most notably, their PAC tweeter. Jason will tell you all about it soon; I heard a WLM speaker system at this year's Consumer Electronics Show and can tell you that it sounded remarkable.
Dan Davis, our resident digital guru, has just finished a review of a modified Denon DVD player from Exemplar that may just rewrite the rules of what you can expect in a digital source component costing around $5000. Dan has reviewed the best players from Reimyo, Gryphon, and Ensemble, to name but a few. Take his word seriously.
I'm currently listening to an entire Simaudio Evolution system. Although I'm just getting started, I can tell you that, in terms of its user interface, the Evolution gear ranks up there with my reference Boulder Amplifiers electronics. As for how it sounds, for that you'll have to read the next installment of my "The World's Best Audio System."
And shipping from the UK by the time you read this will be what might be the most Ultra Audio product you'll read about this year: a medium-sized, two-way, floorstanding loudspeaker that sells for $69,000 per pair and sports some of the most intense attention to detail I've ever seen. The Audio Acoustics Sapphire Ti-C SE has a sapphire tweeter, woofers with titanium voice-coils, and cabinet construction that must be seen to be believed. It'll come to me with Audio Acoustics' own WOW cables, which will set you back another -- well, if you have to ask . . .
There's more planned -- much more. As you can see, we are not going to be covering mundane, practical audio equipment. Ultra Audio's crack team of writers is seeking the most outrageous gear we can find. Along the way, we hope to uncover performance that sets new standards in sonic performance. That's what we're after: Sound to the Extreme.
...Jeff Fritz
jeff@ultraaudio.com

All contents copyright Schneider Publishing Inc., all rights reserved.
Any reproduction, without permission, is prohibited.
Ultra Audio is part of the SoundStage! Network.
A world of websites and publications for audio, video, music, and movie enthusiasts.