August 1, 2008
Reference Recordings' HRx and 24-bit/176kHz Sound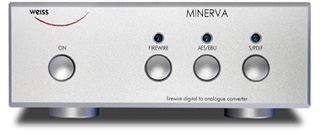 In last month's opinion piece, "24-bit/176.4kHz Computer Audio: Can't Get There from Here," I documented some of my frustration with the lack of available hardware to play back Reference Recordings' new HRx 24-bit/176.4kHz .wav files. For those not familiar with them, here's the blurb from Reference Recordings' promotional copy: "HRx DVD-R data discs contain exact, digit-for-digit copies of the original Reference Recordings 176.4kHz/24-bit digital masters. This is the ultimate in fidelity for two-channel sound: True high-resolution audio, ready to load from DVD-R data discs onto your computer music server!"
I could load RR's HRx files onto my Apple MacBook just fine. The problem was that my digital-to-analog converter couldn't accept a 24-bit/176.4kHz digital signal from my MacBook -- not, at least, via USB. A little investigation on some of the online forums dedicated to computer-based music revealed that I wasn't alone. It seems that a number of DACs now on the market and in the homes of audiophiles tout the ability to play back recordings at resolutions as high as 24/192. But while many of these DACs will upsample 16/44.1 to 24/96 or 24/192, they can't accept native 24/96 or 24/176.4 or 24/192 signals. An example is my own Stello DA220 Mk.II, which, when playing music imported to my computer from "Red Book" CDs, is, overall, an excellent-sounding DAC.
Enter the Weiss Minerva, a new DAC ($4500 USD) designed by Swiss electronics wizard Daniel Weiss. Via its FireWire interface, the Minerva does accept digital signals up to 24-bit/192kHz. And my Apple MacBook has a FireWire output. I was hoping I was set.
I was. This marriage was made in heaven.
The sound of my system with the Minerva handling the D/A conversion was simply spectacular. "Red Book" CDs sounded better than they ever have, easily beating the best CD and universal players I've listened to here in the Music Vault. And the sound of Prof. Keith O. Johnson's HRx version of Jerry Junkin and the Dallas Wind Symphony's Crown Imperial [DVD-R, Reference Recordings RR-112 HRx]? Simply magical. In a few months I'll go into detail about exactly what I'm hearing in a review of the Minerva in "The World's Best Audio System," but for now, suffice it to say that I'm captivated.
More to the point, you can, indeed, get there from here, assuming you have the proper equipment -- and the right gear is available now. For an Apple convert such as I, that means a DAC capable of 24/176.4 via either USB (not yet available, as far as I know) or FireWire (the Minerva is one of the few standalone DACs that can do this). In terms of high-end source players for the audiophile, this configuration of computer to hi-rez DAC is what's next, in my opinion. It's given me the best digital sound I've ever heard, and I'm ready for more.
. . . Jeff Fritz
jeff@ultraaudio.com

All contents copyright Schneider Publishing Inc., all rights reserved.
Any reproduction, without permission, is prohibited.
Ultra Audio is part of the SoundStage! Network.
A world of websites and publications for audio, video, music, and movie enthusiasts.