January 1, 2009
Ultra Audio's Products of the Year for 2008: Reference 3A Grand Veena Loudspeakers and Weiss Minerva Digital-to-Analog Converter
Reference 3A Grand Veena Loudspeakers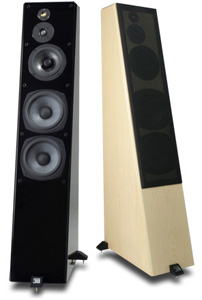 No one's stereo is perfect. We all try to make the most of the gear we have, which in large part is defined by what our wallets can afford. But it's often hard to be content with our lot as real-world audiophiles, particularly when we read reviews of outstanding equipment that costs more than most of us pay for a car -- or a condo. The result is that we often feel we can't enjoy the really good stuff because we just can't ante up enough to play in that game.
So when a loudspeaker offers world-class performance for a mere $7995 USD per pair, it's good news indeed. The Grand Veena, from Ontario speaker maker Reference 3A, costs less to own than the price of leasing a new economy car for three years, which makes it an extraordinary value that's affordable for many of us who are seriously committed to high-end audio.
As for its sound, the Grand Veena scales heights that most loudspeakers can't even begin to climb. In pursuit of the outer limits of performance, it incorporates new technology (an ultrasonic transducer) that expands what we knew about the replication of high frequencies, and older technology (a midrange driver coupled directly to the speaker cables without a crossover) that reproduces midrange frequencies about as purely as they can be.
Furthermore, much of the design and construction is done in-house, with an eye toward creating a state-of-the-art product at a practical price. Reference 3A builds its own drivers based on venerable designs from French audio designer Daniel Dehay, but uses new, expensive, high-tech materials -- yet the company's speaker cabinets are a clever combination of relatively low-cost materials designed to reduce resonances. Clearly, they're committed to high performance and high value.
Much of the thinking behind the Grand Veena was done by Tash Goka, president of Divergent Technologies and director of Reference 3A's operations. Kudos to him, and congratulations to the entire Reference 3A team. The Reference 3A Grand Veena is really good stuff, and one of Ultra Audio's Products of the Year for 2008.
. . . Albert Bellg
albertb@ultraaudio.com
Weiss Minerva Digital-to-Analog Converter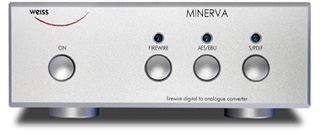 There are times when searching the list of products we've reviewed in a given year, looking for those that stand out from the pack, is an exercise in frustration. Some years, there are so many great products that rereading our reviews and trying pick just one or two can make my eyes glaze over.
2008, however, was a snap. Looking back over the products the Ultra Audio team has reviewed, there were two clear choices: the Reference 3A Grand Veena loudspeaker, which Albert Bellg writes about above, and the Weiss Minerva digital-to-analog converter ($4500), a sample of which spent time in my hi-fi system.
Daniel Weiss has long been recognized in the consumer and pro-audio worlds as something of a digital guru. It's not hard to find a professional recording studio that uses his equipment, and it seems his products are becoming more popular every day, as audiophiles look for the best digital sound available.
So by the time I received a review sample of the Minerva D/A converter, Weiss's reputation alone had led me to expect it to be good. What I didn't expect was that it would perfectly mate with my Apple MacBook -- and high-resolution recordings -- to create the best digital sound I've heard from my audio system. As I said in the October 1 installment of my "The World's Best Audio System" column: "This is what high-end audio should be about, and where the Minerva really shone. I could listen deep into this recording, hearing such details as tinkling bells with absolute clarity -- something I've not heard bettered by any system. It has whetted my appetite for more. If you've not heard this degree of resolution over a really good audio system, you owe it to yourself to do so -- though you might then be spoiled for anything else."
In my experience, the Weiss Minerva is the high-water mark of digital sound. Sure, you can spend more money -- but unless you do a head-to-head comparison with the Minerva, I wouldn't be at all confident that you could better its sound, even for substantially more money. Give it shot -- you might have a musical revelation a lot like mine.
. . . Jeff Fritz
jeff@ultraaudio.com