February 1, 2009
A New Year, a New Website, a New Concept for "TWBAS"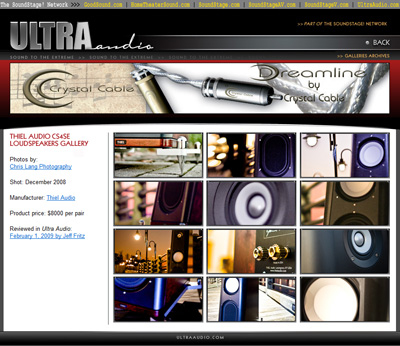 Although I've just gotten back from the 2009 Consumer Electronics Show, as I write this I have a lot of energy. My enthusiasm certainly wasn't fueled by the nutritious food or the great sleep I got in Las Vegas, but instead by the new design of the Ultra Audio website, the articles we're publishing this month, and what we have in store for you for the near future. When I look at what we're presenting to you, I'm pumped.
First, the skinny on the new website: Right away, along with the new look, you'll see some functional enhancements. The first is that all of our product reviews and feature articles are now found under the "Features" tab. The articles are no longer divided among multiple tabs, so no more hunting around for our content. If you're here to read what we've written, you're just one click away from a list of our latest articles.
The second addition to Ultra Audio is a "Galleries" section. We welcome the talented Chris Lang, of ProMotion Picture Co., as Ultra Audio's official photographer. In "Galleries" you'll see his innovative images of high-end audio -- and perhaps the work of guest photographers as well. I've found it fascinating to work with Chris on his photo shoots, particularly after participating in his unique vision of how high-end audio equipment, systems, and spaces should be captured in images. His photo gallery on the Thiel CS2.4SE loudspeaker captures the product beautifully, and gives a good indication of how the speaker looks in the real world. My full review of the CS2.4SE in our "Features" section will tell you exactly how the speaker sounded to me. When you see Chris's images in the context of my words, we hope you'll have a new and more fully rounded perspective on this wonderful product.
Also in "Features" this month is an insightful and personal profile of industry icon Professor Keith O. Johnson. Ultra Audio contributor Simeon Sandiford has enjoyed a friendship with Prof. Johnson for many years, and his observations illustrate just how much influence on high-end audio this man has had. Whether it be his work with Spectral Audio, Pacific Microsonics, or Reference Recordings, chances are that you've been touched by the fruits of Johnson's labors at some point in your audiophile life.
TWBAS: five important little letters
Over the past five years I've covered some of the best high-end-audio gear in existence in my column, "The World's Best Audio System." The "TWBAS" tab on the Ultra Audio home page has been the portal to a space where I write about some of the most extreme audio components in existence, some of which are my favorites. But the focus of "TWBAS" is shifting a bit.
It all began with a message I posted on the Audio Video Science Forum: I'm in the planning stages now and would like to solicit opinions on what system, if you were me, you'd like to hear. The sky's the limit. Doesn't sound too controversial, does it? Well, since I posted that message in October of last year, in addition to the almost 40,000 views and over 800 responses to the thread, I've received countless e-mails and phone calls, and was even tracked down in the halls of CES, all to explain my purpose. Lots of folks have weighed in on my query, and now, finally, "The World's Best Audio System," or one version of it, is not only being revealed, but actually set up. That's right -- come March 2009, six of the world's best makers of audio gear will descend on my home in Hampstead, North Carolina, for a listening event like no other. And you'll read about it, and see photos and video of it, here on Ultra Audio and across the SoundStage! Network. Oh yeah, that's going to be fun . . . . 'til then, I might not get much sleep.
. . . Jeff Fritz
jeff@ultraaudio.com