September 15, 2008
Audience adeptResponse aR6-T Power Conditioner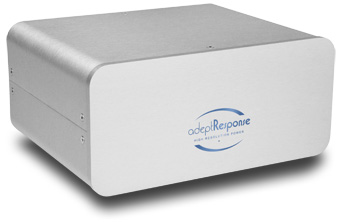 Audience's new aR6-T ($4600 USD) and aR12-T ($8000) are the first adeptResponse T-series high-resolution power conditioners. Audience's earlier aR conditioners, whose filter networks included Audience's own well-respected Auricap metalized film capacitors, continue to be available. In the T series, the Auricaps are replaced with the Aura-Teflon (Aura-T), Audience's new premium-performance capacitor. The high-end nature of the Aura-T capacitors is reflected in their prices (in small quantities): $29.91 for the smallest value (0.0015µF/600V), to $1424.75 for the largest (4µF/600V) -- each! (Auricaps run from $10.18 to $144.25 apiece.) Audience claims that Aura-T caps are responsible for all of the aR6-T's $1800 increase in price over the aR6.
The aR6-T has six AC outlets; the larger aR12-T has 12 outlets but is otherwise identical, functionally and sonically. Audience will soon offer two- and four-outlet aR conditioners, in both Auricap and Aura-T versions.
Product details
The aR6-T's compact dimensions (10.5"W x 4.75"H x 8.25"D, 11.1 pounds) mean that it will fit almost anywhere. The front panel has only the Audience logo and a blue power LED that is not, thankfully, blindingly bright in a dark room. The conditioner is available with your choice of 15A or 20A power cord and outlets with no increase in price. If you select the 20A power cord, you'll need a 20A AC outlet near your equipment (one blade of the 20A plug is turned sideways to prevent you from connecting a 20A device to a 15A outlet). Six red hospital-grade outlets fill most of the rear panel, leaving just enough room for the circuit breaker and power-cord inlet. Audience doesn't use switches or fuses in their conditioners, preferring the superior performance of a high-quality, fast-response, magnetic circuit breaker. The satin silver finish of the case has the appearance and feel of very high quality. A black finish is a no-cost option.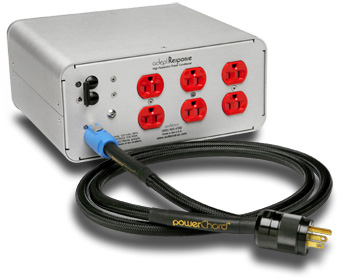 The aR6-T is a passive-filtering power conditioner with surge suppression. There is no balanced power and no voltage regulation. Like all adeptResponse power conditioners, the aR6-T is an extremely low-impedance design, which means that high-current impulses demanded by amplifiers are delivered without current limiting. No circuit boards are used, so power travels only through large-gauge wire or large copper bus bars. Unlike the MOVs used in many power-conditioning products, the aR6-T's permanent surge-suppression devices are not slowly weakened by spikes or surges. Individual filtering for each outlet means that all components plugged into the Audience are electrically isolated from all other components by at least two filter networks. Most power conditioners filter each pair of outlets, which can allow components to cross-contaminate each other.
The included power cord is a 6' length of one of Audience's own 10-gauge E powerChords. These feature a high-quality Marinco plug, and a 20A Neutrik PowerCon twist-and-lock connector instead of the usual IEC connector. Because the Neutrik PowerCon is a positive-locking mechanism, it will never fall out of its socket, as an IEC can, and is a great choice for any audio component. The Audience powerChord has been one of my favorite AC cords for quite a while because it helps great components achieve just a bit more of what I like without drastically altering their sounds: I hear more detail, more bass impact, a more spacious sound, and more tonal differentiation than with generic cords, or even with cords in the $500-$1000 range. In my experience, some high-end cords profoundly alter a component's basic sound, which makes me suspicious of cords that make a component sound very different from how it sounds with other cords. You don't have to worry about that with the Audience powerChord.
Getting ready
Audience claims that testing has indicated that the adeptResponse power conditioners need about 500 hours of use before they attain their maximum sonic performance. I set up the aR6-T with all six of its outlets connected to components that stayed on 24/7, and 20 days later, I was ready to begin some serious listening. It may seem illogical that a power conditioner could do anything to alter sound quality, but after reviewing more than 85 power-conditioning products costing from $20 to $6000, it has become clear to me that they can alter the sound. Some have made the sound a little worse, but the best have made as much of an improvement as a well-researched upgrade of any major component.
My system consisted of a heavily modified Pioneer DV-525 DVD player as a disc transport, a Perpetual Technologies P1-A/P3-A digital audio processor-DAC combo with Monolithic power supply, a Belles/Power Modules 28A solid-state preamplifier and 350A Reference solid-state stereo amplifier, Vandersteen 3A Signature speakers, two Vandersteen 2Wq subwoofers, Audience Au24 and Magnan Signature interconnects, Magnan Signature speaker cables, and Audience and JPS Labs AC cords.
The 15A version of the Audience aR6-T provided for the review couldn't provide the giant inrush of current needed to power the Belles 350A Reference -- every time I turned the big amp on, the Audience's circuit breaker tripped. When switched on, the Belles momentarily dims the lights in my neighbor's house -- still, it's rated at 15A, and doesn't trip the thermally activated circuit breaker in our electrical panel. If your amp puts a huge drain on the power line at startup, I recommend the 20A version of the aR6-T (no extra cost). To get the 350A Reference powered up, I had to switch the aR6-T's breaker back on immediately after it tripped. The first brief surge of current before the aR6-T's magnetic circuit breaker tripped partially charged the 350A Reference's power supply. Immediately resetting the circuit breaker completed the charging cycle of the amplifier. The circuit breaker then remained in the On position during the normal operation of the amplifier.
Listening
After a month of using the aR6-T, reconnecting my four main components directly to the wall outlets was a real letdown. The sound seemed compressed into a flat little package that never filled the room as it had with the aR6-T in the system. The speakers now became the boundaries of the soundstage, the depth and height collapsed, and beautifully 3D instruments and voices turned into flat photos emitting flat sounds. It became comparatively difficult to hear space, echo, reverberation, and details in complex mixes. The aR6-T had enabled the sound to not only fill the room, but to make the walls seem to melt away and transport me to a variety of spaces, from concert halls to large recording venues to well-damped recording studios. The raw AC killed the sound, basically sucking the life right out of it. But the aR6-T placed instruments in the hands of live musicians in real spaces, letting me hear every nuance, every bob and turn, each breath, each fine gradation of bow or finger pressure. No matter how complex the mix, every instrument had a realistic presence in the room that disappeared when the aR6-T was removed.
The Chieftains' The Long Black Veil (CD, RCA Victor 62702-2) has long been one of my reference recordings. With wall AC, this album sounds perfectly OK -- nothing to complain about, but nothing to get terribly excited about either. The music is great, but it just doesn't grab me by the ears. The aR6-T made everything beautiful and riveting. I found it impossible to stop listening. Simple instruments, such as the pennywhistle and recorder, became expressive vehicles of beauty under the spell of the aR6-T. The sound of each instrument's body, united with the notes and the air passing through it, produced a 3D presence in the room that raw AC just couldn't resolve. "Coast of Malabar" is one of the more spacious tracks, and with the aR6-T, the listening room seemed to disappear, transporting me to Malabar, in southwest India. Ry Cooder's tasty guitar work and voice became the centerpieces of a musical vision. Celtic harp tends to get lost in the more complex mixes, being just a bit laid-back and recorded, perhaps, at a slightly lower level than it should have been on several tracks. But with the aR6-T, I could follow the harp line note for note, or let it be just another element of this rich aural stew.
John Lee Hooker's Boom Boom (24-bit/96kHz DAD, Shout! Factory/Classic DAD1011) suffered in similar ways when the aR6-T was removed. On many tracks, the sense of reverberant space almost disappeared. Instead of Hooker in a spacious studio, he sounded more two-dimensional with reverb added, and his sharp, punchy guitar work was dulled. The energy of his performance was wicked away, and I lost the sense of being there in the same room while these tracks were being recorded.
The little brother
As a comparison for the aR6-T, Audience provided the same aR6 ($2800) I reviewed last November in SoundStage! At that time, the aR6 was one of the best power conditioners I'd reviewed in terms of improving the sound quality of my audio system. But could it hold its own against the far more costly aR6-T?
Yes and no. The aR6 sounded very much like the aR6-T, but there was less of everything. The soundstage was not as expansive, the walls of my listening room didn't "disappear" so entirely, and the sense of real instruments and performers being in my room wasn't as well developed. Balalaika Favorites (CD, Mercury Living Presence 432 000-2) was bigger and more beautiful with the aR6-T. The spread of instruments was huge -- like being in Row 8 of a great concert hall, but with no sense of being too close. The roundness, fullness, and harmonic depth of each balalaika of the Osipov State Russian Folk Orchestra was noticeably improved with the aR6-T, bringing the romance and soul of the music to entirely new levels that I'd never experienced before. The tube recording equipment Mercury had used to record this music back in 1962 was very much in evidence, but wasn't overemphasized. The "T" in aR6-T may as well stand for turbo as Teflon -- turbo-driven sound was very much the impression I was left with. Same smooth power and nice sounds, but the power and fun dialed way up.
Competitors
One of my favorite combinations of power-conditioning components is ExactPower's EP15A and UltraPure I ($4500 for the combo). The EP15A is an active device that analyzes the power coming into the house and removes anything that's not a perfect 120VAC/60Hz sinewave. Although designed to be connected to a 15A AC outlet, the EP15A can deliver in excess of 42A of transient current. The UltraPure I contains extreme levels of passive filtering, as well as two balanced-power transformers to supply juice to source components: disc transports, DACs, preamps, phono stages, and turntables. Together, the ExactPower products produce a velvety-black background -- as close to complete silence as I've ever heard from an audio system.
But musically, the aR6-T sounded more exciting and rich. The ExactPowers produce a large soundstage that roughly splits the difference between the aR6 and aR6-T. Listening to the ExactPower and Audience products back to back, I was left with a sense that the ExactPowers were all about precision, dynamic power, and impressive background silence. The Audiences were musical rascals with infectious personalities: funny, sweet, frightening, and exciting; the aR6 the shy twin, the aR6-T the irrepressible bundle of energy. I have great admiration for all four products. The best of all worlds would be if I could combine the ExactPowers' heroic control with the Audience aR6-T's nimble musicality. And you can, if so inclined -- using the aR6-T after either or both ExactPower conditioners gives you the best of both.
Conclusions
Different audio components and different power conditions can result in different sounds from the same power conditioner, let alone from different conditioners. Always audition such components in your own system to hear whether or not your results match what you've read in a review.
But none of the +85 power-conditioning products I've reviewed can touch what the Audience adeptResponse aR6-T did for the sheer amount of listening enjoyment I got from my reference system. Nothing else has produced a soundstage as large, or a more convincing sensation of instruments and performers being physically present in my room. Details of texture, harmonics, and space were terrific. And while the aR6-T didn't produce the velvety-black background silence of the ExactPower EP15A with UltraPure I, or of the brute-force, 185-pound, 220VAC-input Equi=Tech 5Q, the Audience can be used with those products to achieve both their superior reproduction of space and musicality, and their ultrasilent noise floors.
My expectations of performance are very high for this kind of money, and, offering only six outlets for $4600, the adeptResponse aR6-T is deep in no-compromise territory. But the Audience delivered. Only you can decide if the improvement in sound is commensurate with the price. It is for me.
. . . Doug Blackburn
db@ultraaudio.com
Audience adeptResponse aR6-T Power Conditioner
Price: $4600 USD.
Warranty: Ten years parts and labor.
Audience, LLC
120 N. Pacific Street, #K-9
San Marcos, CA 92069
Phone: (800) 565-4390
Fax: (760) 471-0282
Email: info@audience-av.com
Website: www.audience-av.com

All contents copyright Schneider Publishing Inc., all rights reserved.
Any reproduction, without permission, is prohibited.
Ultra Audio is part of the SoundStage! Network.
A world of websites and publications for audio, video, music, and movie enthusiasts.