November 15, 2006
Bel Canto Design e.One REF1000 Mono Amplifiers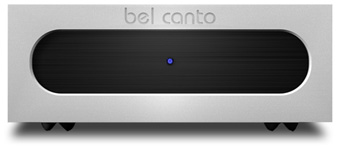 If three isn't the charm, it's at least charming
The arrival and sojourn chez Silverton of Bel Canto Design's e.One REF1000 monoblock power amplifiers ($3990/pair USD) marks my third protracted exposure to switching amps. The first, NuForce's Reference 9 SE monoblock ($4200/pair), remains my reference. The analog power supply of the second monoblock, H2O's hybrid M250SA ($5500/pair), makes for uncomfortable comparisons. So in pursuit of consistency and simplicity, I'll concentrate on amps that are switching designs from stem to stern.
That's no hardship. The more I hear from these relatively diminutive devices, the more convinced I become that big, physically imposing amps are no longer necessary. A decade ago, who among discerning audiophiles would have taken class-D amplification for a contender? Who, today, would not? Not those who've troubled to listen.
Castello Bel Canto
From its sleek, rock-solid exterior to its role in my system, the Bel Canto e.One REF1000 exudes competence. Compared to the NuForce Reference 9 SE's assertive turn-on pfft and turn-off pop, the Bel Canto produced a scarcely audible cherub fart. And unlike the NuForce, the REF1000 didn't interfere with FM radio reception. This latter difference may or may not point to the amps' respective switching power supplies. NuForce produces its own (for more on that, go to www.NuForce.com), while Bel Canto employs Bang & Olufsen's popular, top-of-the-line ICEpower 1000 module.
The REF1000's WBT Topline binding posts are the most convenient I've yet encountered. Each of the amp's four rubbery EAR feet makes contact on four nubs, and I added nothing in the way of footers or platforms to augment what looks like effective acoustic isolation.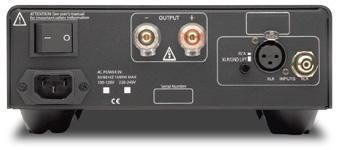 In response to a few e-mailed questions, Bel Canto's John Stronczer sent the following information. In addition to the EAR feet, "there is also a 3M damping pad on the top cover to reduce any chassis ringing. The chassis material is coated steel to provide optimum EMI and RFI isolation. . . . We also take great care in the type and construction of power and signal cabling [by employing] braided power wiring with a large RF bead, pro-grade copper-shielded twisted-pair input wires, and single-crystal copper speaker wiring. . . . We also use a very high-grade power switch." Stronczer also mentioned that the input connectors are custom, gold-plated copper RCAs, along with silver Neutrik XLRs, and that "we also use crimped connections internally, as these sound better, especially on the speaker outputs."
The Bel Canto's heavy-gauge steel case contributes to a weight almost twice that of the NuForce Ref 9 SE: 13 vs. 7.5 pounds. Its top plate removed, the REF1000's authoritative look carries over to its innards' neatly assembled layout.
Hot to trot
The e.One REF1000s I listened to were those that John Crossett reviewed for SoundStage!. They were well broken in. Bel Canto recommends leaving the amps on, though at first I gave them only a half-hour or so of playing time before returning to the listening room. A few weeks down the line, several pleasant but time-consuming diversions called me away, and, thrifty fellow that I am, I turned the amps off. (Each burns 15W at idle.)
Back when I was a knee-jerk skeptic, I didn't believe it. But it's true -- even after their recommended burn-in period, high-quality audio electronics generally sound best after a warmup. It took about 20 minutes beyond their initial turn-on for the REF1000s to emerge from the mists. Once in the clear, they impressed me anew with their musical strengths and emphasis on musical (I'll get to that soon). On the whole, they profited from being left on. At the very least, I knew that I was hearing what they were capable of under optimal conditions, and the Bel Cantos did differ enough in sonic character from the NuForce Reference 9 SEs that I can offer some firm and, I hope, helpful impressions.
I used Crystal Reference balanced interconnects and speaker cables. The speakers, as in most of my reports for Ultra Audio, were Wilson Audio Specialties WATT/Puppy 7s. (The WATT/Puppy 8s should arrive in a month or so.) The suite was rounded off by Aurum Acoustics' splendid combination CD player and preamplifier, the Integris CDP, which I suspect I'll hold on to till the thing rolls over and dies.
A beauty more than skin deep
The e.One REF1000's rock-solid look carried over to the listening as a sense of nicely proportioned muscularity. Did I say muscular? At over 1kW into 4 ohms, the REF1000 puts the notion of "power to spare" on a close to hilarious footing. I'll restrict to a minimum my comments based on discs I used for my auditioning. Nothing is as boring as a rambling account of a reviewer's listening preferences. As a classical buff with a particular interest in the avant-garde, I know what I'm talking about.
Nevertheless, an absolute delight: Shostakovich's frisky showpiece, the Concerto No.1 for Piano, Trumpet, and Strings, with pianist Ronald Brautigam, trumpeter Peter Masseurs, and Riccardo Chailly conducting the strings of the Royal Concertgebouw Orchestra [CD, London 433 702-2]. In my system, the REF1000s projected a warmth in the lower midrange down through the bass that amply complemented certain recordings. A disc such as this, taped in one of the world's best symphonic venues, Amsterdam's Concertgebouw, fairly glowed. On the whole, I had fun listening to orchestral recordings. Strings were remarkably lifelike, with brasses and woodwinds sounding a touch less biting -- again, closer to live music than to hi-fi playback's sprightlier aspects. Depending on the disc (always!), the REF1000s projected an agreeable you-are-there character.
In-your-face brass predominates in Anthony Braxton's Charlie Parker Project [two CDs, hatOLOGY 2-612]: Braxton, saxes and clarinet; Paul Smoker, saxes; Misha Mengelberg, piano; Joe Fonda, bass; Han Bennink and Pheeroan AlKaff, drums. As with most HatArt releases, these 1993 productions (one disc is live, one studio) are first rate, and this set in particular is as up-front as jazz recording gets. Once again, relative to the NuForces, the REF1000s shaved enough edge off these rambunctions to render the experience something of an easy-listening pleasure.
One of the more intriguing discs in my collection, Trace [CD, Red Note CD 7], features Roof, a quartet consisting of the late Tom Cora, cello; Luc Ex, acoustic bass; Michael Vatcher, drums; and Phil Minton, vocals. Credits notwithstanding, a photograph shows Ex with what looks like an electric bass. Whatever, the low end of these wild, improvised-sounding adventures -- Minton's vocal acrobatics threaten at any moment to plunge into the abyss -- do a fair imitation of what I imagine shifting tectonic plates might project. Less fancifully, think of the rumbling thunder of an oncoming summer storm. Via the NuForces, this disc's extreme low end was better defined. The Bel Cantos' characteristic midrange-to-bass bloom produced a less clearly delineated fundament.
Vol. 19, disc 1, of John Eliot Gardiner's series of J.S. Bach's cantatas [Monteverdi Productions SDG 155] reinforced the perception of a live-venue ambience. The soprano, male alto, tenor, and bass soloists, along with the chorus, sound, over the Bel Cantos, very much as they would in the flesh. These are, in fact, live recordings of some of the most beautiful Bach performances I've ever heard.
My preference remains with the NuForce Reference 9 SE monoblocks -- I'll be astonished if I ever encounter a more detailed sonic presentation. I also prefer the NuForce's tighter, more clearly defined low end. However, with respect to that hypothetically edgy speaker system I paired with the Bel Cantos, the Ref 9 SEs might prove a bit much. The e.One REF1000s might prove a better match with a tilted-up speaker.
Strengths and weaknesses
The Bel Canto e.One REF1000 does particularly well with recordings of unamplified acoustical instruments and vocal music; in other words, the kind of thing one hears in a live setting, particularly a classical-music setting. (Other than classical, I'm hard put to identify a genre of live music performed unamplified. Even small jazz groups in tiny clubs revert to amplification, usually crude and much too loud.) The Bel Canto made well-produced orchestral recordings sound as good as they should -- likewise chamber music, instrumental and vocal. And for all its muscle and punch, the Bel Canto is unlikely to produce listener fatigue. If anything, the REF1000's soft-focus character runs to warm and mellow, which makes it an ideal companion to a speaker system tending toward edginess.
…Mike Silverton
mikes@ultraaudio.com
Bel Canto Design e.One REF1000 Mono Amplifiers
Price: $3990 USD per pair.
Warranty: Five years parts and labor.
Bel Canto Design
212 Third Avenue North, Suite 274
Minneapolis, MN 55401
Phone: (612) 317-4550
Fax: (612) 359-9358
E-mail: info@belcantodesign.com
Internet: www.belcantodesign.com

All contents copyright Schneider Publishing Inc., all rights reserved.
Any reproduction, without permission, is prohibited.
Ultra Audio is part of the SoundStage! Network.
A world of websites and publications for audio, video, music, and movie enthusiasts.