July 1, 2008
Boulder Amplifiers 810 Preamplifier and 860 Stereo Amplifier
In today's tweaky audiophile marketplace, some high-end companies can have a hard time of it. Outfits such as Boulder Amplifiers are driven by engineering -- the owner, Jeff Nelson, is an engineer himself -- so there's no snake oil to sell. The products are built in a modern manufacturing facility, so the marketers have no mountaintop hideaway inhabited by monks to promote. Most important, Boulder builds what are, in my experience, neutral-sounding, slickly functioning components that add to the music little or no character or colorations of their own. Sound a little boring? Perhaps the story can be, but the gear surely isn't.
Boulder's 800 series of products is Jeff Nelson's attempt to offer, at approachable prices, a modicum of the performance available from his company's top products, the 2000 series, and a larger helping of the qualities of the second-tier 1000 series. If you're familiar with Boulder gear, you could think of the 800s as slightly scaled-back versions of the 1000s: The 800 power amplifiers are about half the power of their 1000-series counterparts, and their casework is much less massive, if no less beautifully executed. So far, there are four 800 components: the 850 monoblock amplifier ($5000 USD each), the 865 integrated amplifier ($11,500), and the two components reviewed here: the 810 line-level preamplifier ($6900) and 860 stereo power amplifier ($8500).
810
The 810 preamplifier (17"W x 5.5"H x 15.25"D, 18 pounds) has four sets of inputs and two sets of main outputs in addition to a set of Record outputs, all with balanced XLR connectors. (Boulder has available RCA-to-XLR adapters in case your source component lacks balanced outs.) The 810's circuit design is described by Boulder as "balanced, dual mono, three-stage, instrumentation-style circuitry" -- all hallmarks of Boulder design that are carried throughout the product line. With the 810, as with all Boulder products, much attention has been paid to the power supply: Two toroidal power transformers -- one each for analog and digital -- ensure that these equally critical stages are isolated from one another. The transformers are potted to ensure quiet operation.
Slick functionality is also a key design element of the 810: The stepped volume control operates in 0.5dB increments, and is the same flywheel-type rotary control that I so enjoyed using on Boulder's 1010 preamp. The volume disc -- you can't call it a knob -- requires the user to exert very little force: it almost spins itself. It's also very easy to dial in the perfect setting with your thumb without overshooting your mark. A 12V trigger is also included, and Boulder's proprietary BoulderLink method of wired connection allows the preamp to control the functionality of Boulder power amps as well. For instance, the 810 will turn on downstream 860s and, if it detects a fault in one of the power amps, will alert the user to that fact via its large alphanumeric display.
Speaking of that front-panel readout, it's the best I've seen: very easy to read from any reasonable distance or angle, useful once programmed with source names, and totally classy in appearance. The 810's simple front-panel buttons allow the user to access individual inputs without scrolling through them, though this will mostly be done with the nicely contoured, all-aluminum remote control. Overall, the 810 presents a professional yet luxurious feel, no doubt due in large part to the fact that it's entirely designed and manufactured in or around the company's Colorado facilities (Boulder Amplifiers even has their own CNC metal-machining equipment).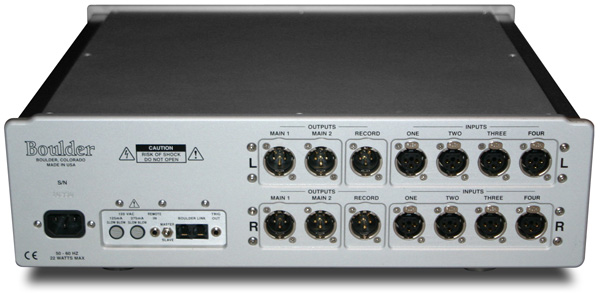 860
The 860 stereo amplifier (17"W x 7.38"H x 15.25"D, 45 pounds) is rated to deliver 150Wpc into 8 ohms, and twice that into 4 ohms. This implication of good load-driving capability seems amply supported by the 860's generous encapsulated toroidal power transformer and eight bipolar output devices per channel. Eight power-supply filter capacitors dominate a circuit board populated with many tiny surface-mount components. As should be expected of a modern amplifier of the Boulder's pedigree, the 860 has a full suite of protection circuits that should keep it in trouble-free operation for many years. Large, heavy-duty, wing-nut binding posts of Boulder's own design are fitted to the rear panel, along with a single set of balanced XLR inputs.
Cosmetically, the 860 is a perfect match for the 810: the two would look right at home sitting out in the open in a décor-conscious home -- if that home's inhabitants appreciate the look of brushed aluminum and fluorescent display windows (anyway, I appreciate it). There are no heatsinks on the 860 to concern those with pets or small children; the cooling fins are actually inside the chassis, and vent through perforated side panels of gray-painted metal. The rest of the chassis comprises classic slabs of natural aluminum bolted together. Overall, the 860 looks smart.
System
I plopped the Boulder 810 and 860 into a system featuring the Rockport Technologies Altair loudspeakers. I mostly used the speakers alone, to assess the Boulders' bass capabilities. However, subwoofer-satellite systems are increasingly common in high-end audio, and the 810 beautifully accommodates such systems -- its dual outputs let you drive two amplifiers simultaneously -- so I also occasionally hooked up my JL Audio Gotham subwoofers. My sole source component for the review period was an Apple MacBook feeding one of two USB DACs: a Stello DA220 Mk.II or a Blue Circle Audio USB Thingee. Cables and power conditioning were from Shunyata Research: Antares interconnects, Orion speaker cables, and a Hydra V-Ray conditioner. All of this was installed in my Music Vault listening room.
Sound
It was obvious, from their close tolerances of machining and circuit boards and their strikingly clean interiors, that Boulder's 810 preamplifier and 860 stereo power amplifier are precisely built. Their sound matched their appearance -- listened to together, they imparted no colorations to the music that I could hear. If they had any shortcomings, they were more of omission than commission. A good analogy would be a state-of-the-art stand-mounted speaker vs. a larger floorstanding sibling from the same series of the same brand: the stand-mount might not be able to reproduce the scale of the big bruiser, but what it does do -- perhaps from the midbass up through the treble -- is at least the larger speaker's equal.
So it was with the Boulders. Short of a direct A/B comparison, and when used within their power envelope, I imagine I would be hard-pressed to distinguish the 810-860 combo from Boulder's 1010 preamplifier ($12,000) and 1060 power amplifier ($21,000), which I reviewed in 2005. I can't be exactly sure -- the 1010 and 1060 haven't been in-house in a long time -- but the notes I took while listening to the 810-860 read almost identically to what I said in that review.
One of the first conclusions I came to about the Boulders was that they produced almost no noise. This was true when there was no music playing and I pressed an ear close to the Altairs' tweeters, but it was just as apparent when I listened to music. For instance, enjoying well-recorded acoustic music such as Johnny Cash's American V: A Hundred Highways [CD, American 1718301] illustrated just how much music can be obscured or revealed by the noise floor of electronics. The Boulders were almost revelatory in how they allowed the finest details of Cash's fragile voice to reach the listening position. I got no sense that the Boulders were in any way spotlighting a particular frequency range, but instead that they were simply letting through every minute detail that disc contains. Cash's cover of Gordon Lightfoot's "If You Could Read My Mind" was touching on many levels. Powered by the Boulder electronics, my stereo system never obscured anything I know to be on this recording.
Powered by the Boulders, the low frequencies the Altairs produced bloomed and enveloped me. Deep bass was powerful, percussive when called for, and well delineated. Perhaps the sound wasn't the last word in drive and authority, as had been the case with Boulder's 1010 preamp and 1060 stereo amp in 2005, but it was just about the equal of anything else I've heard to date. I never felt as if the Boulders were running out of power, or that I was exceeding the limits of their power delivery. The midbass was quick and punchy on numerous rock tracks. The kick drum on Matchbox 20's "Long Day," from Yourself or Someone Like You [CD, Atlantic 92721], powered through the mix of electric guitar and vocals to keep the rhythm of the music progressing perfectly. Pace and timing with all manner of percussion were just fine as well. The leading edges of notes could be sharp and impactful -- in fact, one of the Boulders' strong suits was their transient attack.
The Boulders' overall hallmark was their transparency. I reveled in listening to all types of acoustic music for all the fine detail I could now hear in those recordings. The almost-invisible nature of the amps ensured that aural images of the instruments were three-dimensional, and the outlines of performers were realistically etched in space. If you lean toward components that let you hear deep into recordings, then this Boulder combo may well be your desert-island rig. The downside was that the Boulders didn't make bad recordings sound anything other than bad.
But they let all the good stuff through unblemished -- as I write this, I'm enjoying Nickel Creek's eponymous debut album [CD, Sugar Hill 3970], which the Boulders are reproducing with stunning fidelity. The 810-860 never seemed to attempt to do more than they were capable of. In other words, I never made them hiccup with any music I threw at them. Maybe it's a testament to their solid engineering, but even at this price, you don't always get bulletproof performance. You do with these Boulders.
The Gryphon Diablo integrated amplifier offered stark contrasts in sound and appearance. At $14,999, the Diablo costs about the same as the Boulder combo ($15,400), and delivers even more power (250Wpc vs. 150Wpc into 8 ohms, both brands doubling those figures into 4 ohms). The Diablo has a dark yet robust presence in keeping with the mysterious Gryphon persona described in my review, while the Boulders are light and sleek, with a straightforward if no less impressive appearance. Both products offer cutting-edge user interfaces and are built to very high standards.
But in terms of sound, they couldn't have been more different. The big Gryphon created a larger, more lush sonic landscape: images seemed slightly larger within a soundstage that was wider and deeper than that cast by the Boulders. The Gryphon also imparted a slightly warm tone to vocals, whereas the Boulders were the picture of neutrality, and countered with quieter backgrounds. They were also slightly better at retrieving low-level detail, and produced an overall more precise soundstage. I could see owning the Gryphon or the Boulders, but for different reasons -- each has a different set of musically enticing strengths. You'd have to audition both to determine which camp you'd rather bunk down in.
The wild card is the Boulder 865 integrated amplifier, which reportedly is the 810 and 860 in a single chassis for $11,500, and possibly the best deal in the 800 series. With the 865 you'd lose the ability to replace only the amp or the preamp, but that might not be important to you. You'd save $4400, as well as what you'd have spent on the interconnects to link the separates. It's worth investigating.
Conclusion
The Boulder 810 preamplifier and 860 stereo power amplifier were wonderfully musical devices to listen through. They also engaged the part of me that enjoys operating a fine automobile or wearing a Swiss watch: They're thoroughly engineered to give the user an overall experience that exceeds most others available in the world of manufactured goods. And the Boulder combo's sonic performance was in keeping with the best of the high end -- their thoroughly modern sound appealed to both brain and heart. If you want great sound and functionality in two gorgeous packages, you need look no further than Boulder's 810 and 860.
. . . Jeff Fritz
jeff@ultraaudio.com
Boulder Amplifiers 810 Preamplifier
Price: $6900 USD.
Boulder Amplifiers 860 Stereo Amplifier
Price: $8500 USD.
Warranty (both): Five years parts and labor.
Boulder Amplifiers, Inc.
3235 Prairie Avenue
Boulder, CO 80301
Phone: (303) 449-8220
Email: sales@boulderamp.com
Website: www.boulderamp.com

All contents copyright Schneider Publishing Inc., all rights reserved.
Any reproduction, without permission, is prohibited.
Ultra Audio is part of the SoundStage! Network.
A world of websites and publications for audio, video, music, and movie enthusiasts.