December 1, 2006

Esoteric Elegance AZ-1 Integrated Amplifier, DAC, and Master Clock Generator
If you ever get a chance to be a fly on the wall, listen to a group of audiophiles discussing technology. It's interesting. These days, any number of audio-related technical subjects can divide groups of listeners into divisively opposed camps. But wait -- that's how it's always been, right? It's just that, in the past ten years, the subjects themselves have changed.
Digital amplifiers are a perfect example of a current hot topic. For once, it seems that many proponents of tube and solid-state (analog) amplification actually agree: across the board, digital amps sound bad. On the other side of the fence are the early adopters of digital amplifiers, who have embraced a technology that many hail as the end-all of great sound.
As far as I'm concerned, you can't group together "all digital amplifiers" in either the "good" or the "bad" camp. That's like saying that all solid-state amps sound the same, or that all tube amps sound alike. It's just not so, and never has been. Speaking in such absolutes might actually translate to "I don't want to have to explore other possibilities or give up the status quo," among other things. But audiophiles like to speak in absolutes, even when there are none.
Back to digital amps: Several SoundStage! Network reviewers have lauded the products from NuForce as being outstanding performers -- but while commonly referred to as "digital" amps, these are actually analog switching designs. We've also reviewed various Tripath-based and ICEpower-based amplifiers; some folks have been impressed, while others have been less than enthused. The first digital amplifier I've had in my system is the Esoteric Elegance AZ-1 ($4800 USD), an integrated model that comes with a built-in word-reclocking function for Esoteric's own source players (one of which I happen to own) and the AZ-1's own DAC. Which side of the fence do I come down on? That depends on how it sounds in my system, of course.
Setup
The diminutive AZ-1 saw action in my Music Vault listening room with two different speaker systems: Wilson Audio Specialties WATT/Puppy 8s and Paradigm Studio 100 v.3s. The primary source component was Esoteric's UX-3 universal player. Toward the end of the review I was also able to try the AZ-1 with Esoteric's DV-60 universal audio/video player, with which I tested the AZ-1's word-reclocking function. Cables and power products were exclusively from Shunyata Research.
Design
Esoteric's product line comprises a couple of different series. First is the Component line, of which the UX-3 and DV-60 are members. These are full-sized components and, in the cases of the upper-end models, cost-no-object designs. Launched more recently is the Elegance series: components of smaller size and sleeker styling, designed to perform where considerations of space and décor are crucial.
The Elegance AZ-1 (15.7"W x 3"H x 13.5"D, 22 pounds), which in some of its literature Esoteric calls a "pre-main amplifier," is joined by the Elegance UZ-1 universal player and Elegance SZ-1 SACD player. The AZ-1 has the silver coloring and engraved top panel that identify it as an Esoteric product, but features a contoured front panel of aluminum and a very low profile, in stark contrast to the massive size and boxy shape of the larger Component products. Esoteric says the AZ-1 is a class-D design of their own creation. This is no off-the-shelf rebadging of the ICEpower circuit used in so many other products. The power supply of the AZ-1, also unique, features a WB transformer. WB refers to the "Wound core-type transformer with coil Bobbin," which Esoteric claims is more "magnetically efficient" than conventional designs. It is also smaller than an equivalent toroidal transformer, which fits the Elegance design criterion of small. The AZ-1 is rated to deliver a minimum of 80W into 6 ohms.

The AZ-1's Word Sync Out terminal, directly derived from Esoteric's P-01/D-01 flagship digital separates, allows the AZ-1 to sync its word clock to any component equipped with a word-in feature. Essentially, you connect your source's digital output to the AZ-1 via a BNC connector, then send the signal back to the source and into the corresponding word-in jack. The signal then goes back to the AZ-1 through a standard analog output and into the AZ-1's RCA input jacks. Very few digital sources have the requisite word-clock-in jacks to use the word-clock feature, but all Esoteric products do, making them natural partners for the AZ-1. Rounding out the rear panel are two sets of RCA inputs, a phono input, a slew of digital inputs (two each of TosLink, coaxial, and i.Link), and high-quality WBT speaker connectors for use with spades, bananas, or bare wires.
Though little is said about it in the accompanying manual, the AZ-1 also has an internal DAC. If you have an older source, you could theoretically buy an AZ-1 and upgrade both amplification and your DAC all in one step. Lastly, the i.Link inputs would allow you to daisy-chain multiple AZ-1s together for a multichannel setup; you could use one AZ-1 for the front left and right channels, another for the left and right surrounds, and so on. All in all, a very flexible product.
Sound
I listened to the AZ-1 first with the Paradigm Studio 100 v.3 loudspeakers, and immediately noted an increase in the retrieval of low-level detail the likes of which I'd not previously experienced with these speakers in my room. Recordings with cymbal work, for instance, sounded remarkably lifelike and present, and I was able to sort out every little strike on the instruments without aural effort. This wasn't the sort of presentation that would cause any listener fatigue over time; it was just cool waves of musical information that let me hear further into fine recordings, such as Ben Vaughn's sublime "While We're Here," from Designs in Music [CD, Soundstage 15 001]. There's a lot to admire in this recording, and the AZ-1 presented it honestly, with no highlighting of individual elements.
What the AZ-1 could not do with the 88dB-sensitive Paradigms was drive them to rambunctious levels with the sense of ease and effortlessness I've heard from larger amplifiers. As long as I stayed within the confines of its power output, the AZ-1 was a wonderful-sounding machine; pushed hard, it just didn't have reserves of power needed for some of my metal-head music. I know what you're thinking -- that my observations here should be quite obvious to anyone paying attention. After all, the AZ-1 is rated to deliver only 80W into 6 ohms, less into 8. However, many of us have noted how conservatively the outputs of some of the best high-end power amplifiers are rated. In this case, Esoteric's rating should be taken seriously, and paired with the appropriate speakers.
But my, how things changed when I inserted the 4-ohm, +92dB-sensitive Wilson WATT/Puppy 8s -- the AZ-1 came to life with unbridled fury! The W/P8s played with explosive dynamics, speed, and transient detail. Bass was deep and sustained, and shook my room with full power on Aaron Copland's Fanfare for the Common Man, as performed by Eiji Oue and the Minnesota Orchestra [CD, Reference RR-93CD]. I suppose it was the sensitivity of the W/P8s, along with the increased power into a lower impedance, that made all the difference. The high-frequency detail I spoke of earlier was still an overriding sonic characteristic of the AZ-1, but the rest of the frequency spectrum was now also served up with definition and palpability to spare.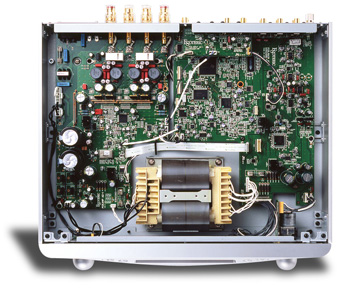 Finesse, speed, and energy are also words that describe what the AZ-1 delivered. In those respects, it was an excellent match with the WATT/Puppy 8, a speaker that seems able to keep pace with any recording of frenetic music in my collection. I could not ask for a setup that offered more pace, dynamic contrast, and sheer zing. Whether I played intimate music at low levels late at night, such as the late Jeff Buckley's cover of Leonard Cohen's "Hallelujah," on Grace [CD, Columbia 57528], or rocked out with the Dave Mathews Band, the AZ-1 handled things. Midrange clarity on "Mr. Curiosity," from Jason Mraz's Mr. A-Z [CD, Atlantic 83833], was also strikingly good. Mraz's voice was out front and had wonderful presence -- he was seemingly in the room with me. The AZ-1 didn't let me mistake it for a tube amplifier (which, depending on your perspective, could be a good thing), but it displayed all of the vocal color already present on my best recordings.
Sorting out the AZ-1's sound in relation to other amplifiers I've heard was quite easy. It certainly didn't fall on the warm side of neutral -- I couldn't have mistaken the AZ-1 for a glass-bottled amplifier, or a warmer-sounding solid-state design such as the Simaudio Moon Evolution W-8 ($10,500) I listened to a few months back. Nor did it have the bass energy and drive of the Boulder 1060 ($20,750). But hey, remember all the functions this puppy has to offer that the other guys don't, not to mention its low price relative to those behemoths! What the AZ-1 did do was play with clean speed and detail within its modest power rating. I could almost describe the AZ-1 as a much smaller, less powerful, not quite as transparent version of the Halcro amplifiers. A mini-Halcro -- how quaint!
Reclocker
I heard a higher level of musical clarity from Esoteric's DV-60 when I used the Elegance AZ-1 to sync its word clock. With a simple coaxial cable out to the AZ-1, then back to the DV-60 with a BNC cable before being fed back to the AZ-1 via analog RCA connections, the sound improved noticeably. In fact, after I'd made the connections, the improvement was so obvious that I heard the difference before I'd sat back down in my listening seat! The midrange clarity improved noticeably as vocals snapped to attention and seemed to move out into the foreground. Images were slightly larger and better delineated, too. Overall, a worthwhile improvement by any measure.
Conclusion
My experiences with the Esoteric Elegance AZ-1 were quite positive. Though it may not be everyman's amplifier -- pairing it with an efficient speaker is a must, and it isn't a tube equivalent by any means -- it does offer more than a taste of what's offered by some of the best cost-no-object designs I've heard. Its trump card may be that it can reclock the word signal from your Esoteric source for an even higher level of performance. And if you have an older DAC, you can upgrade that with the AZ-1, too.
Though I wouldn't count myself as a convert to digital amplifiers yet -- let alone claim, as some have, that their performance is, across the board, superior to that of their analog brethren -- I can say that I'm impressed, and prepared for more of what the AZ-1 and its cohorts have to offer. Perhaps the competing analog and digital factions will push each other to achieve even better performance in the future. The AZ-1 will be a mighty mite in the amplifier battles sure to come.
…Jeff Fritz
jeff@ultraaudio.com
Esoteric Elegance AZ-1 Integrated Amplifier, DAC, and Master Clock Generator
Price: $4800 USD.
Warranty: Two years parts and labor (three years with product registration).
TEAC America, Inc.
7733 Telegraph Rd.
Montebello, CA 90640
Phone: (323) 726-0303
Fax: (323) 727-7656
Website: www.teac.com

All contents copyright Schneider Publishing Inc., all rights reserved.
Any reproduction, without permission, is prohibited.
Ultra Audio is part of the SoundStage! Network.
A world of websites and publications for audio, video, music, and movie enthusiasts.