September 1, 2006
H20 Audio M250SA Mono Amplifiers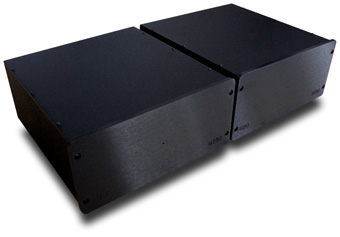 Life without surprises? Hasn't happened yet
My published thoughts about the first switching (or digital, or class-D) amp I ever lived with -- and still live with -- can best be described as intemperate. They were NuForce Reference 9 SE monoblocks, and I offered at the top of my figurative lungs that no innovation this obviously good could possibly fail to ignite firestorms of enthusiasm throughout Audiophilia. And at 7.5 pounds each!
Having declared myself eager to take on more amps similarly configured, I awaited with pleasure the arrival of H2O Audio's M250SA mono amplifiers ($5500 USD per pair). When our affable FedEx gent handed over the two large, heavy cartons, I thought, Whoops! Miscommunication! How can there be such disparity in weight among like-engineered devices? I was under the impression that the folks designing and manufacturing switching amps all labored under a Mighty Mouse aegis. I soon learned the error of my confusion: There are switching amps, and then there are switching amps.
Specifically, the A in H20 M250SA stands for analog. (The S denotes Signature -- the designer's dernier cri.) In terms of stem-to-stern switching technology, as exemplified by the NuForce Reference 9 SE, the M250SA is a hybrid: an analog power supply, with its toroidal transformer and four large capacitors, and, in the words of H20's Henry Ho, a Pulse Width Modulation (PWM) amplifier section -- "as opposed," in Ho's words, "to conventional solid-state designs, where the output is always on."
H2O is a tad over two years old and Ho is the sole designer. The product line (see their website) is produced domestically in Winchester, Virginia. H2O sells direct and offers a refund if the buyer decides to return the purchase within four weeks of receipt. The buyer pays for shipping, one way or both. The amps come with a one-year warranty.
A minimalist aesthetic
The M250SA's ornamentation is conspicuous by its absence. The exterior is aggressively plain (always a safe aesthetic bet in audio, where bling and inane ostentation too often equate). The faceplate's tiny indicator light and etched H2O and M25O insignia comprise the display. With the top plate removed, one sees a handsome, uncluttered layout that, apart from the power supply, in no way resembles solid-state architecture. There are none of the usual output devices clinging to heatsinks, for example. Nor was there any heat -- after long hours of play, all the M250SAs' surfaces remained cool to the touch. Like the NuForce, the M250SA requires remarkably little fuel. It idles at 10W as compared with the NuForce's 6W. The Mark Levinson No.33H, to which I compared the NuForce, burns 200W in standby mode, 500W in play. Henry Ho prefers that the M250SA remain on 24/7. When the NuForce References are on, they interfere with FM reception in the kitchen and my wife's painting studio. The M250SAs didn't.
Excepting the 3/8"-thick faceplate, the M250SA's top, sides, and bottom consist of 1/4"-thick aluminum slabs. Hefty construction and that big donut transformer account for much of its 50 pounds. As a matter of intuition, the H20's build quality and simplicity of layout should provide years of trouble-free service. In the few months I used them, the amps operated flawlessly: nary a snap, crackle, or pop.
Two ugly ducklings waddle about the listening room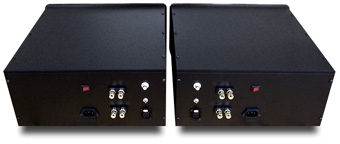 The H2Os occupied the floor on either side of the low Chinese cabinet on which sit my Integris CDP and reference NuForce Reference 9 SEs. As with the Integris, I set up each H2O on three Golden Sound ceramic DH Super Cones, points down, these nestling into DH Squares, the Squares sitting on a 16" x 16" x 2" concrete patio tile, and the tile resting on four Vibracones, points up. (The Integris's designer, Derrick Moss, put me on to the DH products.)
I played a few CDs and heard an overripe bass and lower midrange ascending to murky heights. The top end, such as it was, sounded constricted. I grew despondent. I'd been exchanging e-mails with Henry Ho and had developed a liking for the man. He'd impressed me straight off as an audio enthusiast -- my kinda guy. And here I was, facing the prospect of bad-mouthing his best effort. Bummer.
Some days earlier, as Ho was about to ship the review pair, I'd asked him to first burn them in as best he could. I wasn't in a rush, and much preferred receiving a somewhat matured product to having to tick away H2O's recommended hundred hours on my side of the divide. Could this be a case of inadequate maturation? Ho had given them less burn-in time than I'd hoped for. A succession of thunder storms in ol' Virginny had inspired him to yank the plugs.
Swan alert!
Readers of Hans Christian Andersen's tales know all about ugly ducklings. More burn-in was exactly what the H2Os needed. When Henry Ho says a hundred hours, it's no bedtime story. Long, uninterrupted stretches of CD play ripened the M250SAs to where I was able to sit back and enjoy the show and, ultimately, to wax enthusiastic about it.
Let's begin with silence. I pressed an ear against a Wilson Audio WATT/Puppy 7's midrange driver and strained to detect the faintest electro-sigh. (On a quiet morning, I can hear my Mark Levinson No.33Hs' background noise a foot away.) With an ear pressed against the M250SA's top-plate, I tried about as hard to detect transformer hum. It was no less elusive. Very nice.
Synaesthesia: the subjectivist's first and last refuge
My reference NuForce amps sound like polished silver. I value the Reference 9 SE for, among other qualities, its astonishing resolution in a context of crystalline neutrality. So if the NuForce is mirror-bright silver, the H2O M250SA is burnished bronze -- or, in keeping with crystal, polished amber. And that's not a bad thing. A golden oldie, recording engineer Lewis Layton's stereo 1957 taping of Fritz Reiner and the Chicago Symphony's performance of Brahms's Third Symphony [CD, RCA Victor 61793-2], never sounded better. The same highly recommended CD, issued in 1995, offers Schubert's Fifth Symphony (1960) and Mendelssohn's Hebrides Overture (1956). Most impressive was the H2O amps' ability to re-create string timbres and textural depth.
As a generality, the lower midrange and bass of good orchestral recordings, ancient or recent, shone glowingly. But not tubbily, as evinced by Sibelius' hugely atmospheric Fourth and Fifth Symphonies, recorded in 1989 by Herbert Blomstedt and the San Francisco Symphony [London 425 858-2]. A plummy yet well-defined midrange and low end was the sort of audiophile pleasure the H2Os provided in abundance. Sibelius' way with mellow brass and woodwinds in conversation with deep-textured strings was played to great advantage.
Another golden oldie, Marc Aubort and Joanna Nickrenz's 1972 production of four works by Edgard Varèse, ends with Ecuatorial, for bass voice, four trumpets, four trombones, piano, organ, two Ondes martenot, and five percussion (Thomas Paul, bass; Arthur Weisberg, Contemporary Chamber Ensemble [Nonesuch 71269-2]). Audio cognoscenti cherish Aubort-Nickrenz recordings, particularly from this period, for their lifelike glow. Aubort's way with music's profound low end was the envy of his peers, and his taping of Ecuatorial's bass drum as a subdued earthquake must be heard to be believed. The NuForce pair handle it swimmingly, the H2Os likewise. The difference will be in the listener's perception of tonal balance. This is just the kind of recording that flatters Henry Ho's flagship product.
I listened to a range of recordings, from small ensembles to large, solo instruments, vocals with and without accompaniment, some jazz, some "world." The M250SAs were fine amps, no question. When ordered to bellow, they would neither compress nor hoarsely shout. Male and female vocalists sounded especially convincing.
The H2Os performed best with Nordost Valhalla interconnects and Valkyrja speaker cables. I've also used the Nordosts with the NuForce pair, though at the moment I'm playing them with Crystal Reference ICs and speaker cables to my great satisfaction.
So who wins?
Within the context of its bronze-amber character, the M250SA performed well: dynamic gradation, soundfield veracity, textural depth -- it's a contender. In an early phone conversation with Henry Ho I mentioned that I've never been a fan of tubed audio components. Ho was relieved to learn that other than a tubenik would be judging his gear. In light of that conversation, I find myself in the curious position of suggesting that audiophiles with a taste for tubed electronics -- in particular for a luxuriant midrange and rich, full bass -- will find H2O's top-of-the-line mono amp an unusually attractive, maintenance-free alternative, with, as a bonus, a superior command of music's nether strata.
While my preference remains with the $4200 per pair NuForce Reference 9 SE's superior resolution and lighter tonal balance, I would never think to challenge the judgment of the audiophile (or audio tyro) who prefers the H2O's presentation. I've had too many conversations with audiophiles and music lovers whose opinions I respect to assume for a moment that only mine matter (to other than myself). I figure I've done my job by describing what I heard. There were any number of moments when I thought that I could live with the H2Os.
As for muscle, it's been an age since I overtaxed an amp's ability to deliver the goods. I'm on my third iteration of Wilson's WATT/Puppy, with a fourth, the WATT/Puppy 8, due to arrive in a month or two. The WATT/Puppy is a fairly easy speaker to drive, and the H2O's 250W into 8 ohms or 500W into 4 ohms more than met its needs. The W/P's impedance curve dips to 2 ohms, a load below which the H2O and most other amps should not be asked to go. (I owned a pair of the larger Carver Amazing loudspeakers a long time ago. Quirky as they were, I'll never say a word against them except to observe that they soaked up amplifier output like sponges.)
The H2O Audio M250SA mono amp is an honest, well-made, good-sounding product, and checking out a pair won't cost an arm and a leg. Henry sent my review amps FedEx Ground, which is how I returned them. Shopping for audio in a salon with well-appointed listening rooms is a pleasure, if an increasingly rare one. But living with a trial component for its burn-in period and beyond, all in the acoustically familiar environs of your own home, will give you a much better idea of whether or not it will satisfy you over the long term.
…Mike Silverton
mikes@ultraaudio.com
H2O Audio M250SA Mono Amplifiers
Price: $5500 USD per pair.
Warranty: Five years parts and labor.
H2O Audio
405 Fortress Drive
Winchester, VA 22603
Phone: (804) 873-8974
E-mail: H2OAudio@verizon.net
Website: www.iceh2oaudio.com

All contents copyright Schneider Publishing Inc., all rights reserved.
Any reproduction, without permission, is prohibited.
Ultra Audio is part of the SoundStage! Network.
A world of websites and publications for audio, video, music, and movie enthusiasts.