December 1, 2003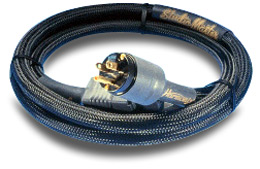 Harmonix X-DC Studio Master Power Cord
Power cords? You're kidding!
My interest in recorded sound and its playback developed at a time when the very idea that a power cord could affect an audio system's performance was but one of an irritating subculture's loony-tune notions. With respect to audio gentrification, the term "high end" was not yet in general circulation. At the center of the scale stood the Audio Engineering Society, and way out there, teetering on the edge, were the delusional types who actually believed, inter alia, that cables make a difference. No one who considered himself prudent or rational wanted to be seen associating with people who spent good money on designer linkage and other risible oddities. If a length of properly manufactured wire satisfied specific electronic requirements, to seek further was folly. (It was possible, of course, to concoct an exotic speaker cable that could destabilize an insecure amp, but that was another story -- an audiophile story.)
I recall an instant at a hi-fi show. My audio guru, entourage in tow, stopped at a display table on which lay a designer power cord. The comment, amid snickers, went something like, "Will you look at that! The idiots!" Speakers, on the other hand, were different. Here, the chaps in lab coats agreed, was where one really could hear a difference, and therefore was where one spent one's money wisely. You needed only to be sure that your amplification was capable of driving the objects of your desire. Inadequacies here were measurable, and clipping was audible. If the fever thermometer read 98.6, all was well. Heavy-duty zip cord cost pennies per foot; jacks were a couple of bucks. One could only pity the fools dropping bundles on fancy-dancy fripperies, and soon after abandoning what they'd bought for something that carried them that much closer to God-knows-what.
A misspent seniority and how I'm enjoying it
Pan to the present. I've been recommending fancy-dancy fripperies for a dog's age. Still, there's my old guru's Marley-like spirit, dragging long lengths of RadioShack interconnect around in some dark, recidivist corner of my mind, moaning and muttering: Rough-and-ready electricity journeys to one's system, and it's there, within the system, that the ritual purifications occur. Isn't that how it works? In view of the distance the juice travels before it arrives at your address, how could a power cord's relatively minuscule length exercise any audible effect? Anyway, what could be more obvious, even to an audiophile?
I betook me to the attic, dug about in a carton of detritus, and fetched up two power cords to compare with the Harmonix X-DC Studio Masters I've had in my system for better than a month ($1305 USD per 2-meter length). I can't say for sure where the two came from, but one doesn't throw such things out. As with the Studio Masters, the pair are identical twins, and of Asian origin: DA TUNG CSA TYPE SJT 60oC FT2 LL57655 (UL) SJT W-A E90156 75oC VW-1 14AWGX3C, to give them their due. They looked sturdy.
Now, your bone-deep skeptic will tell you that one properly manufactured power cord is as good as the next; i.e., that power cords are pedestrian items performing a glamorless chore. The same bone-deep skeptic dismisses the need for long hours of burn-in as yet more goofy audiophiliana. I mention this because I hadn't the stomach for listening at length to an instructive experience.
Why am I reviewing two rather than one, three, or four Studio Master power cords? My Mark Levinson No.33H mono amps' hardwired power cords plug directly into their dedicated outlets. My Harmonix Reimyo ALS-777 AC line stabilizer (which services one component directly) and my Mark Levinson No.390S CD player both allow for aftermarket power cords. (Actually, the ALS-777 comes with no cord at all. How's that for enlightened?) The No.390S has its own good volume control, so there's no preamp in the system. (For those of you who've read my earlier UA reviews, this no-preamp alert must resemble a mantra.) The Reimyo plugs into the wall, and the player plugs into the Reimyo; ergo, two X-DC Studio Master power cords. The ALS-777's North American distributor tells me that designer Kazuo Kiuchi "tuned" his power cord to operate to his satisfaction with his line conditioner. Quite literally, line conditioner and power cord were made for each other.
The X-DC Studio Master's box bears the inscription "The World's First Tuned Cord." How one "tunes" a power cord remains, to me, a mystery. I can only guess that Kiuchi tried combinations of wire formulation, wire geometry, dielectrics, and terminations (namely a WATTaGATE 330 plug and 350 IEC connector for the slightly more expensive version I'm using) until he arrived at whatever it was he sought.
On two different occasions, I removed the X-DC Studio Masters and replaced them with the attic twins. Both events produced identical results: Choice of recording notwithstanding, the sound blurred and coarsened significantly, and my sense of an authentic soundfield diminished precipitously -- finesse, transparency, resolution, subtlety, all kaput. I had turned a wonderful sound system into a mediocrity. They don't pay me enough to do this again. I thus proved (more like reconfirmed) to my satisfaction that power cords make a big difference: I heard a huge disparity. A measurements-tell-all objectivist, aka bone-deep skeptic -- they're such a stubborn lot -- would assure me that I'm hearing what I want to hear. Well, my man, if that's true, I suspect that over the months I'd have continued hearing what I want to hear, which would be rather more than enough to keep me out of the listening room.
But seriously, ladies and germs . . .
My toys from the attic provided mischievous fun, but a critical comparison had yet to be made. Prior to the X-DC Studio Masters' arrival, I'd been using two top-of-the-line and highly regarded power cords from Acoustic Zen: the Zero-Crystal Reference Gargantua and Zero-Crystal Reference Gargantua II. The II, which arrived some time after I'd acquired the original, is a touch thicker and stiffer, and went between the Reimyo and the wall, while the original fed the CD player from the Reimyo. At $1488/6', the new Gargantua II comes in at a few dollars more than the 2-meter Studio Master with WATTaGATE terminations.
We are obliged to take this power-cord-tuning business seriously. Whatever Kiuchi did, he did it spot on. I began with Rückblick Moderne (Modern Retrospective), an eight-disc set on Wulf Weinmann's col legno label [WWE 8CD 20041]. Disc 4 offers Olivier Messiaen's Chronochromie, Helmut Lachenmann's Air: Music for Large Orchestra and Percussion Solo, and Igor Stravinsky's The Rite of Spring. Lachenmann, one of my favorite living modernists, creates sounds that depart from what most of us understand music to be. I think he does it brilliantly, but that's a matter of opinion. I can report with rather more authority on what I heard. Via the Gargantuas, it's a good recording, with the emphasis on recording. By way of the Studio Masters, Air's array of transients infinitesimal to brutal was as crisply present as the live equivalents, and I'm not being in the least hyperbolic. I'd never heard the like -- coming out of speakers, that is. In both the Lachenmann and Stravinsky, sounds shone against as quiet a backdrop as I have experienced. The pure and elegant highs were what struck me immediately, and I soon realized that the entire spectrum was telling the truth. The Gargantuas did shave off a little of the excitement's edge, casting the slightest of veils across the soundfield -- slight but audible. Otherwise, I'd have called the comparison a draw, even if I'd heard a difference in character.
This touch of veiling, one's sense of blunted edges, is a not unattractive coloration. In continuing my comparisons of the two sets of power cords, I played an old favorite, A Gershwin Concert [Chesky CD56]. The program includes an exhilarating performance of George Enescu's first of two Romanian Rhapsodies, Op.10, No.1, with Oscar Danon conducting the Royal Philharmonic Orchestra in one of England's great recording venues, London's Walthamstow Town Hall. Chesky released the CD in 1991. K.E. Wilkinson's taping dates from 1962. That's Ken Wilkinson, one of the very best in the business. The X-DC Studio Masters operated rather like a heaven-sent Windex; Wilkinson's gifts stared me straight in the face. In this system, the Studio Masters subtracted all but the music. There's a reverberant "tail" at the performance's conclusion that lasts perhaps 1.5 seconds. I'd not noticed it before. Amazing resolution!
The X-DC Studio Master's benefits yielded similar gold with a historically significant recording a touch less technically splendid than Wilkinson's work. The program of a 1995 EMI reissue of a Melodiya original features a live performance of pianist Sviatoslav Richter with the great Borodin String Quartet in Shostakovich's Op.57 Piano Quintet, recorded in the Great Hall of the Moscow Conservatory [CDC 7 47502 2]. The presence of Lachenmann's Air was startling. With this EMI Melodiya, I was again face to face, in this instance with a light spray of analog mist that only added to the event's period charms. In casting about for another descriptor, "honest" springs to mind. This pair of X-DC Studio Masters has provided me with a yet more honest system, for which I am most profoundly grateful.
No epiphany comes unencumbered
On, then, to the inevitable however. I've mentioned that I'm using this pair of X-DC Studio Masters with the line conditioner for which Kazuo Kiuchi designed them. His Reimyo ALS-777 incorporates a particularly powerful iteration of Bill Stierhout's Quantum Resonance Technology, which affects the electronics plugged into the Reimyo as well as in the vicinity. The system also includes two of Lloyd Walker's Ultimate High Definition Links, connected to my WATT/Puppy 6es' upper binding posts. All of these additions perform related chores: the erasure of fog, glare, grunge, and grain -- villainous noise in all its guises.
I removed Walker's UHD Links and heard a difference. As effective as the Studio Masters were in combination with the ALS-777, the two Links remain contributors to my sweet-spot contentment. In other words, I don't think I'm running redundancies. In other other words, if you can afford these power cords, you can probably afford to look into complementary assists. The ones I've mentioned are doing splendidly well for me. An audio system is a synergistic beast, and so, again with respect to noise, I'd better mention Kevin Tellekamp's SRA VR Series isolation platforms, Nordost's Valhalla speaker cables, and RS Cables' Pure Palladium interconnects -- as well as this stately old house's front-parlor listening room with its excellent acoustics, and my dear wife's understanding. (You reading this, Toots?)
An apostasy explained, after a fashion
I earlier made light of "the chaps in lab coats." The last time I looked, their number included no few heavy-hitters: the late Peter Walker, the Quad electrostatic loudspeaker's inventor; Roy Allison of Acoustic Research and Allison Acoustics; and a half-bushel of physicists and well-informed others. I'm not compiling a Who's Who of strict objectivity -- let's just say that it takes nerve to declare out loud that folks you respect have been wrong with regard to cabling. But it's true. The differences between the nondescript stuff that comes in the carton and its designer alternatives are not all that difficult to hear. To return to the task at hand, the Harmonix blurb on Combak Corporation's website describes the X-DC Studio Master power cord as "breathtakingly clear." We've all become inured to self-serving, overblown claims -- "Look at me, I'm the greatest!" Well, the Studio Master may well be the greatest. At the very least, it's definitely "breathtakingly clear."
Together, these power cords and the line conditioner for which they were designed provide me with the cleanest, fastest, most meticulously detailed, and best-textured sound I have heard. In their way, they return me to a provocation I love to trot out on relevant occasions. I remember ever so clearly hysterical audiophiles decrying the compact disc as a mass-market assault on good sound. BIS, which began in the vinyl era, is a Swedish label with a huge catalog. It was by way of BIS's exhaustive survey that I first became familiar with the music of the late Alfred Schnittke, and I'll always be grateful for that. BIS's Kroumata Percussion Ensemble CDs have been a particular treat. I returned to the four on my shelves for my power-cord comparisons. CD-232 features the Kroumata in music by John Cage, Henry Cowell, Torbjörn Ian Lundquist, and Yoshihisa Taïra. Lovely! Beautiful resolution, life-like dynamics, the whole desirable package. The Harmonix cords help me to hear just how good this all-digital production is. My sense of satisfaction defies description.
What else is there to say? That this pair stays in my system? On that you can bet your heart, liver, and the farm.
…Mike Silverton
mikes@ultraaudio.com
Harmonix X-DC Studio Master Power Cord
Price: $1305 USD per two-meter length.
Warranty: Five years parts and labor.
Combak Corporation
4-20, Ikego 2-chome
Zushi-shi, Kanagawa 249-0003, Japan
Phone: (81) 046-872-1119
Fax: (81) 046-872-1125
Website: www.combak.net
North American distributor:
May Audio Marketing, Inc.
2150 Liberty Drive, Unit 7
Niagara Falls, NY 14304
Phone: (716) 283-4414
Fax: (716) 283-6264
Website: www.mayaudio.com

All contents copyright Schneider Publishing Inc., all rights reserved.
Any reproduction, without permission, is prohibited.
Ultra Audio is part of the SoundStage! Network.
A world of websites and publications for audio, video, music, and movie enthusiasts.