September 1, 2005
Qinpu A-8000 Mk II Integrated Amplifier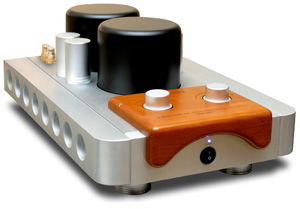 I visit audio shows with some ambivalence. They are certainly entertaining, as audiophiles, especially those with insight into their affliction, tend to be a fun group. Also, where else can you see, hear, and possibly touch so much disparate gear in such a compact time frame? The only problem is that many times the setups at these shows don't do justice to the gear involved. No system is going to sound very good from listening at the doorway of a packed hotel room, but even after a coveted seat in the sweet spot is secured, the sound of the crowd-drawing, ultra-priced systems frequently disappoints.

There are sonic oases to be found in the desert of tizzy highs and bloated midbass that so often figure prominently at these venues, and paradoxically these tend to feature modestly priced gear. One such respite at this year's Festival Son & Image in Montreal was the Charisma Audio room, where the ear-weary visitor was treated to pleasingly natural if not spectacular sound. Perhaps this was due to the use of room-appropriate monitors, the finely finished JAS Audio Orsa speakers with their ribbon tweeters, the day I visited. Maybe it was the space-age-looking Shanling CD-T300 with its tubed output stage that lent some sweetness to the music. Or possibly the sleek Qinpu A-8000 Mk II integrated amp was responsible for the grain-free quality of the sound that filled this room at less-than-ear-splitting levels. All I can say is that I left the Charisma room mightily impressed, not only with the musicality of the setup on display but also with the apparent build quality of this trio of China-made equipment.

Part of the answer to the Charisma enigma lay in wait for me a short time after the show. While the Qinpu (pronounced Chin-poo) A-8000 Mk II might be considered relatively inexpensive by current high-end standards, $1695 USD, the manufacturer certainly didn't appear to skimp on the packaging. The A-8000 Mk II was encased in the most elaborate foam and double boxing I have ever come across. On extraction from its cocoon, the integrated was found to be a dense-feeling, low-slung affair (7.7" high) that weighs some 45 pounds. The A-8000 Mk II is much longer (19") than it is wide (11.8"), so you'll need to ensure that it will fit front to back on your shelving, as it certainly looks its best in this orientation.

This integrated amp outputs 100Wpc into 8 ohms and 150Wpc into 4 ohms in class A/AB mode, which is highly biased towards class A. Thus the A-8000 Mk II runs a little warm. An attractive brushed-aluminum chassis is noted, as are finely machined aluminum feet, the centers of which are filled with a rubber compound. At each side of the chassis, solid aluminum billets into which holes are drilled to increase surface area serve to dissipate heat and also provide the A-8000 Mk II with a bit of an art deco look. The volume control (from ALPS) and source selector are mounted on the top of the unit on a cherry-wood plate. There is no remote control.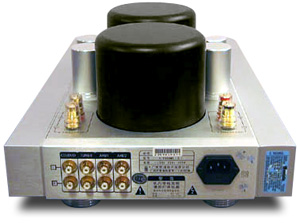 Feature-wise, the A-8000 Mk II is pretty basic: It accepts four single-ended line-level inputs and has no tape loop or preamp output. Visually, two large exposed, black powder-coated transformer caps dominate and bring to mind a valve amp, although the only glass to be found here is a bright-blue LED that indicates the A-8000 Mk II is powered up by the rocker switch at the front of the unit. Output binding posts are conveniently located on the top of the chassis towards the rear, much like those of the hybrid Pathos Classic One integrated with which the Qinpu shares a passing resemblance.
When the A-8000 Mk II first arrived, my main auditioning area was out of commission due to water damage. Eager for a listen, I inserted the Qinpu integrated into the living-room system between an Audio Aero Prima 24/192 CD player and Sonus Faber Guarneri Homage speakers. While general domestic cacophony precluded critical listening during these few weeks, my aural impression was of a smooth performer with power to spare. Although the EL34-based Unison Research S6 integrated that normally resides here exhibited more midrange bloom and color, the Qinpu integrated offered a much livelier, more neutral presentation without any tendency towards hardness or glare, even at higher listening levels.
After water-damage repairs were complete, I used the Qinpu A-8000 Mk II in my dedicated listening room to drive Wilson Audio Sophias. I retained the Audio Aero Prima CD as the sole source and connected everything with Purist Audio Designs Venustas cabling. The amp and CD player were fed directly from the wall using generic power cords.
The Qinpu integrated's smooth and powerful qualities proved to complement the Sophias wonderfully. Although I own very few rock CDs, the A-8000 Mk II served this music well, delivering the dynamics and slam the Wilson Audio speakers are known for with what seemed like gobs of headroom. I was sorely tempted to hook up my vinyl rig to re-explore some of my favorite rock albums, but this would have necessitated the use of an outboard phono stage and muddying the review waters.
In any event, I had plenty of other material to listen to, including jazz, which I am now partial to. Jon Burr's bass was tight, quick and articulate on 3 For All [CYK 806-2] with Sir Roland Hanna and Bucky Pizzarelli. On Burr's solo track, "Makin' Whoopee," the A-8000 Mk II captured the speed and force with which the bass strings are plucked a good deal better than my reference tube electronics did. This great-sounding recording features a lot of energy in the midbass region that the Qinpu A-8000 Mk II controlled admirably -- not a particularly easy feat with the Sophias.
Rendering of pace and drive on this music was also exemplary. There is no drum kit on this disc, and I must admit I am a bit of a cymbal freak. The Audio Aero CD player does cymbals very nicely, and the A-8000 Mk II was more than up to the task of transferring the delicate shimmer and sheen as well as attack and decay characteristics of cymbal strikes to the speakers. Jack DeJohnette's cymbal work on virtually any Keith Jarrett trio recording is nothing short of spectacular. Together with Gary Peacock, these guys seem to communicate telepathically, their improvisations meshing beautifully. On many tunes DeJohnette actually appears to create melodic lines with his elaborate cymbal set in addition to providing rhythmic punctuation to Jarrett's keyboard machinations. The little Qinpu A-8000 Mk II provides the high-frequency resolving power to allow one to follow these lines and fully appreciate the brilliance of this trio's work.
Of course the midrange is where most of the music resides, and here again there is little to fault. The A-8000 Mk II is not as rich and textured harmonically as some tube integrated amps, but it is in no way lean or sterile-sounding -- the Sophias would let me know if it were. It does little to editorialize the material it is fed. Edgy or aggressive recordings are not softened or warmed up, while natural-sounding discs sound, well, wonderfully natural. Missing are the grain and haze that signify the use of some solid-state integrated amps.
The A-8000 Mk II sounds just about right without adding any obvious coloration. In this respect it is not tonally dissimilar to my current reference Convergent Audio Technology Ultimate preamp and Nagra VPA 845 amps, the sound of which bear little resemblance to tube electronics of yore. Where the CAT/Nagra combo has it over the A-8000 Mk II though is in the rendering of subtle qualities such as presence, which in the end leads to an overall greater emotional connection to the music.
If you can, get a hold of a copy of Saudades [WLA-CS-16-CD] featuring Brazilian percussionist Dom Um Romao. The music here is an eclectic meld of Afro-Brazilian and Afro-American elements and borders on the inaccessible on some tracks. Perhaps ironically, it was recorded in a Santa Barbara church. It is, however, one of the most beautifully produced discs in my collection, which no doubt is related to the "purist" recording techniques employed and the Tim de Paravicini-designed tubed microphones that are used in a classic Blumlein arrangement. What results is startlingly real sound presented in a deep and wide soundstage.
The Qinpu integrated reproduced the acoustic and ambience on Saudades vividly; individual instruments had that sense of air and space around them, qualities I had heretofore attributed to the use of usually expensive tubed preamps. Detail and transparency are hallmarks of Wilson Audio speakers, and the Qinpu integrated acquitted itself surprisingly well in terms of portraying ambient information and soundstaging, not only on Saudades but also on lesser recordings -- provided that the information was there to begin with.
I didn't have much in house to which I could compare the A-8000 Mk II. On the Wilson Sophias, it was no contest with the Unison S6, which sounded relatively slow and syrupy in contrast to the tight, fast and tonally correct Qinpu integrated. However, I preferred the tubed integrated amp on the Sonus Faber Guarneris even though the sound here wavered significantly from neutral. I owned a Krell KAV-300R not long ago, and I can confidently state that the Qinpu integrated offers a smoother, more refined sound than it while giving up nothing in terms of dynamics and speed. Over the years separates from Mark Levinson, Krell and Jeff Rowland costing multiples of the Qinpu integrated's asking price have resided in my listening room. Although I have not listened at length to the latest iterations from these makers, I dare say that given a real-world speaker load, the Qinpu A-8000 Mk II could well hold its own against these big boys, perhaps yielding just a little when it comes down to grip and control.
Such are the merits of the Qinpu A-8000 Mk II that it made me recall an audio parlor game at the CES a few years ago that I did not witness firsthand but about which I have heard. Speaker maven David Wilson ostensibly demonstrated his Sophias to great effect with expensive Spectral amps only to reveal to the dumbstruck audience that he was in fact driving the speakers with a modest Parasound unit hidden out of sight. While I suppose his point was to illustrate the relative importance of the speakers to the sonic outcome, I'm sure the Parasound amp was not chosen randomly. My experience with the Qinpu A-8000 Mk II's performance suggests that it could be easily mistaken for much, much costlier electronics.
Although I found the Qinpu integrated to be bulletproof in build and aesthetically appealing, I'm sure there will be some who do not cotton to its looks. Remote control of the volume would be handy, but could add a couple of hundred bucks to the price. For those who prefer a remote and a more traditional look, Qinpu has just released the A-1.0X, a new integrated with a similar power output rating. Did I mention that this unit sells for less than half the price of the A-8000 Mk II?
Indeed pricing may be the major drawback of the A-8000 Mk II. At $1695, it might be dismissed without the benefit of an audition as yet another mid-level performer in today's crowded and hyper-priced audio marketplace. Nothing could be further from reality. At its price point, the Qinpu A-8000 Mk II is a clear winner, but it should also be auditioned in the context of integrated amps costing two or three times as much. Not doing so might well be a regrettable oversight.
…Ken Choi
kenc@ultraaudio.com
Qinpu A-8000 Mk II Integrated Amplifier
Price: $1695 USD.
Warranty: One year parts and labor.
Guang Zhou CHPO Electronic Co., Ltd.
65A Jixlang Road
Luoxl New City, Panyu, Guang zhou
511431
Canadian distributor:
Charisma Audio
Suite 86
4261, Highway 7
Markham, Ontario
Canada L3R 9W6
Phone: (905) 470-0825
Fax: (905) 470-7966
E-mail: charisma@rogers.com
Website: www.charismaaudio.com
US distributor:
Hawaii Audio
2916 Date St., Suite 21-B
Honolulu, Hawaii 96816
Phone/Fax: (808) 739-9553
E-mail: hawaiiaudio@hotmail.com
Website: www.hawaiiaudio.com

All contents copyright Schneider Publishing Inc., all rights reserved.
Any reproduction, without permission, is prohibited.
Ultra Audio is part of the SoundStage! Network.
A world of websites and publications for audio, video, music, and movie enthusiasts.