July 1, 2008
Ultra Sounds: A Demonstration Disc for Our Time and the Future
I will be forever grateful to SoundStage! writer John Crossett for introducing me to Morten Lindberg and his Norwegian audiophile label, 2L Records. Most readers know John as a jazz fan, but he also has a strong interest in classical music, Mozart in particular. He waxed poetic about a copy of the violin concertos 3-5 with soloist Marianne Thorsen and the Trondheimsolistene chamber orchestra. Curious, and always seeking good music well recorded, I contacted Lindberg, who sent me a copy of the Mozart. It was every bit as lovely as John had said, and then some. Lindberg also sent along some other 2L titles and put me on his mailing list. Since then, I've heard some of the best high-resolution audio discs produced anywhere on the planet.
Lindberg feels very strongly about hi-rez audio, and about using the latest technology rather than trying to make the CD "Red Book" standard sound better. All of the 2L releases that reached me are hybrid SACD/CDs. Not merely happy with DSD, the standard for most SACD recordings, Lindberg uses DXD, about which he says:
"Digital eXtreme Definition [DXD] is a professional audio format that brings 'analogue' qualities in 32-bit floating point at 352.8kHz. With DXD we preserve 11.2896 bit/s (4 times the data of DSD). This leaves us headroom for editing and balancing before quantizing to DSD. Super Audio CD is the carrier that brings the pure quality to the domestic audience."
Well, SACD was the carrier. With Divertimenti, his new recording of the Trondheimsolistene, Lindberg presents some new options. The release is actually a set of two discs housed in a Blu-ray Disc case. Disc 1 is a multichannel SACD/CD containing CD stereo (16-bit/44.1kHz), DSD stereo (2.8224Mbit/s/ch), and DSD 5.1-channel surround (2.8224Mbit/s/ch) tracks. Disc 2 is a Blu-ray with: Linear PCM (stereo, 5.1-channel surround, 24/192), DTS-HD Master Audio (5.1 surround, 24/192), Dolby TrueHD (5.1 surround, 24/192), and Dolby Digital 5.1 surround (48kHz). That's a whopping total of eight different ways to hear this program: three stereo configurations, and five in 5.1-channel surround.
There's even more. The program is also available as hi-rez downloads: stereo DSD64 and FLAC 24/96, and 5.1 FLAC 24/96. Lindberg tells me that, by the end of the summer, the downloads will be available via David Chesky's HDtracks website. It appears that 2L hasn't missed an opportunity.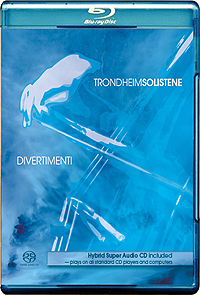 Lindberg has covered all the bases, though some he's only just touched. Trying to play the Blu-ray tracks, I found that only the DTS tracks played in multichannel on both of my players; the PCM and Dolby TrueHD tracks defaulted to two channels. The high sampling rate is the problem. If you read the fine print of the user manuals for most first- and second-generation Blu-ray players, you'll find that they downconvert anything over 96kHz, and usually in only two channels. Many of the new players being launched this fall will correct this. Depending on the player and manufacturer, some early Blu-ray machines might be able to correct this inadequacy with firmware updates.
For now, 2L Records has created a disc that's ahead of its time, and can stand as an audiophile test disc for quite a while. As you refine and upgrade your system, you'll be able to play more and more of the tracks on Divertimenti, while some of its tracks can be played by anyone right now. Also welcome is 2L's introductory offer: these two hi-rez discs sell for the price of a single CD, at least at Acoustic Sounds.
Sound
The Trondheimsolistene is one hell of an orchestra. Its players are virtuosos, so technique is never a problem. The ensemble, overall, has a sound that is burnished, with point and focus, but is also rich and warm. The music for strings on Divertimenti is both familiar and new. Grazyna Bacewicz's Concerto for String Orchestra and Terje Bjřrklund's Carmina are real ear-openers, masterful compositions that stand up to the strong company of Benjamin Britten's Simple Symphony and Béla Bartók's Divertimento for Strings. The energy and drive that the Trondheim players bring to the final movement of the Bartók is, I think, unequaled on disc.
Of the tracks I'm able to play, the stereo CD, SACD, and PCM are clean and clear, sounding much better than the average CD. The surround tracks all offer more robust sound and ultimate clarity. Lindberg is very aggressive about surround, using a different mix for each disc; disc 1 puts the listener more or less in the position of the conductor. The mixes are excellent; never did I feel the sound was gimmicked, or coming only from the rear speakers. Though there was sound in the rear channels, I was never tempted to turn my head. I found these mixes exciting, and the ability they gave me to easily follow each instrumental line was very appealing. The SACD tracks sounded a bit more focused and live than the CD ones, probably because of the overtones produced by so many strings, especially in the upper registers. This no doubt taxes the "Red Book" standard, but is easily handled by the hi-rez formats. The SACD tracks definitely had more air around the instruments. The DTS-HD tracks are similar to the SACD tracks, but seem to have just a touch more edge. Admittedly, it's unfair to make any definitive comparisons; I had to use different players for the SACD and Blu-ray Discs.
But no matter which track I play, Divertimenti is one of the best-sounding recordings I have ever heard. All tracks, from CD to DTS-HD, were way above the average. However, I wonder if music-only Blu-ray releases will catch on. If SACD is any example, probably not, at least with the general public. Music-only Blu-ray could, however, become a solid niche format like SACD. It will depend on marketing, programming, and a number of other factors. At least, assuming you have a newer preamp-processor, Blu-ray is down to one single HDMI connection. Attaching six interconnects to SACD and DVD-Audio players was quite daunting.
And, of course, hi-rez downloads might yet render all discs obsolete. At the moment, the future of recorded sound remains unrevealed. But I have no doubt that, when that future arrives, Morten Lindberg and 2L Records will be among the first to greet it.
. . . Rad Bennett
radb@ultraaudio.com

All contents copyright Schneider Publishing Inc., all rights reserved.
Any reproduction, without permission, is prohibited.
Ultra Audio is part of the SoundStage! Network.
A world of websites and publications for audio, video, music, and movie enthusiasts.