October 1, 2003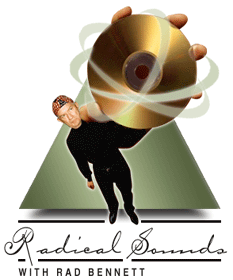 Radical Sounds: Conversations with Mark Waldrep -- Part Three Mark Waldrep is the founder, president, and chief engineer of AIX Records, and, along with David Swartz and Michael Stern, co-founder and chief engineer of Hi-Res Music. Wanting answers to some questions that arose in putting together the June "Radical Sounds" column, I recently had a conversation with Mark. Part Two of this conversation appeared in last month's column. This is the conclusion.

Rad Bennett: Mark, most of your discs, perhaps all, carry both "stage" and "audience" mixes. Could you explain your philosophy in providing different mixes of the same sessions? How can a recording's aural identity be preserved when you offer choices?

Mark Waldrep: The notion that there is one ideal mix or "aural identity" associated with an individual recording is a statement that I would strenuously disagree with. I am well aware that there are engineers, producers, and listeners who believe the perfect recording is one that is completely neutral, uncolored, and sonically transparent; in other words, an "aural" documentary. However, I am not of that school (although I have made hundreds of recordings with a simple stereo pair of mikes and a DAT machine). I believe in using technology as an equal partner in the realization of an optimized aural experience that might be (and, in my opinion, should be) completely different from a live performance. I'm not trying to bring the sound of a jazz club or chamber-music hall to your home entertainment center, but rather attempting to enhance your emotional response to wonderfully played music.

In the current AIX Records catalog, we have chosen to include at least three mixes on all of our products: "stage" and "audience" 5.1 surround mixes, and a high-resolution stereo PCM mix. The reason is actually quite simple. Because mixing a multichannel master recording into stereo or 5.1 is a very creative and flexible process, and because there is not yet a single "ideal" that dominates the MC market, I include selectable options for the user. My own preference is to be close to the musicians and surrounded by the band. I fully recognize that others might not agree with my choice, and so I slide my POV back to the center of the audience and create another mix. The stereo version is there for the traditionalists: those who have not yet moved to 5.1-channel surround. There's room on DVDs to have multiple mixes, so why not?

One final note: It's true that I have to choose which mix to include on the DVD-Audio side of our products. In the past I have tended toward using the "audience" mix, especially for classical music and jazz. However, based on the feedback that I have gotten from our customers, I will be using the "stage" mix on the MLP [Meridian Lossless Packing] tracks from here on out. It seems those with an opinion agree with my preference; an ideal may be emerging.

RB: Wow -- I am a little surprised at that. I remember, back in the quadraphonic days, that early producers tried to surround the listeners with the orchestra. Those listeners quickly told them that they preferred a more natural sound, with the rears being used just for ambience unless, as in the Berlioz Requiem, there were instruments specifically scored to be placed in locations other than the front soundstage. Do you think the use of surround in most films of the past 20 years has colored listeners' point of view, or rather prepped them to want to be surrounded by music? And now that you have this opinion, would you want to go back and re-mix your Pines of Rome and make that offstage trumpet come from the rear, and the nightingales fly around the room a bit more?

MW: The realization of a particular 5.1 mix is always done within the context of the musical genre and the particulars of an individual composition. Remembering that my goal is not to re-create the concert-hall experience, and that I put several mixes on each title, I wouldn't go back and remix Pines, because the "stage" mix is available as the DTS track. The birds actually do move in slow figure-8s in both the "stage" and "audience" mixes, and the offstage trumpet sounds distant. The POV in the more aggressive mix still puts the high strings on the left with the celli and basses on the right; they are simply placed relative as if you were sitting in the conductor's position. Several reviewers have disparaged mixes of this type by saying "another mix for conductor wannabes." When listening in my 5.1 space with Piega speakers and a Meridian 800/861 DVD-Audio player and Reference Surround Controller, the more aggressive mix simply feels more full of sound. Nothing that I've done in any 5.1 surround mix, regardless of musical genre, was done as a "gimmick" or for "effect." I sit in the midst of my speakers and I place sounds in order to maximize the musical impact of the composition or song.

As for the impact of surround sound in movies affecting people's reaction to surround music, I can't really speculate. Perhaps people have grown accustomed to multiple speaker systems, or maybe they've never experienced live music. When recorded music becomes the primary aural reference, the established models lose some of their power.

RB: Well, something has surely happened to get listeners to change their point of view, and I think that movie surround has conditioned them greatly. I am sure we are going to hear a lot more about audio perspectives and mixes as advanced-resolution releases increase in number and market saturation.

Tell me about the DVD-Video side of your "Tribrid" releases. When I use the extra features on one of your discs, I feel that other producers have only scratched the surface of realizing the extras that the DVD format can accommodate. When we talked recently, you mentioned some neat new ancillary features. Could you comment on these, and on disc extras in general?

MW: In comparing the type and quantity of multimedia features available on AIX Records discs as opposed to most other releases, it's important to recognize that we manufacture discs with three times the storage capacity [of single-layer, single-sided DVD]. There is only one replicator that can make these so-called DVD-14s (for the roughly 14 gigabytes of data capacity), and they cost a great more than simple DVD-5s. I have always believed that new formats should demonstrate their advancement by maximizing the quality and robustness of the experience. That's one of the primary reasons that DVD-Audio is the only choice for the future of recorded media; SACD simply cannot do anything other than audio. There are rumblings about SACD II exploiting some of the interactive features of DVDs, but, sadly, everyone with an existing SACD player will have to purchase another player!

AIX stands in a very unique position with regard to multimedia components on music titles for a couple of reasons. First, we're one of the leading DVD music producers in the country. Besides our own releases, we produce DVDs for other labels. Right now we have the new Allman Brothers Band Live DVD-Video and a project for KISS in the shop. We do all of the audio/video preparation, graphics, and authoring here, so we're experts at putting complex titles together. The other reason is that we're actually shooting new video during the production of a new title, so we have bonus video, photos, and interviews easily at hand. When you have to seek out photos, get licenses, or otherwise find materials for an older master, it's much more difficult and expensive.

Some of the new things that we're doing involve multiple camera angles for selected tunes or guitar lessons, printable TAB notation, onscreen chord-change subtitles, Web connections, extensive bios, play long mixes, interview and rehearsal videos, extensive bios, and information on the instruments used. These discs are packed with lots of cool stuff, but it's the incredible audio that remains our focus.

RB: Very impressive. In closing, can you tell me about some of the more exciting projects we can expect to see from AIX this fall and winter?

MW: AIX Records is trying to record, produce, and release three new titles per month, in addition to working on projects for other labels. There are several that stand out among the others. From the time that I first met and worked with Jennifer Warnes, during the making of Nitty Gritty Surround, I have wanted to produce a project focused on her incredible talent. For two days in the middle of July, Jennifer and a group of her closest musician friends collaborated on a truly historic session. She brought some really special new songs as well some familiar ones. The sessions document on videotape and high-resolution audio equipment the creative magic that occurs when world-class musicians and singers get together. It was definitely our biggest production to date: eight cameras, sets, lighting, 36 tracks at 24-bit/96kHz, interviews, and behind-the-scenes [video]. The project will be delivered in early 2004, first as a Special Limited Edition available through our website (copies will be signed and numbered by the artist), and subsequently as a standard DVD-Audio/Video and maybe even a DVD-Plus disc.

Another interesting project is the AIX All-Stars Surrounded by Christmas record. We brought the best studio musicians into the performance space and let them play Christmas tunes in a variety of styles. Imagine "O Tannenbaum" done in 5/4, kind of like Dave Brubeck, or "I Saw Three Ships" in a Celtic vein. The band is wonderful and the 5.1-channel surround mix is amazing -- one of the few times that I've heard a mix that communicates the movement of "musical energy" from one musician to another. Very special. Has anyone done a DVD-Audio Christmas record?

RB: Certainly not one as diverse as that. I will be looking forward to hearing it. And thank you for taking so much time from your busy schedule to talk with me.
---
Now, here are three releases that made this month's quest for advanced-resolution recordings worthwhile.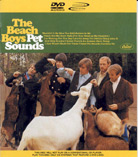 The Beach Boys: Pet Sounds
Capitol 72434-77937-9-0, DVD-Audio. Contains MLP 5.1, Dolby Digital, and DTS 5.1 mixes, 2.0 stereo and 1.0 mono advanced-resolution mixes.
One of the most revered albums of all time, The Beach Boys' crowning opus has been brought to DVD-Audio with loving care and meticulous attention to detail. First off, there are the mixes, ranging from the original monaural through the 1996 stereo mix, to the current 5.1 advanced-resolution mix. Side one of this two-sided disc is meant for DVD-Audio players and includes the MLP 5.1 mix, as well as advanced-resolution 2.0 stereo and 1.0 mono mixes. The latter two configurations are also found on side two, the DVD-Video side, where the MLP 5.1 mix is replaced with a choice of compressed Dolby Digital or DTS 5.1 mixes. Both sides contain many extras. For each track, there's the ability to display onscreen the lyrics, comments about the track, the original session players, or still photographs. The DVD-A side allows one to select continuous play that automatically synchronizes lyrics or photos to the individual tracks, a feature the DVD-V side seems to lack. Each side contains a short video documentary, as well as three different period video promotionals. It is admirable that so many features of the DVD-Audio format have been used for this disc. In case that's not enough information for you, a lavishly illustrated 28-page booklet contains complete notes on the recording sessions and all the mixes.
So, how does it sound? I might be at odds with people like AIX's Mark Waldrep in saying that I like the mono original best, the stereo next, and the 5.1 least. The latter simply adds layers to the sound that obscure rather than reveal detail. The extra sound also alters the timbre of many sounds, including the all-important vocals. Though the rear speakers are not overly used, there is too much colored sound coming from various directions, with way too much bass in the LFE channel. Put on the original 1.0, as heard in the disc's advanced-resolution sound, and it's like putting a sharp focus on each track: all of Brian Wilson's innovative effects can be heard to greatest effect. One good thing: all the mixes are there, as well as paragraphs of information about them, so the listener can decide for himself. Other producers could learn a lot about the use of the DVD-Audio format from this release.

Baroque Music for Brass and Organ
Empire Brass Quintet; William Kuhlman, organ.
Telarc SACD-60614, Hybrid Multichannel SACD.
This set contains popular Baroque music skillfully arranged for brass and organ by Rolf Smedwig, solo trumpet and conductor of the virtuoso Empire Brass Quintet. The program was recorded live at Luther College in Decorah, Iowa, which means there were no second takes. Purcell is well represented. His Rondeau, which served as the basis for Britten's Young Person's Guide to the Orchestra, starts things off in fine style, with full organ and brass making a weighty impression. Later, arrangements of a Telemann Concerto and Handel Violin Sonata prove that the ensemble is not just bluster, but can essay the most delicate passages with thorough professionalism and undeniably good musicianship. The healthy reverb in the surround channels conveys an aural picture of a very large church. The stereo tracks collapse this impression to the front channels and are far less impressive. The center channel is not used at all, but there is much significant bass fed to the LFE channel.

Vivaldi: La Stravaganza
Rachel Podger, violin; Arte dei Suonatori.
Channel Classics SA 19503, Hybrid Multichannel SACD.
Though this set of 12 violin concertos isn't in the class of the composer's L'Estro Armonico, one must consider that very little else is, that Vivaldi wrote tons of music, and that even his second-rate compositions are better than his contemporaries' best. Rachel Podger, playing with passion and correct performance style, makes a great case for these pieces. Ably backed by the virtuoso Polish period instrument chamber orchestra, Arte dei Suonatori, she brings a command and virility to this music that makes one sit up and take notice from the very first track. The recording has engaging presence, and is very good in both two-channel and multichannel versions, though quite different in each. The stereo tracks offer the greater detail, revealing fine points that ably demonstrate the capability of advanced-resolution sound. Switching to the multichannel 5.0 mode buys even more presence and a sense of three-dimensionality at the expense of a slight loss of detail. I hasten to add that this loss sounds perfectly natural. The aggressive reverberation of a live hall can obscure the initial sounds coming from the front stage. In either mode, this recording is worthy of your attention.
...Rad Bennett
radb@ultraaudio.com

All contents copyright Schneider Publishing Inc., all rights reserved.
Any reproduction, without permission, is prohibited.
Ultra Audio is part of the SoundStage! Network.
A world of websites and publications for audio, video, music, and movie enthusiasts.